The world champion spoke of his situation after the attacks by accounts related to the ruling party. He clarified the issue of the deputies and the Indes, the machinery that it has, and that will go forward as when he left prison: "I don't know what's coming, I'm not afraid of anything."
After the attacks he has received on social networks from numerous accounts of users related to the ruling party, and where his name went viral, the Salvadoran bodybuilder Yuri Rodríguez, recent world champion, decided to be frontal as always and spoke about his situation without hiding any.
On Saturday, he was in two live, on his Instagram account and in a Twitter "space", and shared what is happening at the moment. He even received a lot of negative comments on his video. However, Rodríguez accepts that everything "strengthens" him.
After the world champion published a video on his Twitter account in which he rejected the recognition that the Legislative Assembly intended to grant him, at the request of the New Ideas party, attacks and insults towards him by like-minded users increased on social networks to the ruling party.
"They already realized how famous they have made me, more on twitter. And they have appeared from all kinds of comments, memes that make me laugh, people in favor of what I say and many comments, I can not say people, against. It's complicated, it's weird, "Yuri commented, with a good sense of humor.
"People who know me know that I am not complicated, I am complicated in my bodybuilding training. It's weird when people you also know start attacking you. (…) We are too volatile in our way of thinking, sometimes we get carried away, "he said.
Then, Yuri explained what he thinks about the attacks on his person and made it clear that he is just an athlete who seeks to bring joy to the country. "Why are you talking about me on social media? I am an athlete, not just anyone, I am one of the outstanding and perhaps I can say it properly: I am the most outstanding athlete in El Salvador. I come from obtaining the first place in the world and that is something that, apart from being historical, can fill many with pride. I feel very proud, honored to represent El Salvador, and I was very happy to hear the national anthem. The goal has been met, "he said.
"In 2019, when I was the Pan American champion, many took advantage of me. At that time, I did not have as great a help as now, I did not receive a scholarship like the one I have earned now, they do not give it to me, and it comes from the Salvadoran purse, they are taxes that are paid. I have defended that, because I do not owe myself to a political party, to a person, I owe myself to El Salvador, "he said.
"Unfortunately, there are always detractors, people who get into a very political plan, very fanatical, and there are trolls. I'm used to being loved and hated, that's not something new. What I do find a bit shocking is when the deputies begin to fight with me, to argue. It is true, perhaps I am attacking them by saying that they are not advertising themselves in my name, and less with a recognition that does not seem to me. And I have the right not to like it, "he added.
VIDEO: The harsh call of the world champion Yuri Rodríguez to the deputies for recognition request
And he clarified: "Never, never in the video (that he published a few days ago), I have said that I do not receive help from Indes. Moreover, I have not mentioned Indes, because it is an institution that supports me. (…) I felt sad yesterday (Friday), even seeing, I don't know if they were humiliating me, I don't know what the objective was, to put a general planning of everything that has been invested in a year-by-year preparation in my career".
Yuri clarified this point because, after he rejected the recognition of the Assembly because "it did not feed him", the president of INDES, Yamil Bukele, published a Twitter thread in which he detailed the monetary and equipment support that they have provided the now world champion.
The world champion accepted that "it is spent" on its preparation, "although what they really give is a $ 1,200 scholarship, which according to the General Sports Law" has been won, they are not "giving it away, and could do what I want, because it is an incentive for the merits that I have obtained. However, this money I invest in food. The diet of a bodybuilder is very expensive, and only then can I improve my body, I get ready for a competition, and on many occasions I do not have enough money to finish my preparation. You have to put yourself in the shoes of others, to know everything that this requires.
The athlete did not fail to mention that, with his short, he did not attack the sports institute, but that he respects it. And that he does not belong "to any political party." "I have not attacked the Indes Institution. I hope that this does not turn against me, and if they want to do so, then I know that I have the support of the Salvadorans. (…) Yesterday (Friday), I was a trend on twitter, they have made me too famous, I thought that the fame I got from being world champion was enough, but no. People or mechanisms who don't love me have been so concerned that I seem like a threat to them. I do not belong to any political party ".
"I am quite a public figure and now I am even more public. But it is thanks to the achievements that I have obtained. Actually, what I want is to thank the affection that they give me, to be aware of me, that from my heart I would like them to be more aware of me, because I do not know what is coming, I am not afraid of anything ", he reiterated as to what who is living.
Also, Yuri remembered his past in prison, which has made him strong, and he is prepared for whatever comes. "Life has ups and downs, and when they are the downs is when we give ourselves the task of discovering who we are. As I told Yamil (Bukele), I am a warrior person, if I stay abandoned, if I stop receiving the support that I have earned from the Sports Law, if they take it away from me (the scholarship), in the same way I will to continue fighting, because that is my way of being, it is my characteristic. I come from jail, many know that I was imprisoned and that that was my first great achievement: getting out of jail, with a lot of effort ".
"It is a very complete story. I was imprisoned, but I am not a bad person, I have never hurt or killed anyone, it does not even cross my mind to do so. I am an athlete who gives glory to El Salvador, and strives to get ahead; and if I receive a scholarship that I have earned from Law, I receive it because I make a lot of effort to obtain it, "he declared.
SEE: World champion Yuri Rodríguez denounces attacks on social networks by sectors related to the ruling party
"(…) Forming the image of a world champion costs many years of sacrifice, effort, of a sports career, and it is not fair for someone to come and take advantage of what you have formed and that this is beneficial at the moment in which that you are on the cusp. Exactly, that happened with the deputies (about the title of 'Notable Athlete'), and I am not talking about Indes, I am talking about deputies. (…) I see no problem in accepting it, but it is not a different work that they are doing, it is something very daily, there is no financial prize. And it bothered me, because they were taking advantage of me once more, and a card is not support for the sport and I don't have to be giving a good image to the deputies, if they are not doing anything for me, "he reiterated.
"I am a natural person and they are attacking me, and I am not your enemy. On the contrary, I am the athlete who represents the country, and if you want to be proud of me, how good; and but, also. I'm not going to stop training for that, or stop dreaming of being the people's champion. I was born in the Lourdes neighborhood, I am well located, I know who I am, and I have in my heart well thought what I am doing, where I am going. Some learn to love me and others to hate me. Thank you, thank you very much for making me famous ", he declared in his live.
Nor did he neglect to clarify the subject of the classes he gives, with machinery, which, according to what was revealed, does so with the one Indes has lent him. But he said: "Not all the machinery that I have here (home) belongs to Indes. With the savings I had, we bought (different equipment) and with that we started training hard. When Indes saw that we were getting ready, and they asked me how I could help, I asked for machinery, and so with the help of the Federation I also set up a mini gym and prepared myself in a pandemic (2020) ".
"This year, they gave me machinery that was borrowed, not given away. I am conscious. It was with what I finished preparing to be world champion. I did not know that the machinery was valued at $ 20 thousand, and it does not interest me. I take the importance of it because it is a tool that helps me to train, it is not a prize, "he said.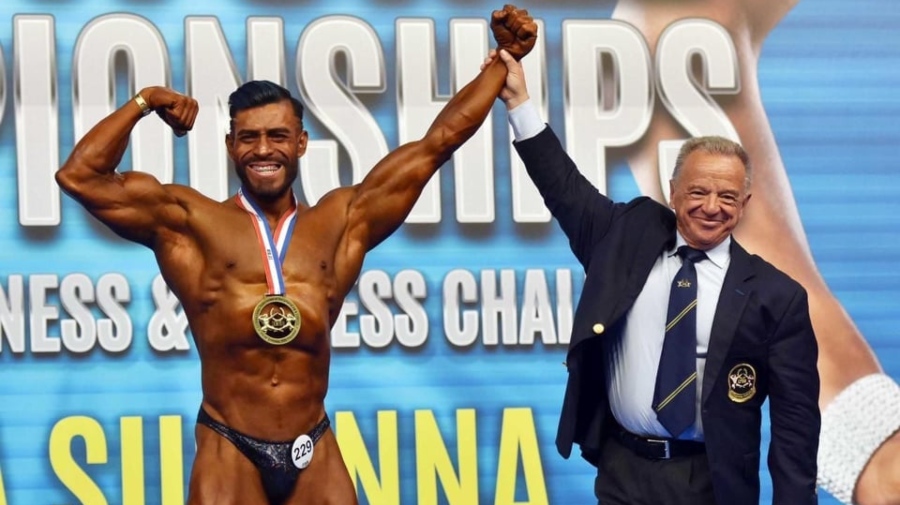 "Rumor has it that I train people in the gym. Okay. I have machines here, not all of them are from the State, to begin with. To continue, I do my workouts live, if this were a gym and it was full of people, I would not speak at all, my car was very nice, and I am not having the economic income that you think I am obtaining. I only have two students, I have been training for both of them for years, they are very fond of me, "he said.
"(…) As for me to train the students in the State machine, the great clientele that I have, that is a great lie. There is a lot of speculation. (…) The deputies are the ones who should have humility. I am not asking for money, do not give me money, and do not say what it is not, do not lie. But don't advertise on my behalf. Indes supports me, the deputies do not ", he summarized.
"This situation so funny, that after being world champion I receive insults, memes, hatred on social networks on twitter especially, just because I say what I think. I think that part of the humility may be that the deputies could listen to what I say, and that they do not attack me and call me, and maybe they could even ask me for an apology and I could even apologize to them, but that has not happened. I am an athlete, not a politician, I am Yuri Rodríguez and they will keep him for a while, even so if I have to go against the current ", he shot.