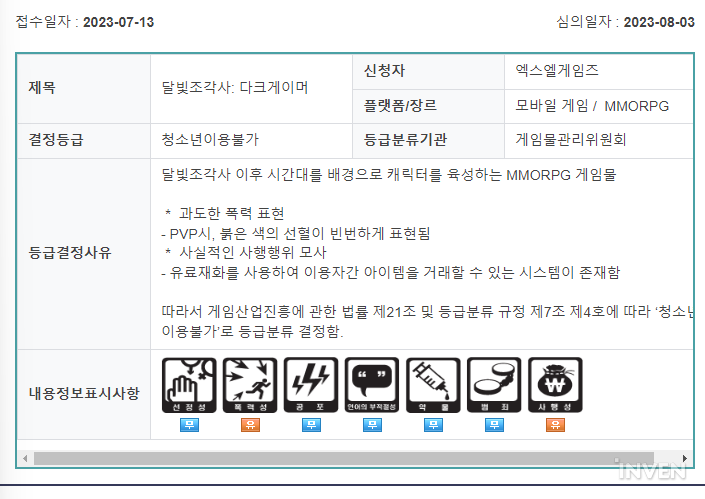 XLGames will directly serve the new Moonlight Sculptor game.
"Moonlight Sculptor: Dark Gamer" was included in the ranking results announced by the Game Management Committee on the 3rd. Since the applicant is "XL Games", this is a game other than "Moonlight Sculptor" maintained by Kakao Games. The rating classification is also different as the existing Moonlight Sculptor is for 12 year old users and Moonlight Sculptor: Dark Gamer is not available for teenagers.
In Moonlight Sculptor's original IP address, Dark Gamer means "a gamer trying to make money with a game". The reason for the game committee's rating decision is described as "an MMORPG game where characters develop against the backdrop of a time period after Moonlight Sculptor". The platform is mobile.
A source from XLGames said, "In internal testing, it looked like the game had been slightly improved based on the existing Moonlight Sculptor." He added: "XL Games plans to provide services directly."
The source said, "There are some differences in the business model from the Kakao Games version" and "This is a game design with more competition than before, so the business model has been adapted accordingly."
"Moonlight Sculptor: Dark Gamer" has stronger cartoon rendering techniques than the Kakao Games version. A source said, "Based on internal testing, the cartoon rendering experience has become brighter and richer." He then explained that it felt like the quality had improved and the style had changed somewhat based on existing data.
While XLGames directly serves the new Moonlight Sculptor: Dark Gamer, Kakao Games continues the existing Moonlight Sculptor service. An official from Kakao Games stated, "Moonlight Sculptor will continue to operate without any changes."
At the company level, the direct service of Moonlight Sculptor: Dark Gamer does not significantly affect the relationship between XL Games and Kakao Games. Kakao Games already owns a 52.82% stake in XL Games. As of the end of 2022, XLGames is in a state of complete capital impairment.