Nintendo today held a Direct focused exclusively on Xenoblade Chronicles 3, the new game in the JRPG saga that Monolith Soft is developing for Switch. In the retransmission we have been able to see new footage of the project, a total of 25 minutes of gameplay that has allowed us to take a deep look at this proposal: characters, combat, missions, exploration and other fundamental aspects of the game, such as recruiting characters, the Urboros Fusion or the use of the amiibo.
Under these lines you can see the retransmission of Xenoblade Chronicles 3 full subtitled in spanish:
All the news of Xenoblade Chronicles 3: Exploration, combat…
in the direct of Xenoblade Chronicles 3 new details have been shared exploration of the game, a system with which we can freely explore Aionios or activate a navigation function so as not to get lost. There will be fast travel, although only to the places that we have previously discovered and saved as bookmarks. We will visit different areas, from high cliffs to the sea, and we will also be able to rest in colonies in which to connect with the inhabitants, get missions and put to good use the materials that we collect on our adventure.
As for the combat, today's event explains how players will be able to use powerful skills called 'arts' to defeat enemies. Some unbalance the opponent, others focus on dealing damage, and we can even heal our allies. Xenoblade Chronicles 3 I will have a combo system that multiply our damage if we manage to link several arts. As you level up, you can unlock Master Arts and Fusion Arts to perform even more powerful attacks. During the battle we can easily change characters to take advantage of their different classes.
In addition, Xenoblade Chronicles 3 allow us to take a team of six characters (although we can only control one at a time in combat) that we can choose after having recruited new heroes during our adventure. The more heroes we recruit, the greater variety of combinations of classes and arts we will have at our disposal.
One of the most important novelties of this installment is the system Urboro Fusion, which will allow us to fuse two characters who have established a Link. In this way both will become a fearsome and powerful creature that can increase in power by obtaining soul points in combat. Urboros can engage in chain attacks with the rest of the team and rampage across the battlefield with their own devastating arts.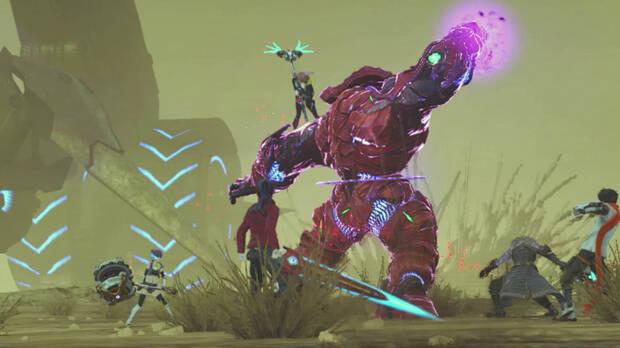 Finally, it has been confirmed that Xenoblade Chronicles 3 is compatible with amiibo. By scanning these figures we can obtain useful objects in the game. If we have the Shulk amiibo we can use it to get the sword of the characters that use Noah's swordsman class, acquire the monado appearancethe iconic weapon from the original installment of Xenoblade Chronicles.
Expansion Pass Now Available: Bonus Content Until End of 2023
In addition to its gameplay, those responsible for Xenoblade Chronicles 3 have also expanded information about the expansion pass of the game: it can already be purchased in advance in the eShop of Nintendo Switch at a price of 29.99 in Spain and includes access to useful objects, new outfits and outfits of alternative colors, challenges, new missions, new heroes and, finally, a new story, additions that will be released from the game's premiere until the end of 2023.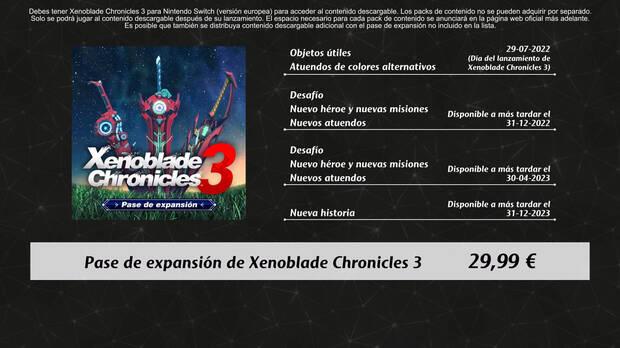 Xenoblade Chronicles 3 advanced its release date on Switch: initially it was scheduled for September, but finally those responsible for this new installment decided to shorten the wait by publishing it on July 29. Those who want to book Xenoblade Chronicles 3 you can now do it both in digital format through the eShop (59.99 ) and in physical format in usual distributors. In addition to the standard edition, it is also possible to get a physical edition Special Edition exclusive to the My Nintendo Store, its additional content will be delivered at a later date scheduled for autumn 2022.
In Vandal we tell you everything we know about Xenoblade Chronicles 3, an adventure that "aims to be as or more immense, epic, amazing and exciting" as previous installments. Below these lines you can see a wide galley with new catches of the game.