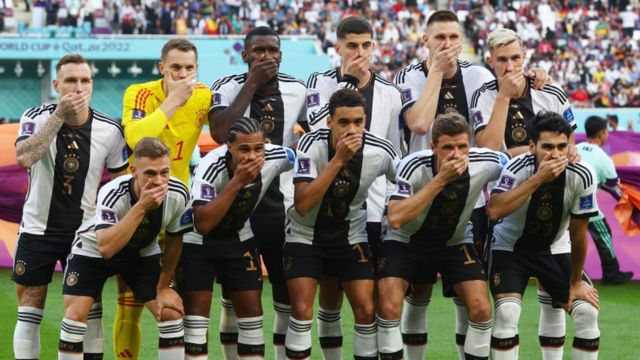 It's hard to imagine that the most daring action by a soccer team could come before a game, but that happened on Wednesday with the German team making their debut in Qatar.
The play of the match between Germany and Japan occurred before the ball began to roll, with the photo of the German squad covering their mouths in a clear sign of protest for not being able to wear the "One Love" bracelet. with the colors of the rainbow.
The captains of several European teams planned to wear the armband during matches, with the purpose of promoting diversity, inclusion and the social rights of the LGBTI+ (Lesbian, Gay, Bisexual, Transgender and Intersex) collective.
However, they backed down the threat of penalties launched from the International Federation of Association Football International Federation (FIFA).
In addition to the players' gesture, German Interior Minister Nancy Faeser was seen wearing the armband in the stands of the stadium.
In the tribunals
The German Football Federation (DFB for its acronym in German), for its part, is investigating whether it is legal for FIFA to threaten players with a sanction for wearing the armband.
"FIFA has prohibited us from using a symbol of the diversity and human rights," said DFB spokesman Steffen Simon.
"They combined it with massive threats of sporting sanctions without specifying them," he added.
Germany was one of the teams that had planned to wear the armband, along with England, Wales, Belgium, Denmark, the Netherlands and Switzerland.
Simon had previously said that the seven nations were facing a "extreme blackmailby FIFA.
In addition, the spokesperson told the German media outlet Bild that the DFB has contacted the Court of Arbitration for Sport (CAS). to analyze this situation.
The officials of the German team hope that the captain, Manuel Neuer, can wear the armband in the second game of Group E against Spain on Sunday.
own campaign
The football associations of these seven countries had written to FIFA in September informing about One Love, but they had not received a reply.
"FIFA has been very clear in saying that it will impose sporting sanctions if our captains wear the armbands on the pitch," they added in a joint statement.
"We were willing to pay the fines that would normally apply to uniform violations (…) However, we cannot put our players in a situation where they can be booked, or even forced to leave the field of play," the teams explained.
In response, FIFA has brought forward its own "No Discrimination" campaign, which was to start from the quarter-finals. From now on, captains will be able to wear a black armband for equality throughout the tournament.
The match ended 2-1 in favor of Japan.
Remember that you can receive notifications from BBC Mundo. Download the new version of our app and activate them so you don't miss out on our best content.