11.20 / Movistar Classics
'Ben Hur'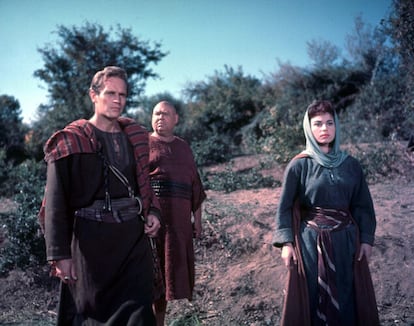 USA, 1959 (217 minutes). Director: William Wyller. Cast: Charlton Heston, Jack Hawkins, Stephen Boyd.
With Spartacus, Ben-Hur remains as a reference within the "Roman" films. Both show that in such a codified genre many edges can live. William Wyler achieves this from the height of a passionate and vibrant director, capable of filming works such as The Wolf and The Best Years of Our Lives. His visceral staging work turns Ben Hur as an example of a cinema that has already disappeared.
12.20 / The 2
Christmas Concert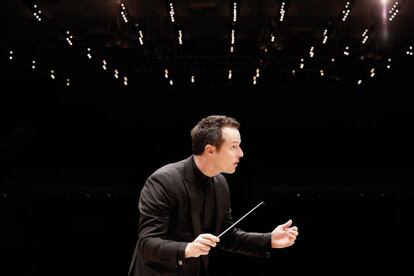 The Christmas Concert of the RTVE Symphony Orchestra, conducted by maestro Case Scaglione, held at the Teatro Monumental in Madrid on the 15th of this month, arrives at La 2. The program includes popular works by great masters of classical music such as Polonaise in B flat major for violin and orchestra, by Franz Schubert, with Mariana Todorova as soloist, the Bolero, by Maurice Ravel, and the overture The bat, the polkas Pizzicato and thunder and lightning and the waltz the blue danubeby Johann Strauss Jr.
13.05 / MCT
'JFK'
USA, 1991 (178 minutes). Director: Oliver Stone. Cast: Kevin Costner, Sissy Spaceck, Tommy Lee Jones, Donald Sutherland.
Oliver Stone achieved with jfk the perfect fusion between his visual style and the dramatic depth that he sought in his scripts since his success with Platoon. An impeccable film that combines aesthetic textures with a desire to disrupt while accepting a debt to the narrative spirit of the great classics. In the hands of Stone, the investigation carried out by a sober and intense Kevin Costner on the enigma of the assassination of Kennedy, supports an essential film in the cinema of the nineties.
15.30 / The Sixth
'Harry Potter and the Half-Blood Prince'
USA, 2009 (153 minutes). Director: David Yates. Cast: Daniel Radcliffe, Michael Gambon, Jim Broadbent, Emma Watson.
Taken together, the Harry Potter film series shines as a stupendous sample of well-understood commercial cinema: works that know how to handle plots that could run wild into excess with a commendable pulse. This sixth installment is shown as a bridge to reach the superlative outcome that Harry Potter and the Deathly Hallows. However, he accumulates gloomy sequences, does not abandon his taste for detail and delves into the interior of his characters (the delicate treatment of the protagonists' first feelings of love is exemplary).
17.40 / BOM
'The Great McLintock'
United States, 1963 (127 minutes). Director: Andrew V. McLaglen. Cast: John Wayne, Maureen O'Hara, Yvonne de Carlo.
An efficient western that contains a good amount of humorous elements, and in which John Wayne and Maureen O'Hara wage their particular war of the sexes. On the other hand, the presence of Yvonne de Carlo in the cast becomes quite an incentive. And although McLaglen is obviously not John Ford, he knows how to handle the story with ease.
19.15 / Movistar Comedy
'Everyone says I love you'
Everyone Says I Love You. United States, 1996 (101 m.). Director: Woody Allen. Cast: Woody Allen, Goldie Hawn, Edward Norton, Alan Alda, Drew Barrymore, Natalie Portman.
And Woody Allen made a musical! In his eagerness to offer movies year after year, he has never abandoned his obsessive concerns and has tackled all possible genres. This film, as modest as it is efficient, contains gag memorable, and the abundant musical numbers are shot as if Allen had been at it his entire career.
19.25 / Movistar Action
'prisoners'
USA, 2013 (153 minutes). Director: Denis Villeneuve. Cast: Hugh Jackman, Jake Gyllenhaal, Paul Dano, Melissa Leo.
The disappearance of the young daughters of two married couples gathered at a dinner marks the first minutes of prisoners. Thus begins a devastating portrait of the darkest areas of the human being, in which Denis Villeneuve, author of the monumental set fire, it transports the spectator to a circular nightmare that captures him as much as the characters in the film. A marvel, as forceful as it is terrible.
19.30 / WE ARE
'The box 507′
Spain, 2002 (104 minutes). Director: Enrique Urbizu. Performers: Antonio Resines, José Coronado, Goya Toledo, Dafne Fernández.
For many years, fans waited for the outbreak of Enrique Urbizu's cinema. After a movie as amazing as All for the dough too much time passed in which it seemed that the director did not deliver films at the height of his talent until, finally, he arrived The box 507. Urbizu shows all his narrative power in a thriller as exhilarating as it is devastating, fueled by characters on the edge. the box 507 pursue the parallel stories of a banker seeking justice and a ruthless hit man. And it offers a staging full of verve, supported by the interpretations of a nuanced Antonio Resines and a forceful and sober José Coronado.
21.30 / Movistar Cinema Ñ
'The big family'
Spain, 1962 (99 minutes). Director: Fernando Palacios. Performers: Alberto Closas, Amparo Soler Leal, José Luis López Vázquez, José Isbert.
Though The big family is signed by Fernando Palacios, his Alma mater is the scriptwriter and producer Pedro Masó, creator of this apology for the large family and an example, moreover, of the social and political ideology of the moment. Despite the abundance of syrup in the story, The big family It works thanks to his applied customary brushstrokes and an assumed detail-oriented tone in the drawing of the characters. Of course, it is also sustained thanks to an admirable cast of actors in which he stands out
22.00 / TCM
'Singing under the rain'
USA, 1952 (100 minutes). Director: Stanley Donen. Cast: Gene Kelly, Debbie Reynolds, Donald O'Connor, Cyd Charisse.
Some say that, seen today, Singing under the rain It is not a big deal but, beyond its quality, the truth is that it is a work that helps to be a little happier. The transition from silent to talkies serves as the basis for creating an unforgettable, exultant musical that shows the bowels of a Hollywood that is as friendly as it is archetypal. More than half a century later, the mastery of his musical numbers and the vitality of his choreography have rarely been matched.
22.00 / Hollywood
'Harry potter and the Philosopher's Stone'
USA-UK, 2001 (140 minutes). Director: Chris Columbus. Cast: Daniel Radcliffe, Rupert Grint, Emma Watson.
The adaptation of the first of JK Rowling's novels boasts some amazing special effects and a narrative full of rhythm, force and intensity. The character's adventures would be overshadowed in the following installments, but this one is recommended for all ages.
22.20 / FDF
'A death funeral'
United Kingdom, 2007 (90 minutes). Director: Frank Oz. Cast: Matthew Macfadyen, Keeley Hawes, Alan Tudyk, Peter Dinklage.
The spirit of old producer Ealing is revived in this furious comedy, which lashes out at the family establishment with just the right touches of hooliganism. The funeral of a model father of a family brings together a group of characters, some abject, others foolish, all upset, who give rise to a comedy that is as joyful as it is intelligent.
22.30 / Antenna 3
Another appointment with the series 'Family Secrets'
The characters of the Turkish series Family secrets they face new problems in an episode that relates how Ilgaz confesses to Ceylin that his father put Zafer in jail knowing that he was innocent. In addition, Eren is forced to talk to her ex-partner, to whom he assures that he knows they have a daughter together, but her current husband sees them together and assaults the woman.
You can follow EL PAÍS TELEVISIÓN on Twitter or sign up here to receive our weekly newsletter.
Receive the television newsletter
All the news from channels and platforms, with interviews, news and analysis, as well as recommendations and criticism from our journalists
SIGN UP