Omdia has unveiled the ranking of mobile phone shipments in the first half of 2023. The top 10 includes only two manufacturers: Apple and Samsung.
Between the cries that Apple is bound to go bankrupt, the prices are too high, there is nothing new in phones and other such talk, Apple sells and shuts up, so to speak. iPhone took positions 1-4 of the top 10:
iPhone 14 Pro Max – 26.5 million
iPhone 14 Pro – 21 million
iPhone 14 – 16.5 million
iPhone 13 – 15.5 million
Samsung A14 – 12.4 million
Samsung S23 Ultra – 9.6 million
Samsung A14 5G – 9 million
Samsung A54 – 8.8 million
Samsung A34 5G – 7.1 million
iPhone 11 – 6.9 million
That's right, the Pro Max and Pro variants are Apple's best-selling phones, well ahead of the standard iPhone 14. That's how money is made.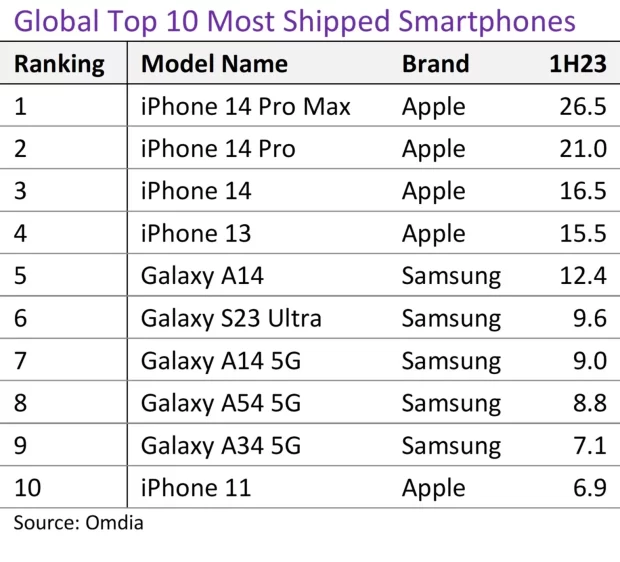 In total, Apple has sold 86.4 million phones. Of these, 47.5 million, more than half, were Pro models.
The iPhone 14 Pro starts at $999, but since a lot of Pro Max have been sold, and probably with more capacity than the cheapest one on offer, I think it's safe to say that this is again the year that the average price of a phone sold Apple topped $1,000. Given the hefty weight of the Pro Max, I wouldn't be surprised if the average is even higher than that.
Even almost a year after the launch, the cheapest iPhone 14 Pro Max costs 6199 lei in eMAG (and PC Garage and others), while the cheapest iPhone 14 Pro costs 5600 lei in 128 GB variants. And I think 128GB versions should really be avoided in this range.
Samsung reported shipments of 46.9 million phones. Thanks to them for having the Galaxy S23 Ultra (which now costs 5199 lei for 256 GB), we have not seen the Samsung flagship on the sales list for several years. However, even in this case, the average price per phone sold is much lower, and the A14 and A34 models are cheap. I think the A14 is now $150.
source: Android Authority.