Fátima Santolaya, Ángel Gil de Miguel and Isabel Jimeno.
In general, the concept of chronicity is linked to older people, as a result of greater longevity and changes in lifestyles. Nevertheless, More and more young people between the ages of 18 and 30 are receiving treatment for a chronic disease. That is why the president of the Spanish Society of General and Family Physicians (SEMG) in Madrid, Isabel Jimeno, asks not to relate this phenomenon to advanced ages and "not to underestimate" its impact among the youngest.
"There are more and more people in treatment," he warned during his speech at the III Madrid Congress of the SEMG in the table 'Prevention of respiratory infections in chronic patients'. However, it recognizes that the highest incidences are still found in the elderly due to their "vulnerability". For this reason, he stressed that chronicity "matters", since this group is more vulnerable to infectious diseases than the young population, and which, in turn, are one of the main causes of morbidity and mortality in the geriatric population.
The increased susceptibility to infections "has been attributed to the anatomical, physiological and immunological aging process and the higher prevalence in them of chronic diseases ", especially cardiovascular and pulmonary diseases and diabetes mellitus, which predispose to infection.
---
Jimeno: "More and more young people are being treated for chronic pathology"
---
In this context, the immunosenescence, consequence of progressive deterioration of both innate and adaptive immune responses. In this sense, Jimeno explained, "the responses dependent on T cells and those mediated by T cells are significantly affected in the elderly ", which translates into the" failure of homeostatic control mechanisms in response to successive encounters with noxious stimuli ".

It has also highlighted that chronic diseases increase the risk of hospitalization for pneumococcal pneumonia. For example, it increases the risk of immunosuppression by 55.7 percent, chronic liver disease 48 percent, diabetes 39.4 percent, or chronic kidney disease 27.6 percent. In addition, the pneumococcus "is the infectious agent that is most present in the complications of the flu," he said.

Chronicity and pneumococcus
Secondly, Angel Gil de Miguel, Professor of Preventive Medicine and Public Health at the Rey Juan Carlos University, has highlighted the importance of vaccines. So much so that, as indicated, vaccines have been the only way in which humans have managed to eradicate a disease: smallpox. In fact, in many underdeveloped countries the only access to health coverage is through the vaccine.
At the same time, he has agreed with Jimeno in highlighting the impact of chronicity among the youngest. In general terms, he has also stressed that the patient with chronic pathology and pneumococcal disease presents a worse evolution and greater severity, a worse effect on quality of life (lost work days, more frequent visits to the doctor, additional medication or help from caregivers) and an economic impact on the system (hospitalizations, longer stays or higher risk of death).
The table was moderated by Fatima Santolaya, Family doctor and third vice president of the SEMG Madrid, who highlighted that in Spain 62.4 percent of citizens suffered from some type of chronicity. In the case of the 15-64 age group, this index stands at 59.42 percent.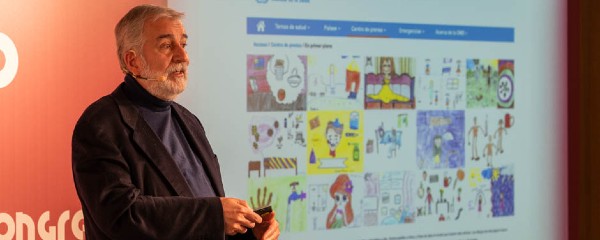 Miguel's Angel during his exhibition.
Although it may contain statements, data or notes from health institutions or professionals, the information contained in Medical Writing is edited and prepared by journalists. We recommend that the reader be consulted with any health-related question with a healthcare professional.