Key facts:
2023 will be "a complex year", but not impossible to invest, estimates an economist.

"A prolonged winter" could continue to impact BTC and ETH, says Gavotti.
Article prepared by Bárbara Distéfano and Juan Ibarra
---
2022 ended, a year that will be remembered among cryptocurrency investors for the great decline in the market in correlation with the main stock markets. This after, in 2021, crypto assets such as bitcoin (BTC) and ether (ETH) consecrated their all-time high prices. So the big question now is: how will these investment assets continue in 2023?
"I think both BTC and ETH will face [en 2023] a prolonged 'crypto winter', largely affected by the destruction of wealth that 2022 has left behind," trader Eduardo Gavotti said exclusively to CriptoNoticias. In the last year, bitcoin and ether depreciated around 65%.
Gavotti further explained that he sees this scenario after the sharp drop in prices and, above all, the loss of confidence in the sector as a result of the collapse of FTX and other centralized intermediaries such as Terra/Luna.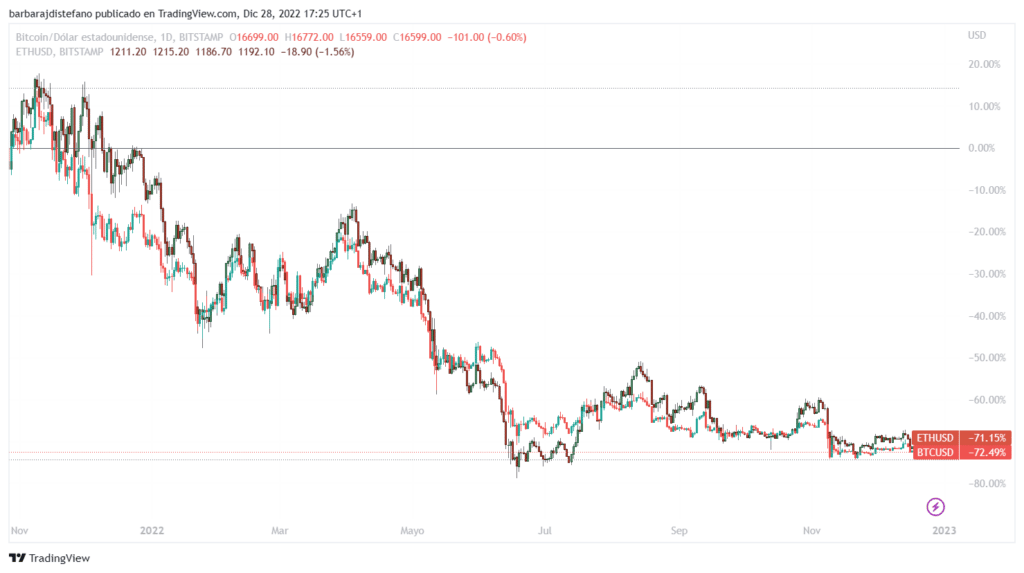 With this in mind, he stated: "Although crypto asset connoisseurs and promoters see BTC and perhaps less ETH as the two quality assets in the sector, new entrants to the market would think twice or thrice before safeguarding their money in crypto assets.
Bitcoin could fall from USD 15,000 in 2023
Continuing with the idea that the bear market will continue, Manu Ferrari, the bitcoiner and co-founder of the MOC protocol, cast the background soon. "I think that BTC, as a speculative asset, must be reaching its downward floor," he commented to CriptoNoticias. So far, its two-year minimum price has been touched last November in the range of USD 15,000.
I doubt we will see an upward boom in 2023. Possibly it will continue to sideline in 2023 as it has in other cycles and we will see an even lower floor than in 2022, and that it will continue like this at least until the halving of 2024.

Manu Ferrari, maximalist of freedom.
Clarifying that nothing he says should be taken as investment advice, Ferrari told what he projects. Although he believes that BTC will continue to decline until 2024, he believes that 2023 will be a "good time to accumulate" through DCA. However, does not think the same of ETHthe second highest-priced cryptocurrency after bitcoin.
«Regarding ETH, it could be that it is interesting to speculate with the price in the short term, but it is something that I do not do. In their fundamentalsIt's, I think, weakened with the move from PoW to PoS adding regulatory risk. ETH is not an asset that I personally am hoarding for the long term," she revealed.
A trend break is not yet in sight that will lead Bitcoin and Ethereum to the upside
Considering the technical analysis and the Elliot Waves, an increase is not seen at the beginning of 2023, the analyst Tenkan Trading estimated to CriptoNoticias. "The market has been bearish since the beginning of 2022 and today we have not broken upwards in highly relevant aspects that allow us to think that there is a reversal of the trend," he mentioned.
Given this scenario, he clarified that bitcoin suffers more than important corrections of the order of 80% from the previous highs. For this reason, he considers that, looking at it in the long term, the price has fallen "as expected" from its highest peak.
With this in mind, he visualizes that if we break out of the $20,000 area and then $25,000, we could start to see bullish signs ahead of the next halving. The last time it touched such levels was in August-November 2022 and, at the time of writing, its price is hovering around USD 16,600.
BTC and ETH prices in 2023 will depend on the global economy
To have a broader vision, CriptoNoticias also consulted the opinion of the economist Aarón Olmos. And from his perspective he told us that Bitcoin and Ethereum technology will continue to perform well in 2023 what they were created for. However, at the price level, that may not be reflected, he suggested.
For Olmos, the prices of BTC and ETH in 2023 "will be subject to the future of the global economy." He indicated that inflation is still present and speculation that it will continue has led many investors to the decision to liquidate their cryptocurrency holdings.
For this reason, he considers that its rebound "will depend a lot" on the recovery of the US, European and Asian economies. In this sense, he estimates that 2023 will be "a complex year", but not impossible to invest. "It's a matter of identifying when to get in and out to try to win at the price level," she said.
We have always been told that assets [del mercado de criptomonedas] they did not depend on the real economy. And the truth is that this year it has become clear that yes. There is a high level of dependency, [desde] what happens from the point of view of the exchange rate, interest rates, level of liquidity, the main companies, the possible recession, the disincorporation of workers and inflation. All of that has its effect on people's decisions to put money into BTC and ETH.

Aarón Olmos, economist, researcher and university professor.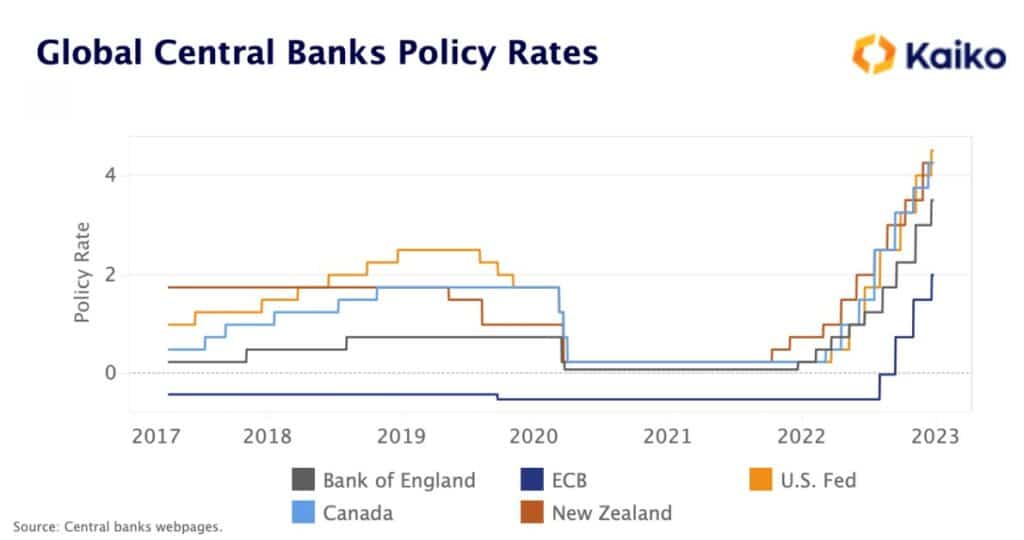 Expected milestones of the year: economic and regulatory impact after FTX collapse
As one of the expected market events, there is talk that in 2023 there could be a recession [caída abrupta de las actividades económicas]says Olmos. He explains that the scenario is characterized by the drop in GDP, high levels of unemployment and rising inflation.
For this reason, he affirms that governments and companies they have to work in order to recover the economy. "You have to be very attentive to what the United States Federal Reserve (Fed) and the European Central Bank (ECB) establish at the level of monetary policies in interest rates," said Olmos. And Gavotti also emphasized the latter.
The most important event for the markets in general, in my opinion, would be the signaling, by the Federal Reserve, of the change in its monetary policy. In other words, the end of the rise in interest rates and the possible return of a new liquidity cycle to revive the economy.

Eduardo Gavotti, finance specialist and trader.
In this sense, Tenkan added that the traditional markets have been correcting for more than a year. For this reason, he considers that if these, mainly those of the United States, configure a change in trend, could affect the prices of cryptocurrencies looking for a reversal too.
Added to this, Gavotti indicated that, as regards the world of cryptocurrencies, in 2023 we should be attentive to regulatory events, and the possible introduction of digital currencies from central banks (CBDC), and their impact on stablecoins (stablecoins).
according to that regulatory aspects could be another of the milestones that mark the market in 2023, Olmos thinks that this issue will be exasperated after the collapse of FTX. Either through supervision and even prohibitions of projects that do not meet the guidelines of the regulators.
What altcoins should be on the radar in 2023?
For Tenkan, "the risk of investing in altcoins in the long term is something that has to be done with study and conviction in the projects that each one finds interesting." Likewise, he considers that, of them, they should be looked at first those with the largest market capitalizations to get a better view.
The issue of altcoins is a complex issue because the volatility is much higher than bitcoin and that makes technical analysis difficult to carry out. We have seen many projects, which seem solid, drop in price and even disappear.

Tenkan Trading, accountant, analyst and investor.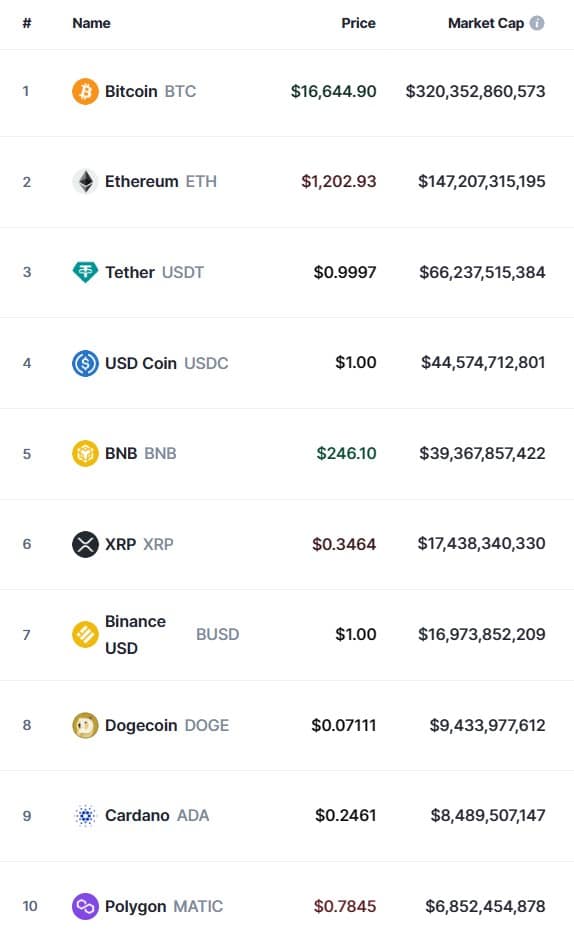 From another position, Gavotti revealed that he is not particularly following any specific project. But he maintains that "it will be interesting to look at which decentralized finance (DeFi) projects and protocols survive the cleanup." That is, those that overcome the current bear market and the events that may occur.
Regarding altcoins, Olmos commented that projects such as Cardano (ADA), Polkadot (DOT) and Polygon (MATIC), in terms of its value proposition. And he added that, to mitigate the risk of volatile cryptocurrencies in 2023, you have to keep stablecoins "very on the radar." Mainly the two with the largest market capitalization: tether (USDT) and USD Coin (USDC).
From a last vision, Ferrari told us that what he is doing, in terms of altcoins, is holding assets of the Money On Chain protocol that he co-founded. such as the bitcoin-collateralized stablecoin DoC and the governance token MoC. And he anticipated that in this 2023 he would look for more assets similar to the last one, in general that encourage the use of Bitcoin, and projects that promote privacy. He confessed that he would like to study Monero (XMR) and Ethereum Classic (ETC).
In which cryptocurrency projects not to invest?
"Simple, in something that you do not understand or that you do not have conviction," Gavotti replied to the question in this section. "You also shouldn't invest in anything that's thrown at you just because others are excited. I think you have to stay away from the recommendations of influencers, "he said.
"Also on the side of potential major crashes, I would be very attentive to Binance and its token in case of another episode like the one with FTX," Gavotti opined. And Olmos also referred to this, focusing on the stablecoin of the exchange, Binance USD (BUSD) due to the regulation that may impact you post FTX. In turn, he advised to stay away from those cryptocurrencies with extreme volatility.
From other eyes, Tenkan highlighted that, rather than thinking about what assets to get away from, the important thing is the diversification of capital. This is because, if an asset disappears, the risk of capital loss will be lower, he explained. Under this philosophy, he defends that the cryptocurrency market must be separated between Bitcoin, Ethereum and altcoins.
Ferrari expressed that he would stay away from projects that least promote Bitcoin and its values ​​of decentralization, resistance to censorship and financial sovereignty of the individual. Furthermore, he shared that I would be careful with tokens that are "in" and without any real tokenomics [economía sostenible].
"Usually the users who find out and buy these types of fashion tokens are the ones who lose the most. It happened with Luna, Solana, Dogecoin and hundreds of others, and it will happen again," Ferrari said. For this reason, he indicated that, from the conviction of his bitcoiner, he uses bitcoin as a safeguard of value in the medium and long term, even leveraging a part.
In this way, the specialists consulted gave a broad spectrum of what is expected in the cryptocurrency market for 2023, as well as in what investors should put the magnifying glass. All this from his opinion, so no part of this article should be considered a purchase recommendation.