Offered by Voxel
the next June 22nd at school Voxel School (Calle Guzmán el Bueno 25, Madrid) all those who are interested in carving a path in the world of animation (for movies or video games) or video games in general you have a very interesting date with Voxel Trendsa space for trends and innovation to which you can go completely free both at the level face-to-face (with a limited number of places) how to attend virtual by clicking here.
8:30 p.m.
Round tables to discuss trending topics with top industry professionals

⚡Present and future of the video game industry

Jose Raluy, teacher and Senior Video Game Producer at Tequila Works
Julio del Nuevo, 3D Artist pic.twitter.com/ZgRoPjpPgb VoxelSchool (@VoxelSchool) June 14, 2022
And you, what part of the video game do you want to work on?
This Voxel Trends start from 19:30 in the afternoon with a conference called "And you, what part of the video game do you want to work on?" in which different professionals from the sector will share their knowledge with all of you so that you can discover the different job profiles in video games (from the most technical to the most creative) as well as their experiences working for a long time in the industry.
This conference will be in charge of Jose RaluySenior Video Game Producer and teacher; Manuel Mejas3D Creature Artist at Star Vault AB; Arthur PaivaDirector of Animation at Tequila Works and Laura ElizabethPR & Social Media Expert at Make Good Art Agency.
Round tables on animation, cinematics, videogames…
After this conference at Voxel Trends several round tables will be held in parallel, each of them designed to different profiles of people interested in working in the worlds of animation or video games, counting on top-level Spanish professionals in all of them.
For example one of them is "Ingame Animation vs Cinematics" in which they will talk about the differences of the animators when working for an interactive animation of a game or for one dedicated to a cinematic (of the game itself, of a series…)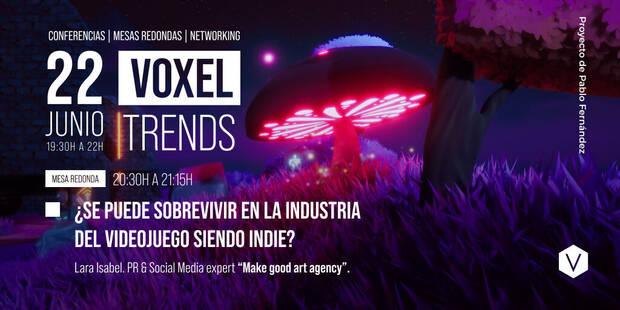 Within the round tables dedicated more specifically to video games we find "Present and future of the video game industry" in which we will talk about the evolution of the sector at the level of model, business and billing; in "Great opportunities in the AAA video game industry" We talk about the current opportunities to work in large studios that increasingly require specialized professionals to work on big-budget projects. On the opposite side we find "Can you survive in the video game industry being indie?", a round table in which they will talk about how you can start in the industry with a small project to grow year after year with marketing or crowdfunding strategies.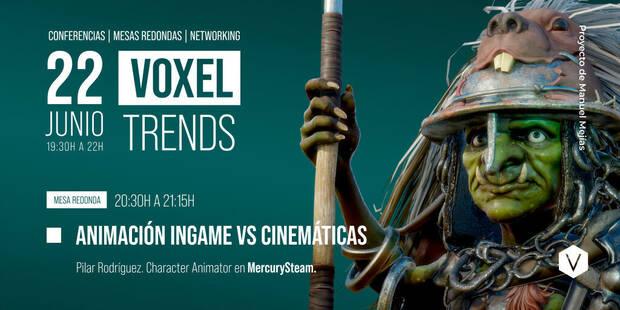 Lastly, from 21:00 there will be an afterwork in which attendees will be able to meet professionals, share their doubts and ask questions of all of them.
Voxel School, a digital arts school
Voxel School is a school of digital arts associated with the Complutense University of Madrid which was born to offer a specialized teaching in digital creation profiles and which is, furthermore, the only official PlayStation Talents center in Spain.
Inside the school there a wide variety of masters to help students achieve their goals in the video game, film, animation, advertising and design industries such as these four examples that we leave you below:
UCM Own Master in Digital Art for Videogames: Star training of the unique ecosystem made up of Voxel School, PlayStation and UCM. It has a multidisciplinary project workshop, in which students collaborate with students from other master's degrees to jointly develop a video game as a final project.
UCM's Own Master's Degree in Digital Animation: It also consists of a multidisciplinary project workshop in which students from the other UCM and Voxel School master's degrees collaborate to jointly develop a final project that allows students to give visibility to their work in the industry, go to fairs, competitions and professional festivals hand in hand with Voxel School.
Master in Digital Sculpture: Program in which students use the main tools, techniques and methodologies for the production of 3D models and digital sculptures, ranging from the study of volume in traditional sculpture to high-resolution organic modeling and 3D printing. This master is provided in collaboration with "Kraken 3D" 3D printing company and "inhouseLab" based at the school.
Advanced Master in Modeling and Texturing of Weapons & Vehicles for AAA Video Games: Specialized training unique in Spain, focused on the highest artistic profiles of "Hard Surface" modellers and texturizers required by studios that develop their own productions for high-end video games. This program is offered in collaboration with Secret 6 Madrid, a renowned outsourcing studio, where students carry out internships working side by side with their teachers on real projects.