At the opening session on August 28 on Nasdaq (US), VFS VinFast traded at $84 per share, up 22% from its base price.
During the session, VFS shares continued to set a new high of $93 per share. A few minutes later, the price of this stock constantly corrected and closed at $82.35 per share. However, this price still rose by almost 20% compared to the beginning of the day. All-day liquidity reached 12.62 million units with a trading value of over $1 billion.
At the price above, electric vehicle company VinFast has a market capitalization of $191 billion, closely matching Toyota's second position behind Tesla; far behind a number of well-known car manufacturers such as Porsche, Mercedes-Benz, BMW,…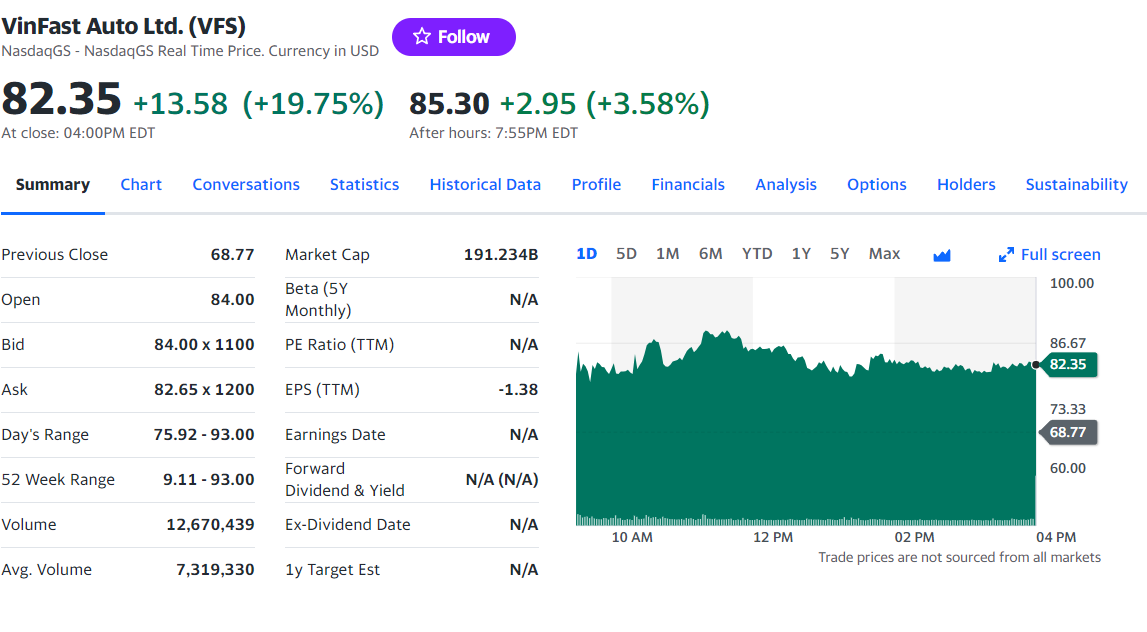 Shares of VFS VinFast at the session on August 28 on Nasdaq (USA),
Along with a series of consecutive days of rising Nasdaq VFS stock, billionaire Pham Nhat Vuong's assets continued to rise by $10.2 billion to $66 billion on the Forbes list, climbing to 16th place on the list of the world's richest people. world.
Analysts said VinFast's share price was following the US stock market's upward trend, with the Nasdaq Composite (IXIC) sharply up 114 points to 13,705 on August 28.
In addition, these shares continued to rise against the background of a very small number of shares in free float (4.5 million shares) compared to more than 2.3 billion shares of VFS listed on the exchange.
More VFS shares are expected to be listed on the market in the next six months to a year, according to VinFast Chairman Le Thi Thu Thuy. However, the supply of more VinFast shares to the market will reportedly be limited in the near future. It is expected that about 3 million more shares will be offered for the first time, and about 30 million more shares in the subsequent period.