The largest cultural event in Romania – XXVI International Festival "Giorgio Enescu" – started on Sunday, August 27. Dozens of concerts and exclusive interviews with world classical music figures are broadcast on TVR CULTURAL, TVR 1, TVR Internaţional and TVR MOLDOVA from 27 August to 24 September.| VIDEO with details about the daily routine |
Public TV broadcasts more than 60 concerts
The most prestigious orchestras in the world will perform live on TVR
The biggest cultural event in Romania and at the same time one of the most important classical music events at the international level – The George Enescu International Festival, XXVI edition, debuted on Sunday, August 27 live on TVR.
Dozens of concerts, thousands of minutes of live classical music, exclusive interviews with outstanding figures of world classical music, as well as real-time information will be broadcast by public television on TVR CULTURAL, TVR 1, TVR Internaţional and TVR MOLDOVA channels. from 27 August to 24 September.
"We are honored and delighted to offer the audience a premium event with world-class orchestras, unique moments and performances. In line with its public mission, TVR and especially TVR CULTURAL for four weeks are turning into a grand stage where those in front of the small screens will have the opportunity to watch quality music in exceptional interpretations with artists who make the history of international classical music", declared Dan-Christian Turturica, President-CEO of TVR.
As co-producer and official broadcaster of this prestigious cultural event, TVR will broadcast over 60 concerts, both live and on tape. transmissions In Game will also include a series of concerts for families and children – a first for the festival, with programs specifically designed to stimulate children's interest in classical music and instruments.
The opening show was broadcast live on TVR 1, TVR CULTURAL, TVR Internaţional and TVR MOLDOVA on Sunday, August 27, from 19:30. It was preceded by a special edition (from 19.00) with speeches and interviews from the red carpet, moderated by Marius Constantinescu. Philharmonic Orchestra conducted by Christian Machelaru. George Enescu performed together with the famous cellist Gauthier Capuçon the Concerto for Cello and Orchestra by Antonin Dvorak, the Romanian Rhapsody no. 2 George Enescu and Suite "Knight of the Rose" by Richard Strauss.
​
All other concerts can be watched on TVR CULTURAL from 17.00 or 20.00. and, in turn, they will be preceded by special editions moderated by journalists Marius Constantinescu and Catalin Sava.
The Romanian TV team also makes podcasts. TVR #Enescuwhich is moderated by producer Valentina Beintan, as well as Cultural agenda — daily placeholder with recommendations from the event program. In between concerts, viewers will be able to watch interviews with guests from the world of culture and art (actors, pop, rock and classical music performers, writers, film directors, etc.), conducted by Valentina Beintan and Claudia Robu.
Another novelty of this year, along with a series of concerts for families and children, is the return to the Festival program Midnight Concerts. During the night concerts scheduled from 22:30, soprano Olga Peretyatko, tenor Marius Vlad Budoiu, mezzo-soprano Kate Lindsey, Ensemble Zefiro – the famous Italian wind ensemble specializing in baroque music – the famous international pianist and composer on the stage of the Romanian Ateneum Turkish Fazil Sai, National Chamber Choir "Madrigal – Marin Konstantin", Avi Avital – one of the most famous mandolinists in the world, organist Cameron Carpenter and many others.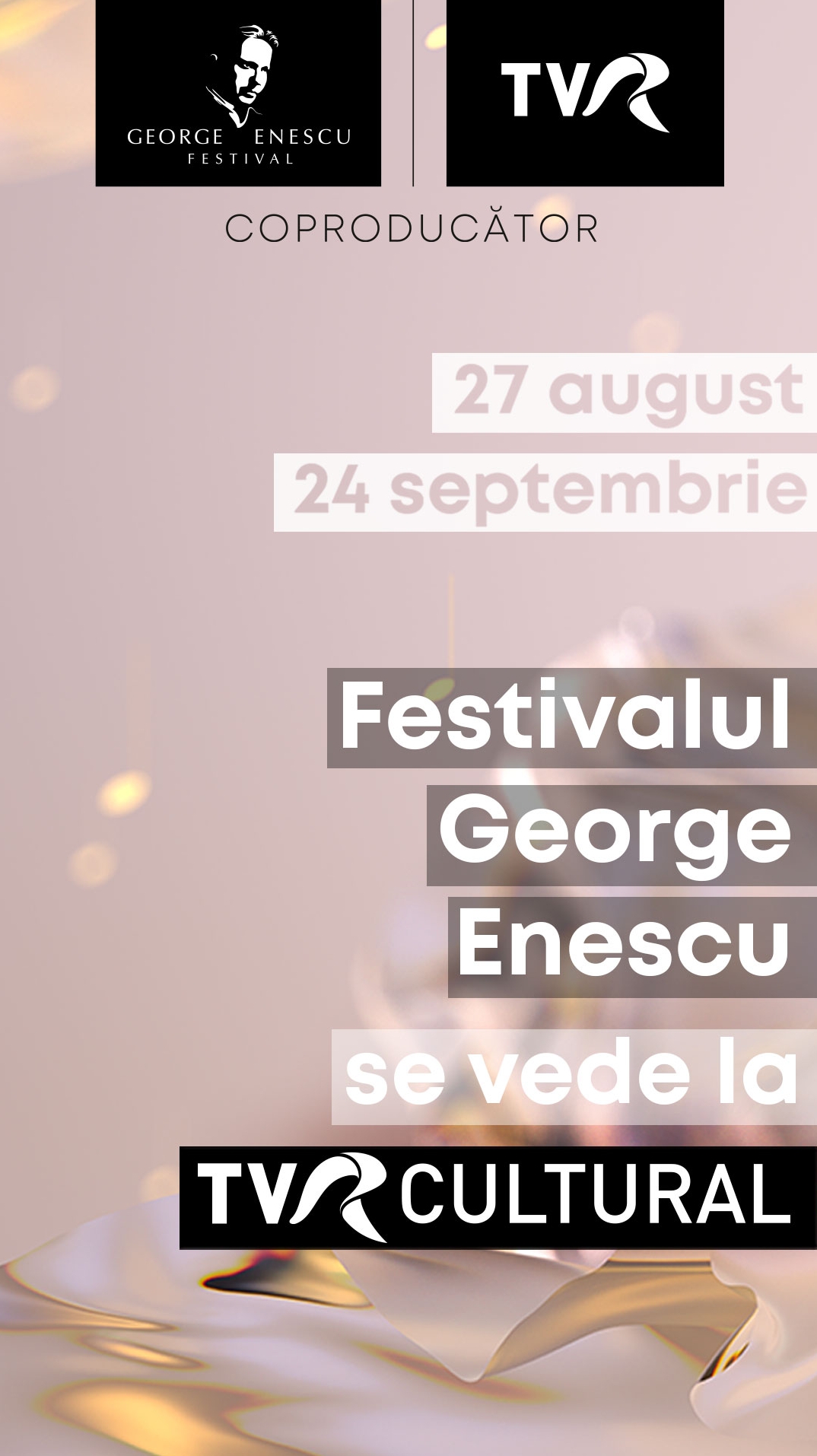 During the four weeks of the festival, the Romanian Athenaeum, the Great Hall and the Small Hall of the Palace, as well as the Radio Hall will be attended by the greatest orchestras in the world, among which we will mention: the London Symphony Orchestra, the Israel Symphony Orchestra, the Tonhalle Orchestra from Zurich, the WDR Cologne Symphony Orchestra, the National Orchestra of France, Orchestra of the National Academy of Santa Cecilia in Rome, Royal Concertgebouw Orchestra, Cameristi della Scala, Leipzig Gewandhaus Orchestra, Franz Liszt Chamber Orchestra, Berlin Academy of the American Musical Chamber Orchestra, Manchester Chamber Orchestra, etc.
The program of the event will not miss the most famous Romanian musical ensembles, such as the Philharmonic Orchestra and the choir. George EnescuNational Radio Orchestra, Romanian Youth Orchestra, Transylvania Philharmonic Orchestra from Cluj-Napoca, Banatul Philharmonic Orchestra from Timisoara, Mihail Jora Philharmonic Orchestra from Bacau, Moldova Philharmonic Orchestra from Iasi, State Philharmonic Orchestra from Sibiu.
The history of Romanian television is inextricably linked with the George Enescu International Festival, which since its launch has become a brand, a benchmark for performance at the highest level. Since 1958, Romanian television has taken over and broadcast all the events taking place during the George Enescu International Festival and Competition, and in recent editions it has entered into a number of external partnerships with prestigious European television stations interested in the festival. One of the most successful collaborations is with the prestigious channel Mezzo, whose main broadcast partner is TVR. In Game for this post. TVR has also collaborated with Arte, Swiss National Television (Television Suisse Romande) or ZDF.
***
For more information, write to us at: comunication.corporate@tvr.ro.
Communications, Public Relations and Protocol Service