The bullish sentiment about the price of bitcoin (BTC) seems to be making a comeback among crypto traders. That suggests the recent behavior of the price of bitcoin futures, in the derivatives markets.
Data published this Tuesday, August 2 by the analysis firm Arcane Research show a increase in the "premium" of BTC futures in recent days. In cases like the CME market, there was a spike close to 5% premium; while in exchanges such as Binance and FTX that index reached 4% and 3.2% respectively.
The premium (or premiums) in this type of market refers to the upward variation of the trading price in futures contracts and the price of the asset in retail trading (in spot). When the futures is above it is considered a premium, while if it is below then it is a discount. That is, right now futures traders see more potential for bitcoin price.
The three exchanges mentioned by Arcane in its report have raised their premium levels in recent weeks to levels not seen since last May, as the chart below shows.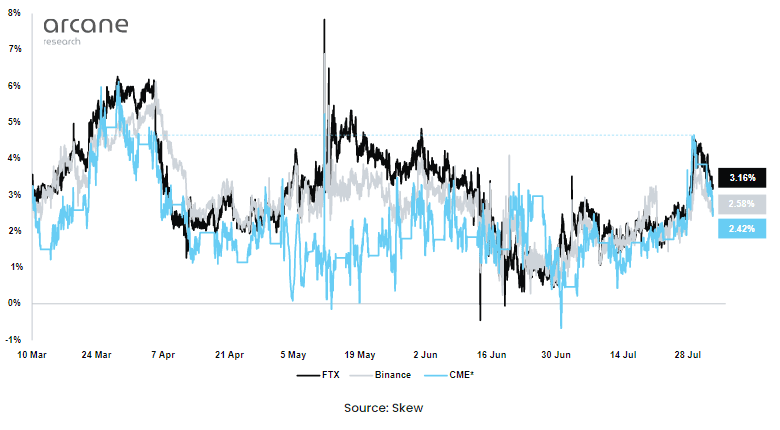 Arcane has been reporting the increase that was being seen in the premiums of the futures market in previous weeks. But now he sees a clearer trend in that direction. Particularly, after the rally in the price of bitcoin with its best month since last October.
Traders in the bitcoin futures market got excited ahead of the weekend as we saw a significant rise in futures premiums, likely related to the stock market rally that also led to the rise in bitcoin price.

ArcaneResearch.
Market sentiment is changing
After going through its greatest period of extreme fear, as we reported in mid-July in CriptoNoticias, the sentiment in the cryptocurrency market is changing. Tensions have eased with bitcoin returning to critical levels ahead of a new upward move.
The fear and greed index reflects this change, moving in recent weeks to a situation of moderate fear, as recorded on alternative.me. There is still no widespread optimism in the market, but the panic of previous months seems to have passed.
Various analysts also support this turnaround in market sentiment. In recent days, various reports show the possibilities of a new bull run, as stated by Bank of America. As a counterpart, the Glassnode records indicate that the conditions for this new boost to the price of bitcoin are not yet in place. Traders' forecasts are mostly bullish in the short term, with price targets set between $25,000 and $30,000 for this August.