Last time Slovan didn't have enough strength against Taborsko in Kotlin on Sunday, they lost 0:2. "I'm sorry we didn't win the game. We were not favorites, but we believed that we could bounce back from the bottom. Unfortunately, it didn't work out, "the coach regretted at the post-match press conference.
He mostly blamed his players for their lack of determination. "The guests were hungry, they went for it at the cost of self-sacrifice in order to come to some kind of scar. I didn't see it here. That's why we conceded the first goal, but unfortunately we were under even more pressure then, and that was an even bigger embarrassment on our part."
And instead of leveling the score, Taborsk struck a second blow. "There was some pressure on us, but we lacked the quality to finish the situation. In the pre-final stage, it was very hectic, it had to be solved with a combination, parterre, but we have big losses there, which brings us down," the coach sees.
Taborsko is now more in the role of Varnsdorf from last season, the victory lifted them to third place, they are only one point behind the leader Vyshkov.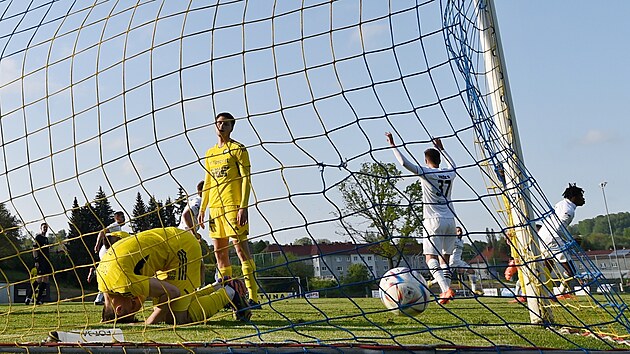 "I don't think at all that Varnsdorf should be in the positions in which he is now moving. We expected a very difficult match, the opponents want to play football in any conditions, which is great. I am very happy with the successful start of the season and the fact that we managed to do it here," Taborska head coach Roman Nadvornik said.
Varnsdorf is paying the price for the summer's disruption of a successful team that fought for promotion to the first league last year. He misses the Nigerian Tanko and his 15 goals, and also lacks the seven-goal Osmanchik and Shen. They all made it to the top competitions, Tanko is already scoring goals in Ostrava, Osmanczyk in České Budějovice, Shen in Jablonec. Together they scored more than half of Slovan's goals last season.
The defense collapsed completely, two players of the main squad disappeared, Richter was brought out by Zizkov, Zbrozhek ended his professional career. Ludwiczek and Kurka also left. This has been happening in modest Varnsdorf for years, but such a radical change is unusual even here. "It's not easy to put together a new team, but that's the situation and we have to deal with it," Holenyak says.