Bitcoin fell below $20,000 this weekend, although it has already managed to recover that level. As of this writing, it is trading on exchanges at around $20,800 per unit. But what is the key metric to forecast bitcoin price movements today? The answer seems to lie in the moving averages.
In particular, the 200-week moving average has become the most reliable metric that analysts point to for the future of cryptocurrency in the market. Although for the past few days the price of BTC has been below that mark, the few historical precedents point to a rebound in the coming days.
Even analysts point to that average (which is currently over $22,000 per BTC) as a key. Among them is the Argentine trader known as Tenkan Trading.
Consulted by CriptoNoticias, Tenkan reiterated something that we have reported in recent days in this newspaper: "If we look at this moving average since bitcoin began trading, we can see that whenever it touched it, it went up." For this reason, he considers that this level is "a more than important zone of support" for the price of the cryptocurrency.
For his part, Scott Melker commented in his most recent newsletter that "the 200 moving average was lost as support, so we should at least see the price rise to test it as resistance" for a new bull run. "We really want to see the price above that red line again," he added.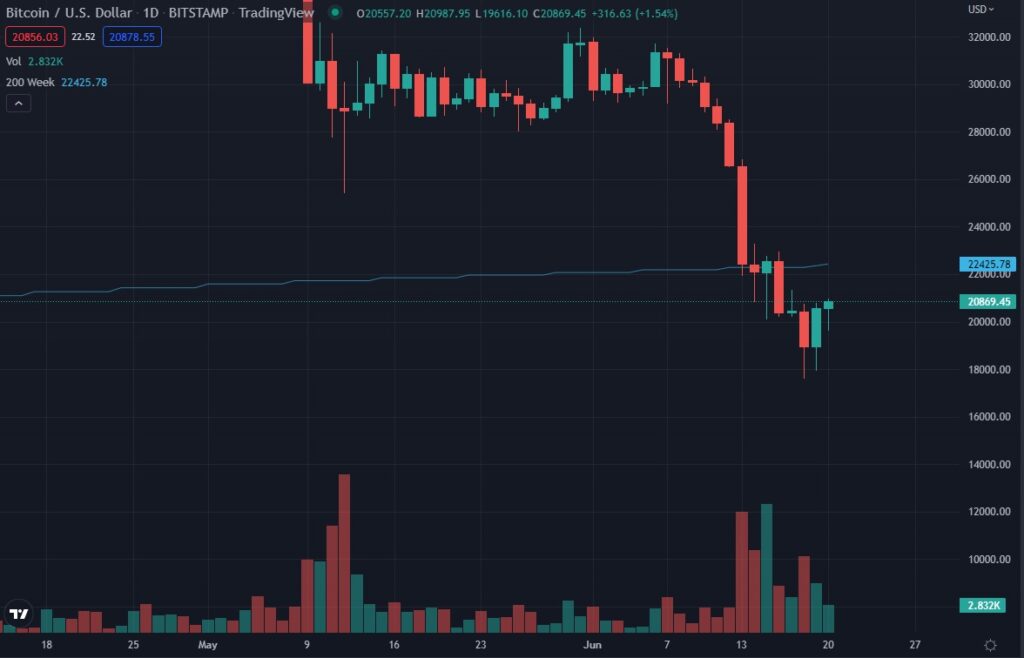 Melker, also known as The Wolf of All Streets, added that The charts still don't look very promising for the bitcoin price. "Honestly, still not looking too good, but at least there was a bounce and the 2017 top support held," the analyst wrote.
The week starts with a positive rebound
The weekly candle closed this Sunday with a disturbing 22.69% down. And if we factor in the 11+% drop from the previous week, as Melker commented, the charts don't look too good.
However, we can take as positive the rebound from 17,500 (low level of the week) to climb back up the hill to $20,000 this Sunday. And so far this Monday, June 20, BTC has risen a bit more (just under 1%) to sit above $20,800.
To regain support from the 200 weekly moving average, bitcoin would have to rise just over 10% relative to its current price. Historically, the cryptocurrency hasn't lasted long below that 200-week average mark. In fact, he has rarely been in that situation. And the rebounds have been considerable.
Despite those precedents, there are analysts who have taken a very unoptimistic tone, after BTC fell below $20,000. Some even consider the possibility of visiting the zone of 12,000 or 14,000 dollars in this bear market.