Key facts:
Glassnode reported that bitcoin's one-month volatility hit a low of 24.6%.

Financial analyst Alberto Cárdenas predicts a bearish movement for bitcoin soon.
The volatility of the bitcoin (BTC) price is at annual lows, not seen since August 2020, which could mean a foreseeable downward movement in the price of the first cryptocurrency against the dollar, as warned by at least three specialists.
In accordance with glassnodeone of the blockchain analytics firms, BTC's 1-month volatility hit extreme lows of just 24.6%. These low levels have been seen only "rarely" in bitcoin's 14-year life..
In particular, and according to the graph offered by the Glassnode service, during the first days of January 2023 the volatility of the first cryptocurrency hit the lows last seen in November 2018April 2019 and August 2020. In the first two cases, low volatility preceded a drop in the BTC price.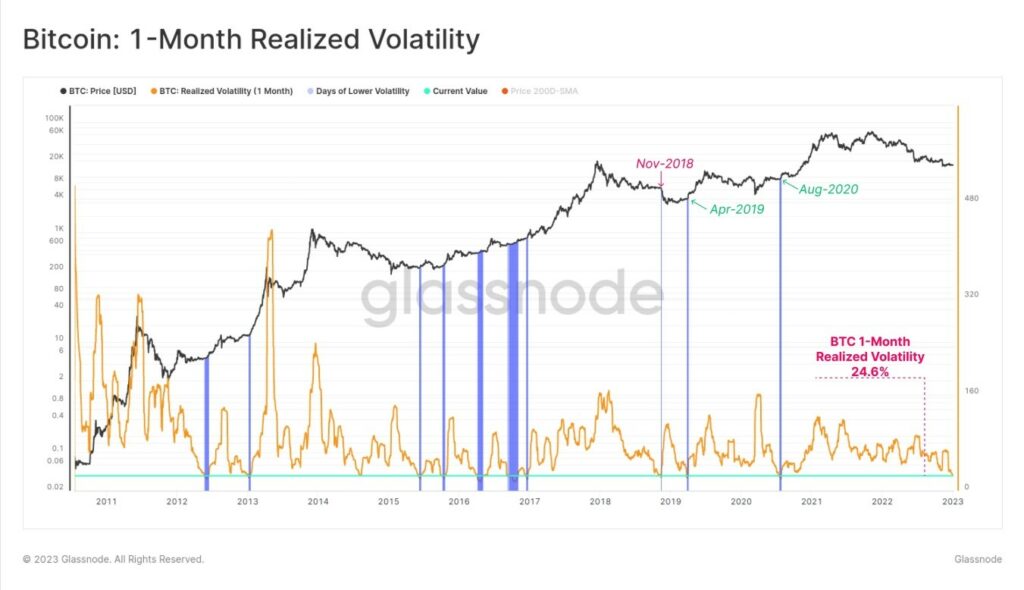 Glassnode highlights in its graph, shared via Twitter, that the month of December 2022 was "historically quiet" regarding realized market volatility. This is remarkable, since generally the price of the pioneer cryptocurrency is usually volatile in the last month of the year, since it is marked by December increases.
Specialists predict price drop
In this sense, the financial analyst Alberto Cárdenas Indian on his Twitter account that the volatility of bitcoin is cyclical and that, therefore, it is an "alert" that there is likely to be a "significant movement (in price) in the coming days." "In my opinion it is downward, as happened in 2018 and 2019," he said..
This specialist coincided with Alex Thorn, who is the head of business research at the firm Galaxy Digital. He told CNBC that any time volatility has dropped to these levels, bitcoin prices "have bottomed out".
Thorn suggested that despite the ongoing destabilization as a result of the crash of the FTX cryptocurrency exchange and other similar companies such as Celsius, Voyager and BlockFi; the crypto-asset market "will emerge significantly mature" from this situation.
Noelle Acheson, who is an economist specializing in cryptocurrencies, warned for her part that the low volatility of bitcoin is a "reason and symptom" of the withdrawal of traders from the crypto asset market.
In his opinion, this reality "is not good for bitcoin's prospects"since the traders "make the market more liquid and lively," he told this American medium.
Acheson points out that if bitcoin's volatility increases, that would be seen as a "positive sign," rather than causing concern among investors. "And would likely be closely followed by a similar move in spot and derivatives trading volume," he estimated.