Drought is one of the great problems that humans face, since there are areas, such as Africa, where there is hardly any drinking water. With the idea of ​​helping, a Spanish engineer invented a machine capable of generating drinking water by extracting it from the air. Now an Israeli company has created a portable water generator that can be comfortably carried anywhere.
Watergen, this is what the company is called and who already presented a similar product at CES 2019, has created a portable machine that can efficiently extract water vapor from the air and collect it as fresh, filtered drinking water. A device that can be carried in the trunk, camping or installed in vehicles such as motorhomes.
The company unveiled its new device earlier this week in Israel, which looks reminiscent of a traditional portable generator, but with one difference: instead of burning fuel to generate electricity, this machine uses electricity to extract water from the air.
How does it work?
The Watergen Mobile Box is quite simple to use. You just have to connect it to a 12V or 220V power outlet in a vehicle so that it begins to suck air through a fan. Then a filtration system leading to the heat exchanger extracts the water through condensation, processes it through a multilevel filtration system that includes ultraviolet light and stores it in a warehouse.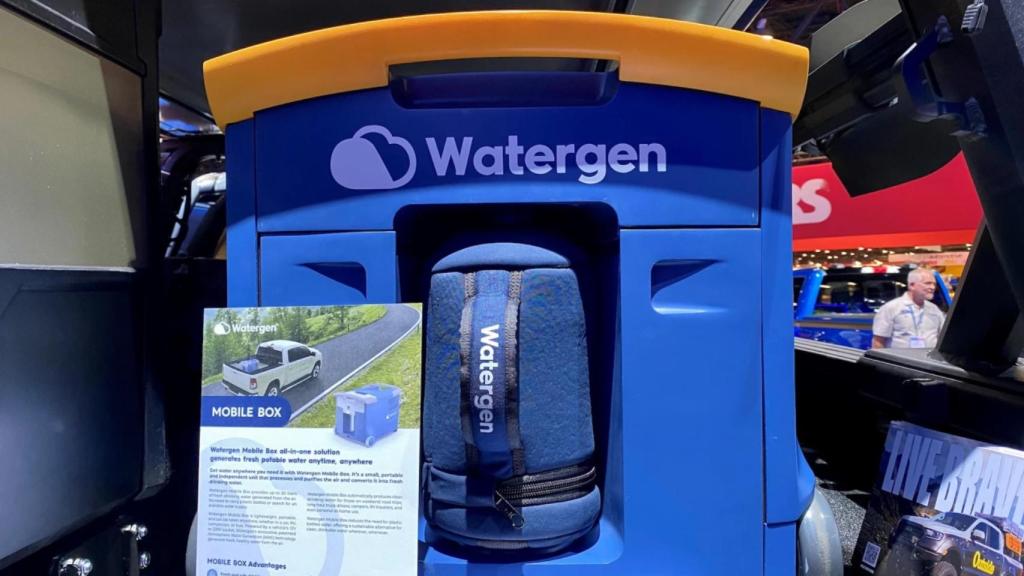 At this point, the user only has to take a glass and pour the water into it, either through the tap built into the machine or by removing the tank. The company has ensured that its portable generator can produce up to 20 liters of fresh drinking water from air.
Another interesting detail of this machine is that it only weighs 15 kilograms, so it can be transported comfortably. Its creators have also claimed that the product has four types of audiences: campers, outdoor workers, caravans and motorhomes, and pickup trucks.
Sustainable alternative
The Watergen Mobile Box automatically produces clean drinking water for those who travel by road, for long distance drivers or for those who want to go camping on the weekend. A product that reduces the need for water bottled in plasticas it offers a sustainable alternative.
The company also has an 'On Board' system that generates up to 50 liters of water per day from the air and installed in motorhomes and other types of vehicles, such as trains and yachts. To do this, one part is placed on the ceiling, which is what generates water from the air, and another inside, which is responsible for purifying, storing and dispensing water.
It may interest you…
Follow the topics that interest you