The Last of Us Part 2 did not always maintain the content that we saw in the final version. The official art book dedicated to this installment reveals an unused concept that modified the most momentous scene starring Abby. If you have not played we recommend that you stop reading: it will cover topics that reveal the plot of the game.
Before golf: this was the alternative scene of Abby and Joel
Long before Abby ended Joel's life with a golf club, Naughty Dog outlined an alternative plot that changed the course of two protagonistseven if the outcome was the same. "In an original concept, Abby was going to infiltrate the festival dance and come on to Joel," the study begins.
In the images that accompany this piece (uploaded by the user u/IzhmaelCorp08 on Reddit) we can see the concept art that Naughty Dog sketched. On the left we see how it would have been the meeting between Abby and Joel in full dance, a moment in which he has no idea of ​​the girl's hidden intentions. On the right side, instead, we see the final result.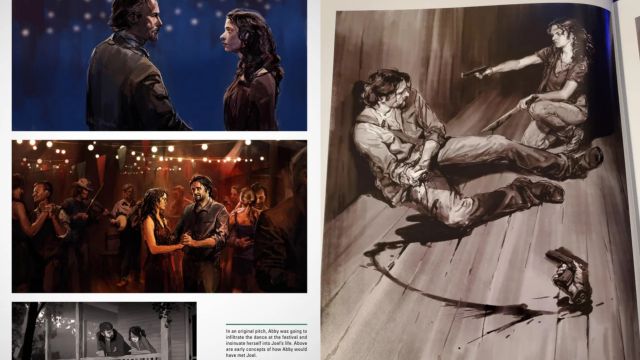 naughty dog He tells it like this: "Concept of Abby cornering a mortally wounded Joel. Her machete is bleeding from having dismembered her hand. As he tries to wriggle away from her, confused and terrified, he analyzes the cold gaze that passes through him. At that moment he realizes that it is not a random attack: she has been looking for him to hunt him ".
The final version completely differs from this concept, with Joel being tortured by Abby and her gang until they deal the killing blow. The rest, if you have played it, is history: from that moment began the journey of revenge on which he embarks Ellie throughout the United States.
References: Reddit