The boy Bill Clinton returns to the present day after this failure of The Game Awards.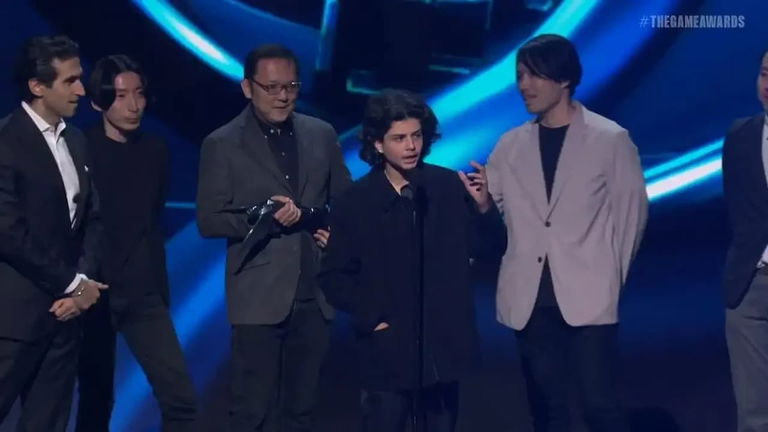 If we will remember The Game Awards 2022 for anything in the coming years, apart from Christopher Judge's Neverending Speech when picking up his statuette for Best Performance for his role as Kratos in God of War Ragnarok, it will be for the teenager who sneaked on stage during the delivery of the Best Game of the Year award to Elden Ring as if he were another member of the From Software team. A spontaneous acquaintance of similar events who made a joke by the name of Bill Clinyton. An unusual fact due to many factors, such as the fact that he was on stage during all of Hidetaka Miyazaki's speech and no one realized that he had slipped in.
The story does not end there, because when it seemed that the whole world had forgotten about the "Bill Clinton boy", the organization of The Game Awards itself has made a terrible montage with Photoshop to try to erase it from a photo and the solution has clearly been worse than the disease.
Graphic design is my passion
This all comes from a tweet that The Game Awards Twitter account posted last Thursday to celebrate the milestone of From Software becoming the first studio to win two Game of the Year awards. So far so good, what happens is that the photo chosen to accompany the gif seems to be from one of the moments in which "boy Bill Clinton" slips into the frame, and when trying to erase it with Photoshop, someone made a real mess. I mean, take a look at the picture. It shows, right?
From Software is the first studio to win 2 Game of the Year awards at #TheGameAwards

2019 – Sekiro: Shadows Die Twice
2022 – Elden Ring

Congratulations @fromsoftware_pr pic.twitter.com/UXzG83JsOT

— The Game Awards (@thegameawards) December 21, 2022
As expected, this helped them to arrive dozens of messages mocking the bad luck of the CM from The Game Awards or whoever did this montage. Some quite funny, actually. As a user who compared this moment to when SEGA posted a photo in which shamelessly eliminated Yuji Nakathe co-creator of Sonic, who has recently been embroiled in some controversy.
editing like pic.twitter.com/WM8FHJ4ybK

—TheNCSmaster (@TheNCSmaster) December 22, 2022
The Game Awards 2022: list of all the winners
In either case, the truth is that this year's edition of The Game Awards has stood out compared to previous years. both for the games and for the memes. We'll see what Geoff Keighley pulls out of the sleeve for next year.