Walking down the street while vehicles move through the air seems like something out of a science fiction movie, but the truth is that it is close to being a reality. In 2024, Atea, a flying car that could connect Madrid with Valencia, is scheduled to be launched, and another has already been presented that uses a drone and would travel from the Spanish capital to Barcelona in just two hours. Now, a Spanish company has announced Concept Integrity, a new flying taxi that in five years can be seen flying through the skies of Madrid.
[El vídeo que muestra el taxi volador silencioso de 36 rotores]
Umiles, a company specialized in drones based in Aravaca (Madrid), has unveiled Concept Integrity, its new flying taxi manufactured in Brunete that will fly through the skies in 2027. "We have been working for more than 18 months on this second air taxi prototype. The ship is 100% new and is based on its younger sister (New Concept) that was presented in 2021," explains Carlos Poveda, CEO of Umiles Group, to EL ESPAÑOL – Omicrono.
A ship that has been presented at the World ATM Congress, an international air navigation event that is held at the Ifema fairgrounds in Madrid, and that It comes with a more advanced design than its predecessor and all the evolved systems, from the propellers to the motors; highlighting according to the company its landing gear, its arms and dynamic fairings, which are made of carbon fiber.
for short distances
Concept Integrity is 8 meters long and features a futuristic egg-shaped design that has been created from scratch and "aims for maximum social acceptance as well as successful inclusion in urban environments." Also has an interior that has been made with light colors with the intention of generating a feeling of exclusivity for the passenger and has sustainable materials for greater comfort.
The aircraft "is designed as a personal vehicle for a single passenger" and has a payload of 100 kilograms, so it would approximately have a capacity for only one person and a small carry-on bag. Poveda points out that "the goal of Concept Integrity is to cover short-haul flights with the 15:15 concept in mind, that is, It can travel 15 kilometers in just 15 minutes and reaches a maximum speed of 80 km/h.".
[El impresionante vídeo del primer viaje de casa al trabajo de un 'coche volador' unipersonal]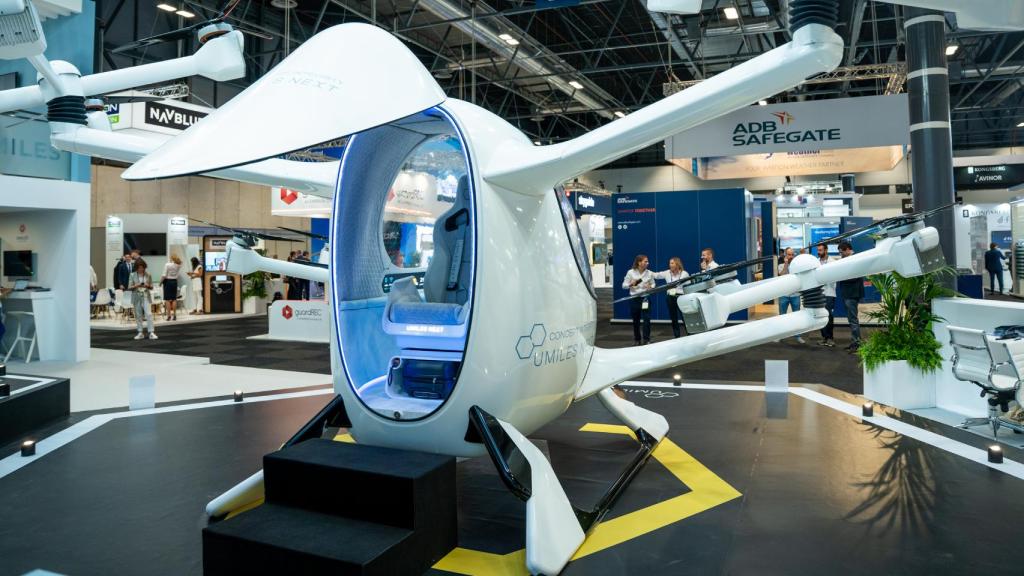 Under this idea, the director points out that "the vehicle has the ability to cover around 85% of city centersbeing able to transport a passenger between any point in a city". The air taxi is made up of an aerodynamic cabin that is propelled by four drones placed at the top and bottom, which are the ones that allow the movement of the roof of the flight.
For its operation, Concept Integrity integrates an advanced control system that allows drones to move independently and coordinated with each other, favoring aerodynamic efficiency. The company assures that one of the objectives is that in the end the user, while the journey lasts, can be comfortably using his computer or simply relax.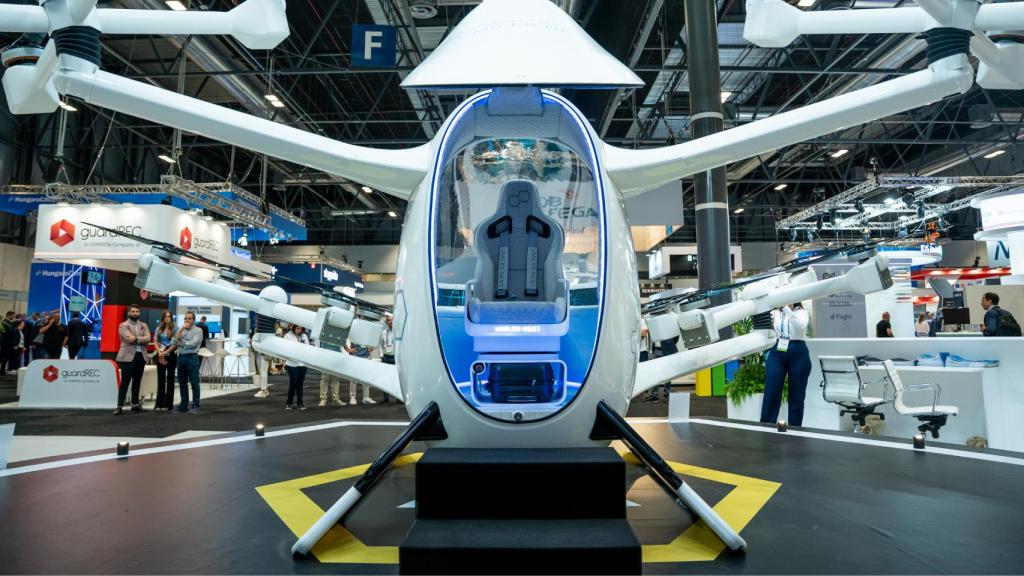 The aircraft is also based on the flight stability system patent, called FlyFree or 'dron of drones', which allows greater firmness and safety when moving people and goods; and gives the vehicle the ability to "perform complex maneuvers even in adverse windy weather conditions", indicates Poveda.
FlyFree it is specifically a changeable ball joint system with a configuration of drones with variable numbers of propellers that are linked by passive universal joints to the cabin. Thanks to this, the company ensures that greater stability and energy efficiency are achieved, in addition to an increase in accuracy during landing and takeoff.
new aircraft
Umiles hopes that within five years Concept Integrity will already fly through the sky of Madrid. Before that, the company is working on polishing technical, systems and design aspects, and plans to carry out several tests in different countries of Europesuch as Spain, France and the United Kingdom.
The purpose of these maneuvers is to keep accumulating more flight hours and experience, in addition to showing the operation of the flying taxi and its technology. Some initiatives that will also serve to collaborate with the European regulatory authorities to define the assumptions of coexistence of drone flight with other aerial systems, for greater security.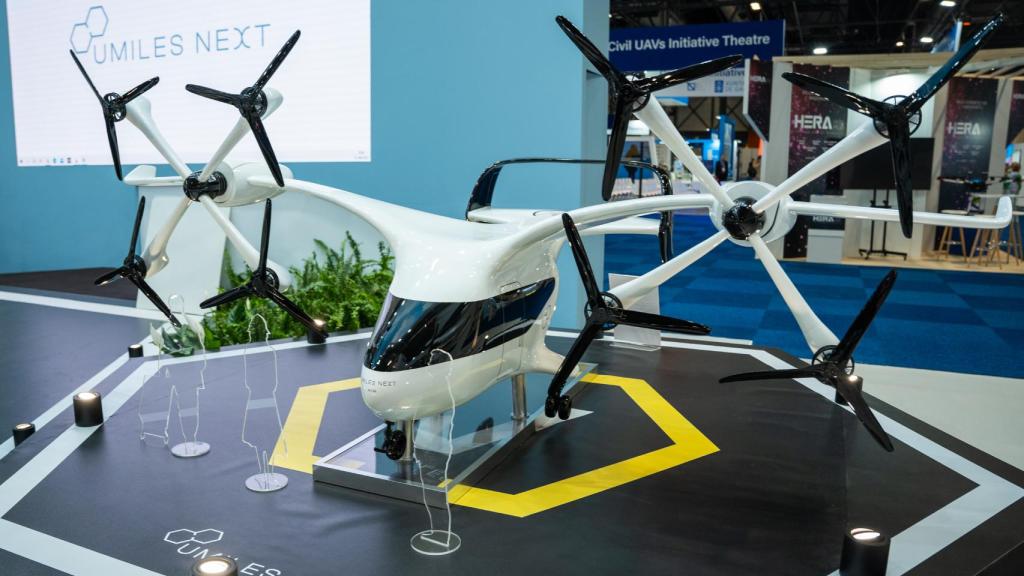 However, Poveda considers that "creating sound and safe regulation involving multiple factors takes time. The relevant authorities are focused on advancing in this direction and all of us involved must contribute our knowledge to have a solid and safe regulation."
Looking to the future, the company is "working in parallel on the development and manufacture of another piloted aircraft with capacity for three people (1 pilot and 2 passengers) called Integrity3 and that it has greater autonomy and more capacity. It will see the light in 2027″, concludes Carlos Poveda. They even have in mind to create another aircraft with capacity for 10 people and that would be ready in 2037.
You may also like…
Follow the topics that interest you