In the midst of a bear market, investors have been taking advantage of falling prices to accumulate bitcoin (BTC). This is demonstrated by various data on the holding of coins in Bitcoin addresses, which have reached historical peaks or in recent months.
The amount of Bitcoin addresses with at least 1 full BTC is at its all-time high, with a total of 866,893 in this situation. During the last months of 2021 that address metric was little moved, but in the months to date this year it has increased by about 50,000.
The accumulation of bitcoin has accelerated, clearly coinciding with the bear market that has developed this year 2022. This is noticeable by the behavior of those addresses, as Glassnode records show.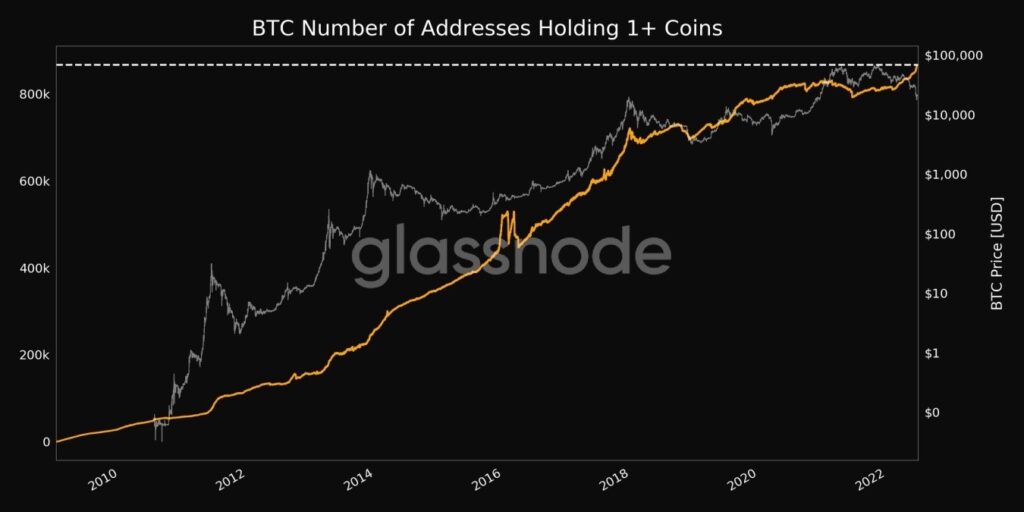 Also addresses with 10 or more BTC are at a peak today. In this case, it is a top of the last 6 months. This speaks precisely of how the accumulation of bitcoin by investors has increased during this bear market in which the cryptocurrency has fallen 57% between January 1 and this Wednesday, June 6.
Total, There are more than 148,000 addresses that accumulate at least 10 bitcoins. That is, a minimum of $200,000 in BTC per address.
The same trend has occurred even with the largest whales in the world: again there are more than 100 addresses with 10,000 or more bitcoins, which is equivalent to just over 200 million dollars. All strata are taking advantage to add BTC to their reserves. The bear market, which has made a group of investors and traders lose a lot of money, has also been an opportunity for others who have decided to accumulate bitcoin.
Bitcoin in bear market and waiting for recovery
As we have reported in recent days through CriptoNoticias, bitcoin is currently in a dangerous zone: below the 200-week moving average mark, which has been solid support for the price so far.
Although this situation seems to give little hope, the precedents are positive. The few times that the price of the cryptocurrency has fallen below that average, there have been significant rebounds in the following days.
Currently in the bear market there is still hope that bitcoin will have that rebound. At the very least, analysts expect a rally after the price has visited 2017 cycle levels, below $20,000. Others argue, as we have quoted here, that bitcoin could recover much better than stocks in the midst of a global market meltdown.