The American swimmer Anita Álvarez has starred this Wednesday in the most dramatic moment of the World Swimming Championships held in Budapest. The athlete was finishing her exercise during the final of the artistic swimming free solo in the Margarita Island pool when, about to finish her performance, she lost consciousness and remained at the bottom of the pool without showing signs of reaction. Quickly, her trainer, the Spanish Andrea Fuentes, who was dressed as a street, dove into the water to get her afloat while the medical assistance arrived.
Between Fuentes and a member of the tournament organization, they managed to get the 25-year-old swimmer out of the pool so that she could be attended to by the health team, who quickly took her out of the enclosure on a stretcher. Minutes later, once the test was over, the American team reported on their social networks that Álvarez was "fine" and out of danger.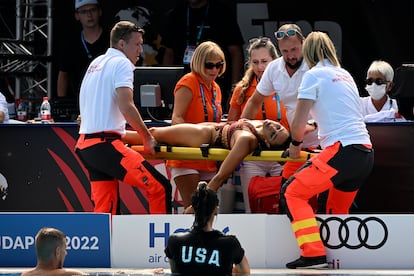 Fuentes, whose intervention was essential to avoid a worse situation, is the most successful swimmer in the history of Spanish swimming, winner of three silver and one bronze in the Olympic Games, 13 World Cup medals, and 11 medals in absolute European Championships. For years she was in a relationship with Gemma Mengual and after she retired from the pools in 2013, she has been training various athletes. One of them, Anita Álvarez, who saved her life this Wednesday.
😱 "I saw that the lifeguards were paralyzed and I jumped"

😅 "I saw how it sank; the pole weighed 20 kilos and the lifeguard arrived at his own pace"

🏊‍♀️ This is how Andrea Fuentes relates in @The spar his rescue of Anita Álvarez, a swimmer who fainted after exercising pic.twitter.com/l4k2KSHtQa

– El Larguero (@ellarguero) June 22, 2022
Hours later, Fuentes gave an interview to the program The spar from Cadena Ser in which he explained that this is not the first time that his pupil has suffered a similar episode. "Athletes look for the limit of the body and sometimes we find it", she pointed out. Later, she told how the most dramatic moment of the Swimming World Cup was: "I saw that the lifeguards didn't jump into the water because they were paralyzed. I yelled at them from the other end to get into the water now. I have seen how they were stunned and I have jumped into the water directly towards her. I saw how she was sinking and I swam as fast as she could, "said the coach. "I have done the fastest apnea of ​​my life, more than when I was preparing for the Olympics. It is now remembered as a rare tale, "she has claimed. Anita Álvarez is in perfect condition, added Fuentes.
"I was giving everything I could and the polo shirt weighed 20 kilos on me," Fuentes described. "When I got to her, I saw the lifeguard swimming at her pace. I grabbed her and pulled her out, but I saw that she wasn't breathing and her jaw was closed and super hard. I've slapped her twice and yelled at her: Anita breathe! And she wasn't breathing. The lifeguard held her face up. In first aid they teach you that when one is not breathing you have to put him on his side and I turned his head because the other didn't know anything. I had to rescue them both almost because the other one did not know how to swim well, "she lamented, although he has said that he understands the situation. "I understand that I am an Olympian and that I can swim faster. He wanted to do her job, but I wanted to get her out of it as soon as possible and he was weighing me down too much. In the end we got her out of the water but she was put on her back on her stretcher and I insisted that she was not breathing and that she had to turn her over. After two minutes is when she has started to breathe".
The coach's complaints have also spread to the World Cup medical services. "I don't know if it was her first time because they tried to put masks of her and what she wanted was to be calm and she wouldn't stop crying asking to be left alone. In the end I had to fight a bit with them. It was as if they were hysterical", explained Fuentes.
You can follow EL PAÍS Sports in Facebook Y Twitteror sign up here to receive our weekly newsletter.