Mexico City /


They are tired of saying that "they don't even know Mexican soccer" and many more derogatory adjectives, but it seems that in Argentina they have Mexico in mind thinking about the match on November 26 within the World Cup, since fans, journalists and players do not miss the opportunity to talk about the Tri.
It is almost always underestimating the Tricolor and now it was Paul Moucheplayer who played in clubs such as Boca Juniors, Colo-Colo and Palmeiras, who once again ignited the controversy in an interview with the Argentine network TyC Sports analyzing the next World Cup for the Albiceleste.
"For me, Arabia is more difficult than Mexico in the group"stated Mouche, who currently plays for the Barracas Central club in the First Division, an element that only played in five friendlies with his National Team.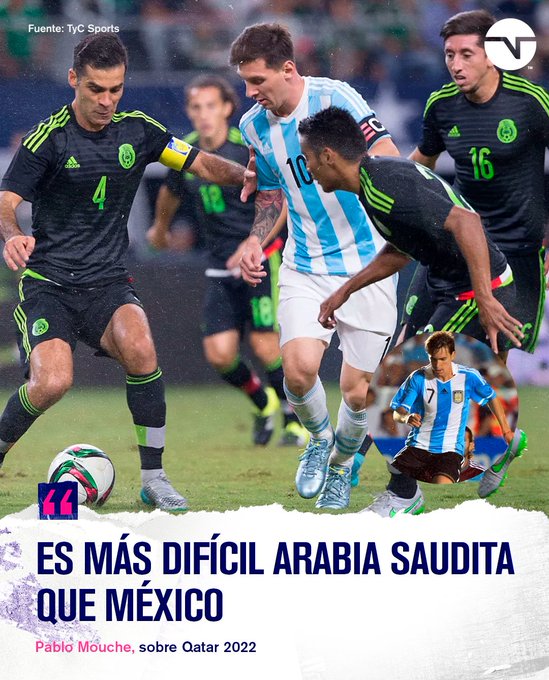 ​Argentina player believes that Mexico never played the World Cup
Let's put things in perspective: Argentina is a power in soccer and Mexico is not, it is clear. La Albiceleste has two World Cups and El Tri is still looking to get to the Quarterfinals outside their country for the first time in history, but from that to say that the Mexican National Team never played a World Cupyou have to be very daring.
Incredible as it may seem, there a selected from Argentina called Cristiano Romero who said that "Mexico was never in the World Cup". At least from history I could know that they have eliminated El Tri twice in the Round of 16 in this century, once in 2006 and the other in 2010.
"It is a complicated rival, I think they never played a World Cupbut surely the atmosphere and how each player experiences it must be in a very special way", commented the nicknamed Cuti recently.
​