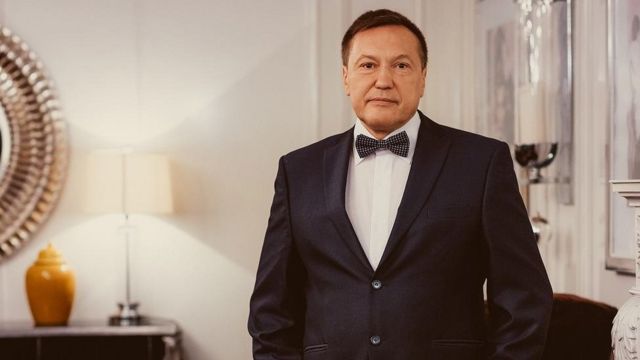 Russian sausage magnate Pavel Antov was found dead on Sunday after falling from a hotel window in India, two days after a friend of his died during the same trip.
Both were visiting the eastern state of Odisha and the millionaire, who is also a politician, had just celebrated his birthday at the hotel.
Antov, 65, was a well-known figure in the city of Vladimir, east of Moscow.
In the middle of the year, he had denied criticizing Russia's war in Ukraine after an alleged message from him appeared on WhatsApp.
The death of the millionaire is the latest in a series of unexplained deaths involving Russian tycoons from the start of the invasion of Ukraine, many of whom had been outspoken critics of the war.
A friend of the tycoon named Vladimir Budanov died in the same hotel on Friday.
Odisha Police Superintendent Vivekananda Sharma said it was found that Budanov suffered a stroke. Meanwhile, his friend "was depressed after his death and also died."
The Russian consul in Calcutta, Alexei Idamkin, told the TASS news agency that the police did not see a "criminal element in these tragic events".
Tour guide Jitendra Singh told reporters that Budanov may have "drank a lot of alcohol, because he had bottles of liquor."
Entrepreneur and legislator
Antov founded the Vladimir Standard meat processing plant in the 2000s, and in 2019 Forbes estimated his fortune at about $140 million.
He played an important role in the Vladimir legislative assembly, where he headed a committee on land policy and ecology. Assembly vice-president Vyacheslav Kartukhin said he had died under "tragic circumstances."
In late June, it appeared to be reacting to a Russian missile attack on a residential building in Kyiv that left a man dead and his seven-year-old daughter and her mother injured.
A WhatsApp message attributed to Antov described how the family was pulled from the rubble: "It is extremely difficult to call all of this anything other than terror."
The message was deleted and Antov later posted on social media that he was a supporter of President Putin, a "patriot" of his country, and backed the war.
The WhatsApp message came from someone whose opinion on the "special military operation in Ukraine" he strongly disagreed with, he insisted. It had been accidentally posted as her message and it was a very upsetting misunderstanding, she said.
In September, the head of Russian oil giant Lukoil, Ravil Maganov, died after apparently falling from a Moscow hospital window.
Remember that you can receive notifications from BBC Mundo. Download the new version of our app and activate them so you don't miss out on our best content.