"Two power lines were interrupted, which fed a distribution equipment with a power of 750 kilowatts, necessary for the safe operation of the energy blocks of the Zaporizhia nuclear power plant," reported this Friday (08.05.2022) the temporary administration of the city ​​of Energodar, quoted by the Interfax agency.
The attack sparked a fire that local firefighters are trying to put out.
"Two hours after the first attack, a new artillery attack was carried out from the opposite bank of the Dnieper. This time the nationalists managed to reach their objective, the shells hit an industrial building at the nuclear power plant," the sources said. .
Risk of dissemination of radioactive substances
For its part, Ukraine accused Russia of having carried out bombings near a nuclear reactor at the Zaporizhia plant. "Three shellings were recorded on Friday night near one of the nuclear reactors," Ukrainian state-owned company Energoatom, which runs the country's nuclear power plants, said on Telegram.
"There are risks of hydrogen leakage and dissemination of radioactive substances. The danger of fire is high," according to Energoatom, adding that officials from the Russian company Rosatom "left the site in a hurry before the attack."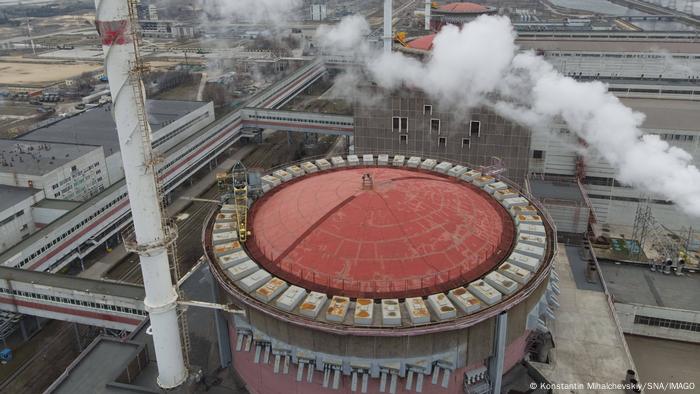 Zaporizhia nuclear power plant in Ukraine.
Russia, in turn, blamed Ukraine for the bombing. "Ukrainian armed units carried out three bombardments in the area of ​​the Zaporizhia nuclear power plant and the city of Energodar," the Russian Defense Ministry said. "We urge the international community to condemn the criminal actions of the Zelensky regime, which perpetrates acts of nuclear terrorism," he added.
kyiv: Russia uses central as a base
This is not the first nuclear attack, which the Ukrainian side justifies by stating that the Russian Army uses it to carry out attacks from its territory, something that Russia categorically rejects.
The Secretary of State of the United States, Antony Blinken, accused Russia on Monday of using the Zaporizhia nuclear power plant as a military base to launch attacks "knowing that (the Ukrainians) cannot and will not return fire, because they could hitting a nuclear reactor or highly radioactive waste.
"This takes the concept of using a human shield to a totally different and horrendous level," insisted the head of US diplomacy, who represented his country at the opening of a conference to review the Nuclear Non-Proliferation Treaty (NPT).
kamikaze drone attacks
After today's attack, the pro-Russian authorities again called representatives of the International Atomic Energy Agency (IAEA) to visit the nuclear plant and see with their own eyes the situation on the ground.
On July 20, the pro-Russian military administration of Energodar accused the Ukrainian Army of carrying out four attacks with kamikaze drones against this energy facility.
Energodar authorities reported that the reactor hall of the nuclear power plant suffered no damage, but noted that the explosions injured eleven employees of the facility, four of them in serious condition.
VT (ff, dpa)