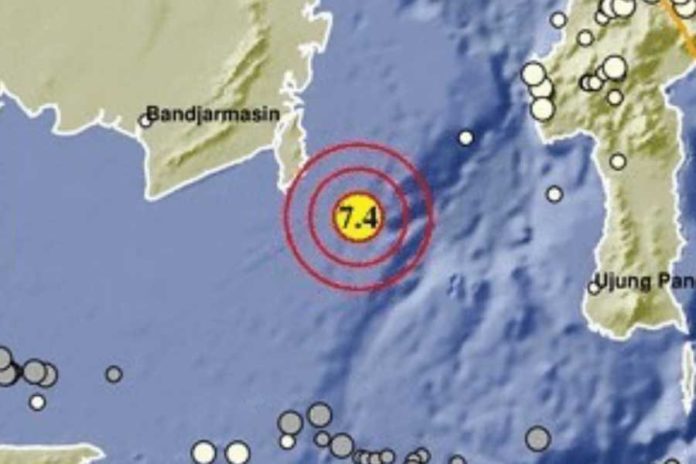 DENPASAR, BALIPOST.com – A rather strong earthquake rocked Bali on Tuesday (August 29) around 3.55 WITA morning. A 7.4 magnitude earthquake suddenly woke the sleeping residents.
A rather strong earthquake was felt in almost all areas of Bali, for example, in Denpasar, Badung, Tabanan and Gianyar. The sleeping residents immediately woke up as the shaking was relatively loud and lasted for about a minute.
Some residents of the house also ran out into the street. They wake up the rest of the family who are sleeping. No damage or casualties have yet been reported.
According to BMKG, the earthquake hit around 03.55 WITA or 02.55 WIB. This earthquake occurred at the coordinates of 4.38 south latitude and 116.90 east longitude at a depth of 10 km.
BMKG said the exact location is in the Java Sea or 180 km southeast of Tanah Bumbu, South Kalimantan. Although the magnitude was relatively large, BMKG stated that this earthquake did not have the potential for a tsunami.
Judging by the official BMKG account @infobmkg, this earthquake was felt not only in Bali. A number of other provinces also felt the shock, such as East Java, NTB, DIY, Central Java and West Java.
Various comments have also graced the BMKG posts regarding this quake. A number of netizens stated that the earthquake in Bali was felt very strongly. Those who were asleep were awakened by its strong vibrations. (Dia Devi / balipost)