Parham Ghobadi
BBC Persian Service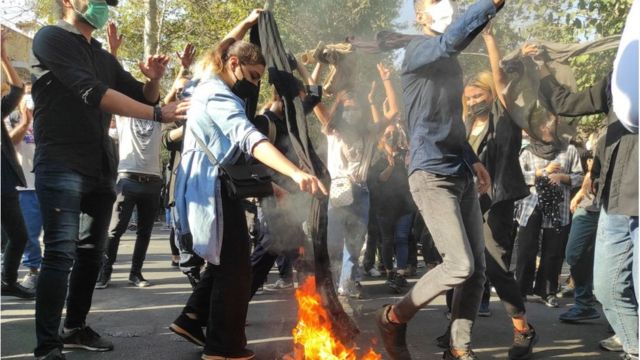 One hundred days after it began, the longest protests in Iran since the 1979 Islamic Revolution have hit the regime, but at a very high cost of life.
More than 500 protesters, including 69 minors, have died during these mobilizations, according to the Human Rights Activists agency, HRANA (for its acronym in English).
To this figure are added two people who were executed by the government and at least another 26 could suffer the same fate, in what the entity Amnesty International has called "false trials".
Although nationwide mobilizations have already occurred in Iran on previous occasions – one in 2017 that lasted until early 2018 and another in November 2019 – the current protests are unique because they involve people from all walks of life and it is women who have taken the leadership under the slogan "Woman, life, freedom".
Another aspect that has made these protests different is the use of Molotov cocktails.
These have been used against the bases of the Basich militia and the Hawza, which are religious schools for Muslim clerics.
remove the turbans
Iran's Generation Z has been at the forefront of these protests, defying strict religious norms and setting new trends, such as burning headscarves or headscarves.
Another new trend among young protesters is so-called "turban removal": sneaking up behind Shia Muslim clerics, slapping their turbans off and running away.
A 16-year-old boy, Arshia Emamgholizadeh, was arrested in the northwestern city of Tabriz last month, accused of "removing the turban".
He was detained for 10 days before being released.
Two days later he committed suicide, something that his family attributes to the treatment he received in prison. During his detention, Arshia had been beaten and given unknown pills, a source close to the family told the BBC.
The Iranian authorities have not only repressed the protesters, but also have used the bodies of those who died in custody or were murdered as bargaining chips to silence the families of the victims.
Fearing such pressure, the brother of a slain protester stole his body from a morgue and drove through the city for hours, a source told the BBC.
Mehran Samak, 27, was shot in the head in the northern city of Bandar Anzali for honking his car horn in celebration of Iran's elimination from the World Cup in Qatar on November 29.
Another family denounces that their 23-year-old son, Hamed Salahshoor, died in police custody and that they found signs of torture when they exhumed his body after from being buried 30 kilometers away from your natal city.
executions and torture
So far, two men have been executed after being convicted on charges of vaguely defined acts against national security related to the protests, in what human rights groups have condemned as gross miscarriages of justice.
Many of those sentenced to death have said they were tortured.
The Kurdistan Human Rights Network, a non-governmental organization, said an Iranian-Kurdish rapper, Saman Yasin, who was sentenced to death, had attempted suicide the previous week.
This NGO previously said that Yasin was tortured while in detention. Iran's Supreme Court upheld an appeal against his death sentence on Saturday and ordered a retrial.
In an audio file obtained by the BBC, a 26-year-old amateur bodybuilder, Sahand Noormohammadzadehclaims that he was subjected to several mock executions during his time in prison.
Noormohammadzadeh was sentenced to death in November after being convicted of "enmity against God" (defined in Iranian law as "creating public insecurity" with a weapon).
He was accused of blocking traffic on a highway during a protest in Tehran on September 23, which he denied.
The BBC obtained X-ray images that show that radiologist Hamid Ghare-Hasanlou, who is in prison accused of the crime of "corruption on Earth", suffered three broken ribs that pierced his lung.
This crime carries the death penalty.
A source told Amnesty International that Ghare-Hasanlou was tortured and ill-treated to extract a forced "confession".
prominent voices
Some Iranian celebrities have shown unrestrained support for the protests, that has led to their arrest or exile.
Iranian actress Taraneh Alidoosti, recognized throughout the country, is being held in Evin prison after she raised her voice in protest over the death of a young protester.
Previously, she had published a photo without the veil, which is mandatory in the country for all women, holding a sign with the slogan of the protests.
"I have worked with Taraneh on four films and now he is in prison for his legitimate support of his compatriots and his opposition to unfair sentences handed down," director Asghar Farhadi, who directed Alidoosti in "El client", which won the Oscar for Best Foreign Film in 2016.
"If showing such support is a crime, then tens of millions of people on this earth are criminals.Farhadi added.
Another prominent Iranian actress, Pegah Ahangarani, had to leave the country.
"Both parties have been radicalised, the regime in its crackdown and people in the film industry in their response," Ahangarani told the BBC.
"Iran cannot go back to the pre-Mahsa Amini era," referring to the Kurdish Iranian woman whose death in the custody of Iran's moral police on September 16 sparked the protests.
Hamid Farrokhnezhad, another well-known actor, moved to the US earlier this month and from there branded Ali Khamenei, Iran's supreme leader, a "dictator" and compared him to Franco, Stalin and Mussolini.
Ali Karimi, one of the most recognized athletes in the country, who was living in Dubai, also showed his support for the mobilizations.
And he added that because of this, Iranian government intelligence agents threatened him with death, so he had to move to the US.
Karimi has become one of the main critics of the Iranian regime on his Instagram account, which has more than 14 million followers.
Another prominent athlete is Ali Daei, who also owns a jewelry store and a restaurant, which were closed by the government after he showed support for a national strike.
Remember that you can receive notifications from BBC Mundo. Download the new version of our app and activate them so you don't miss out on our best content.