The same applies to Lu Xuefeng's views on the disabled: self-cultivation happens just like ordinary people; at the same time, we must use the situation, experience and perception of life of this group, different from ordinary people, to bring different actions and inspiration into life. society
  Text | Outlook Weekly News Reporter Li Rong
  Lu Xuefeng, 44, can tell at a glance that his legs and feet are inflexible. One of his legs has grown slowly since he was a child, and he now wears a short prosthesis that can hardly be called "balanced on both legs."
  But he is no different from ordinary people, even more dexterous than ordinary people. Went to interview him at the first store of Tu Xiao Ai, the original tea drink brand for the disabled, located in Zhujing City, Jinshan, Shanghai. Others go to help.
  The same applies to Lu Xuefeng's views on the disabled: self-cultivation happens just like ordinary people; at the same time, we must use the situation, experience and perception of life of this group, different from ordinary people, to bring different actions and inspirations to people. society.
  Weightlifting "if light"
  Today, Lu Xuefeng's most famous "title" is the founder of Tu Xiaoai. But his more brilliant achievements are in sports for the disabled: he is the champion of the VIII National Games of the Disabled in weightlifting, the champion of the Asian Weightlifting Championship among the disabled in Malaysia and the world champion in weightlifting among the disabled. in Hungary.
  More than 20 years of sports career gave him the greatest feeling: firstly, perseverance, perseverance and perseverance are very important, there will be ups and downs in everything, there will be ups and downs. the second is to have a clear goal and use your brain to catch the key points. Weightlifting has its "tricks and obstacles". In training, you should always understand in your heart the purpose of this "three in one"; the third is a sports career, professional career and life in the final analysis. Joys, sorrows, sorrows and joys in life are closely related to training and weightlifting competitions. Excitement and joy in life also relieve life's stress. He is grateful for everything weightlifting has given him. So, he is 44 years old, but he has not retired and is still a member of the weightlifting movement.
  Lu Xuefeng has won so many championships, but he lacks a Paralympic champion. He said that this is his biggest regret: "For various reasons, I missed three opportunities." However, this is where its toughness lies: weightlifting is not about "getting something". "If you want something," you can only let "weightlifting" crush you. The true meaning of weightlifting is always this: weightlifting "if light."
  leave "space"
  When talking with Lu Xuefeng, the most enjoyable thing is the opportunity to openly discuss some topics regarding the disabled. He said that in society, people with disabilities can be said to have "taken a step back" innately. "Flash Contribution" is inspiring enough to touch people's hearts. "Take a step back, the sea and the sky will become brighter", this is also a kind of self-confidence and self-improvement.
  According to Lu Xuefeng, one thing can be done seriously, but one thing is clearly not enough. He knows how to leave himself "space". By "lifting weights" in a down-to-earth manner, he tried to leave "space" to experience a different content of life and work. He studied on the job, from junior college to Ph.D., worked as a salesman in the enterprise, ran the "high legs and low legs" disabled leg business, with business resources, he began to own the company.
  But most of all, he thinks about how to allow the disabled to find a new space of "wide sea and sky." In 2021, Lu Xuefeng was elected Vice Chairman of the Jinshan District Disabled People's Federation, helping to plan the establishment of an entrepreneurial incubator for the disabled. He spearheaded the establishment of the Tu Xiaoai milk tea shop, which has become a platform for people with disabilities to start businesses and find jobs.
  Speaking about the name of the store "Xiaoai Tea", Lu Xuefeng said that he originally wanted to call it "Xiaoai Tea", but after searching, he found that someone else had already used this name. The wife involved in the creation had an idea and said, "Then add a small horizontal line in the middle and replace it with Tu Xiaoai." Together, simply "coordinated": entrepreneurship is a joy in bitterness, from bitterness to sweetness, and finally prosperity is expected. society. Big Love. Lu Xuefeng said that even in such a small matter as saying a name, one needs to take a step back to make room, but in the end, the sea and sky go one step further, and the meaning becomes more complete.
  Lu Xuefeng is an impatient person who is always busy with business. But when he spoke to the clerk, the most he said was: "slow down," "calm down," "it's all right," "try next time." The store has a saleswoman named Shen, who is already a star master. She has studied most fruit teas, and "juicy grape cheese" fruit and cheese drink is her signature brand. Some regular customers enter the store without looking at the list of drinks. You can call the product name directly to place an order. This achievement comes from "slower".
  At present, there are too many kinds of "rush" in the living environment, and "Tu Xiaoai" reminds everyone with the wisdom of a disabled person: "Slow down", "It doesn't matter if you make a mistake this time, come next time", you can also exchange for grades and results.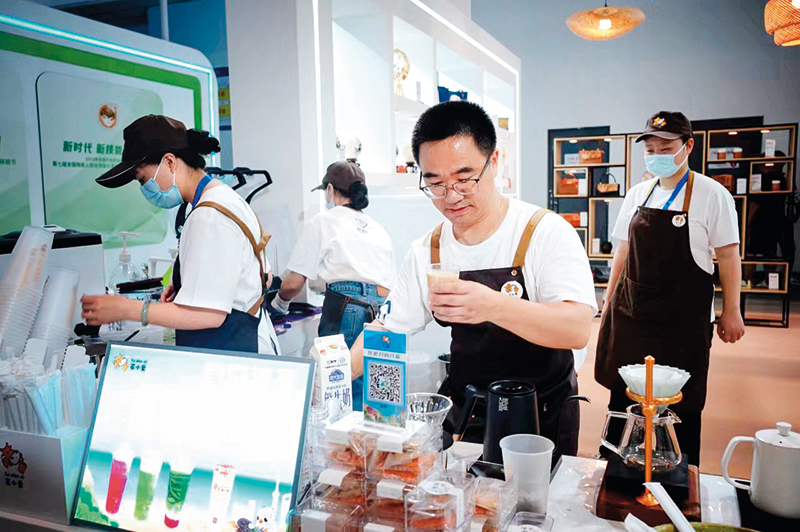 Lu Xuefeng demonstrates his tea-making skills at the 4th National Demonstration Festival for People with Disabilities (Jinan, Shandong) (Photo: June 27, 2023) Photo courtesy of a source
  Add "1" to "2".
  "Tu Xiao Ai" became well known in Shanghai, from the first store in Zhujing, it has expanded to 4 chain stores, one of which opened in the Jing'an district in the city center. Lu Xuefeng's goal is to open 50 stores within five years, provide employment for 100 people with disabilities, and make it a "Primary School of Hope" for quality employment of people with disabilities.
  Lu Xuefeng still adheres to the idea that people with disabilities should not only be different from ordinary people, integrate into society, but also bring new things belonging to this group into society. In his opinion, his "Hope Elementary School" should be "public welfare + market" first and foremost. Only for the sake of the public good, after all, one can only lie down and stretch out their arms, demanding a constant blood transfusion that cannot last long. But this approach should not be overly promoted, turning people with disabilities into a kind of "signboard", attracting universal "love" to "registration", making the "love" of society sour, and the psychology of people with disabilities will also suffer. Thus, public welfare must be combined with the market, the disabled can earn their living on the employment platform, and the love of society can be "empowered and blessed."
  Lu Xuefeng's thoughts didn't stop there. He said that to "2" "public welfare + market" it is necessary to add "1", that is, society. Tu Xiaoai, an employment platform for people with disabilities, should play a special role in balancing the social psychology of people with disabilities and able-bodied people.
  According to Lu Xuefeng, today, with the development of social civilization, everyone knows to respect the disabled and even taboo some "harsh words", to be careful everywhere and careful in everything. "Taboo" is sometimes a manifestation of the incomplete integration of society. Also, if you don't say it, you will have a "weird, frightening" look on your face when you see a disabled person, which is actually a kind of covert discrimination. In milk tea shops such as Tu Xiao Ai, some people may think that people with disabilities will not be able to feel good, and the quality cannot be controlled, so they do not want to go into the store to drink.
  Lu Xuefeng said that such thoughts of ordinary people are normal. To achieve true social integration, it must be confronted directly. Tea with milk is a drink for the stomach. Being afraid that the quality of milk tea prepared by a disabled person is a "normal idea" is not good enough. What to be afraid of? To such doubts, we must actively respond and communicate. Tu Xiaoai is already studying. In the process of making tea with milk, not only are there detailed instructions for the work steps, but all beverages produced are selected by the store manager or gatekeeper and can be packaged and delivered to consumers after tasting and handover.
  The "love story" in Tu Xiao Ai milk tea continues to this day, it calls for small love, big love and true love.