The executive president of EsSalud, Mario Carhuapoma Yance, directs in Ayacucho the final days of the decentralized campaign of medical and surgical care promoted by his institution for the benefit of the insured and uninsured population of the South American region.
The Ayacucho Mission, as the campaign has been called, aims to reduce the demand for postponed consultations, operations and treatments due to the pandemic of covid-19.
Medical care, which is in charge of specialists from the Almenara, Rebagliati and Sabogal service networks, the National Cardiovascular Institute (Incor) and the Hospital Perú de EsSalud, provided to insured and uninsured; in the latter case under a benefit agreement with the Ministry of Health.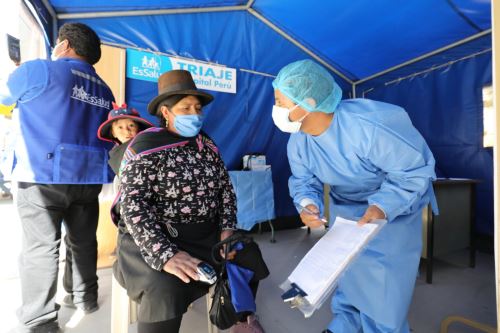 The group of doctors provides the services of gynecology, family medicine, internal medicine, pulmonology, urology, gastroenterology, ultrasound, nephrology, geriatrics, general medicine, traumatology, dermatology, pediatrics, physical medicine and rehabilitation, dentistry, ophthalmology, nursing and examinations of laboratory, among others.
Carhuapoma Yance was the day before in the Ayacucho district of Uchuraccay, which is part of the intervention area of ​​the Valley of the Apurímac, Ene and Mantaro Rivers (Vraem), where he supervised the medical campaign that EsSalud also organizes to provide some 5,000 care.
Results
Tomorrow, the head of EsSalud will announce from Ayacucho the results and scope obtained in this action, which is part of the service decentralization plan in order to reduce clinical and surgical demand.
Too will announce the next destination of Hospital Perú, Itinerant hospital that travels to different regions to provide specialized, free and quality medical care to insured and uninsured residents of the most remote areas of the country.
More in Andina:
An earthquake of magnitude 4.8 was registered this afternoon in the province of Caravelí, Arequipa region, reported the National Seismological Center of the Geological Institute of Peru (@igp_peru). https://t.co/Gg6YT00oCj pic.twitter.com/VP7AtkFofx

– Andean Agency (@Agencia_Andina) November 12, 2021
(END) NDP / JOT