Synology DS224+ is a NAS (Network Attached Storage) that can be used at home and business. By installing two 3.5-inch hard drives, you can increase the capacity of a single volume up to 108 TB.
The Intel Celeron J4125 processor improves performance and processing speed, and the memory can be expanded up to 6 GB with the optional DDR4 memory module. Two Gigabit Ethernet terminals are installed for redundant network connections.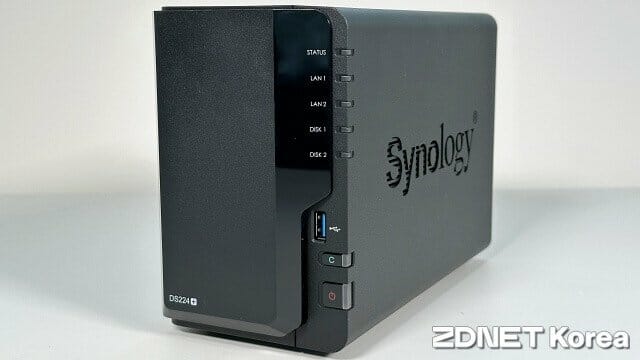 Supported RAID types include JBOD, RAID 0, RAID 1, and Synology Hybrid RAID, and read/write caching using NVMe SSDs is not supported. The warranty period is 2 years and can be extended up to 4 years using a separate extended warranty program. The price is 457,000 won per product, excluding hard drive.
■ Hard disk can be installed without a driver
DS224+ is a product designed for individuals or small offices and does not have a hard drive bay locking device like the 400 series products. fix it at the hard drive screw connection to complete the installation.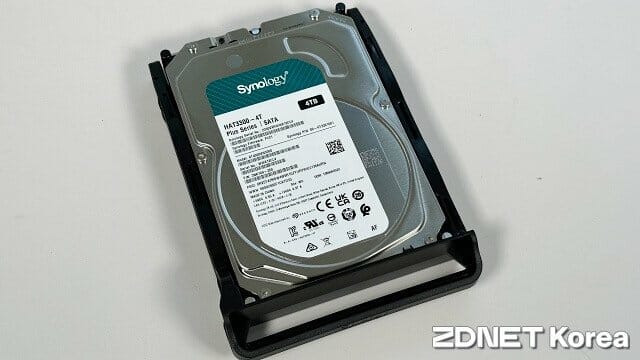 There is a Kensington lock hole on the back, but there is no other means of securing the front side where the hard drive is attached, except for the cover. Along with encrypting storage, it's good to have a cabinet or rack with a lock.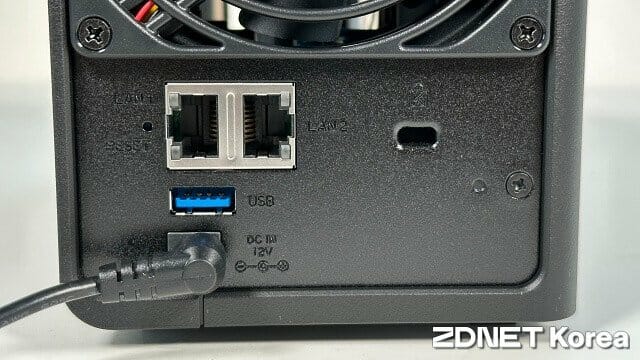 It supports two Gigabit Ethernet terminals at speeds up to 1 Gbps. It can be configured depending on the installation environment, such as network partitioning such as network redundancy (failover), public/private IP (192.168.x/10.x), and link aggregation. The front and rear USB-A (USB 3.2 Gen.1) connectors are used to connect external storage devices for backup or network printer setup.
■ Upgrade to a quad-core processor… Recognizes up to 10 GB of memory
DS224+ upgraded the processor to Celeron J4125. The maximum operating frequency is 2 GHz, but the number of cores has doubled (4 cores) compared to the previous DS220+ product (Celeron J4025, 2 cores). This is expected to improve responsiveness when analyzing photo files stored on the NAS, running a virtual machine, or multitasking.
The integrated UHD Graphics 600 graphics chipset is mainly used for transcoding rather than directly connecting to an external monitor. It is mainly used to handle video playback like Video Station or Plex which are built-in applications.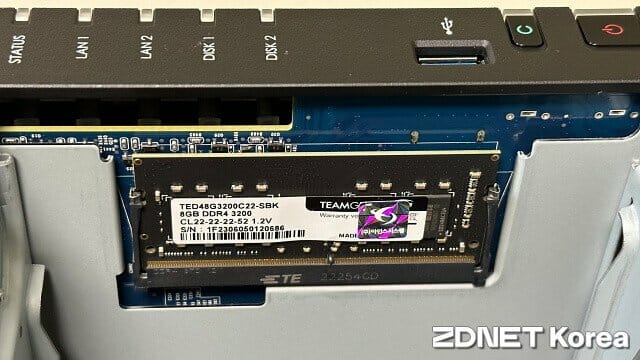 The base amount of internal memory is DDR4 2 GB, but in the initial state, after loading the operating system, it consumes about 1 GB. Given the execution of applications such as virtual machines, instant messengers, mail, offices, etc., there is a feeling that this is not enough, and memory expansion is absolutely necessary. However, Synology does not guarantee compatibility issues caused by the use of third-party memory.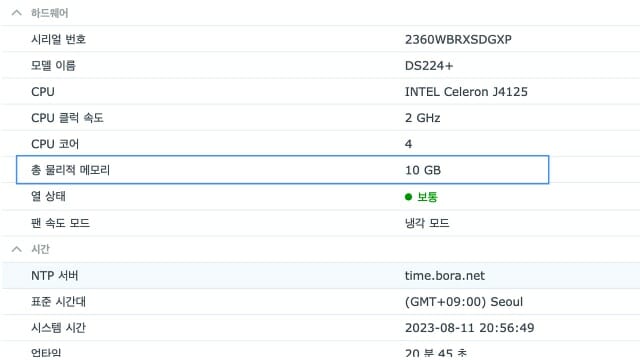 According to the specifications, the maximum amount of recognized memory is up to 6 GB based on DDR4-2400, and up to 4 GB can be installed in additional slots. As a result of installing a DDR4-3200 8GB memory module for laptops, it was recognized without any problems, increasing the total memory to 10GB.
■ You can install various packages using DSM 7.2.
After installing DSM (Disk Station Manager) 7.2, a special operating system, if you launch the Package Center, you can install packages such as office, web server, and LDAP with just a few clicks without entering separate commands. It is possible to open and manage SSH with commands, but this is not recommended for security reasons.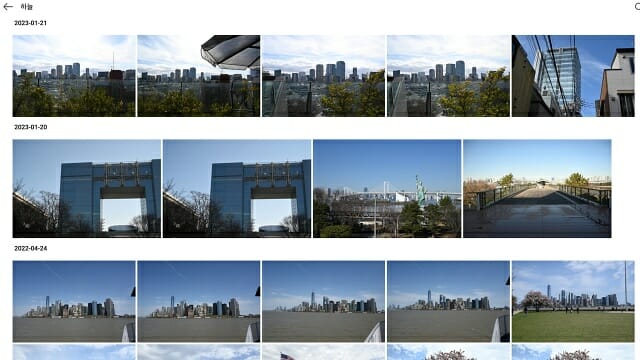 Synology Photo is equipped with a feature that organizes photos taken with various devices such as smartphones and cameras into storage units and categorizes them by topic using artificial intelligence. In some cases, the sky, food, streets, furniture, vehicles, animals, etc. are recognized as objects or strange objects. Requires augmentation through AI model training.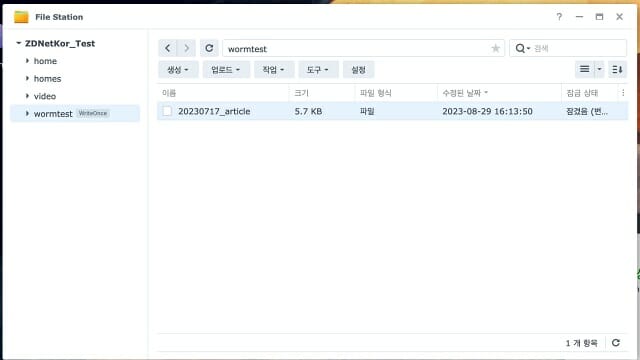 DSM 7.2 uses WORM technology to prevent files once saved from being tampered with or corrupted by ransomware or user error. Files stored in this shared folder cannot be deleted or changed arbitrarily, so it is suitable for data policy enforcement in medical, financial, and government institutions.
■ The transcoding function saves data when streaming video.
Although the use of unlimited data has increased, it is undesirable to stream 4K or Full HD video like on devices such as smartphones with a screen size of 6 inches or less in terms of latency or data consumption.
If you are using Video Station, the basic video streaming application, regardless of the capacity or bit rate of the source video, 1 Mbps per second (8 Mbps, the standard for "medium" quality) CPU usage is maintained at 20% and prevents other users cannot share files. Not the level to do it.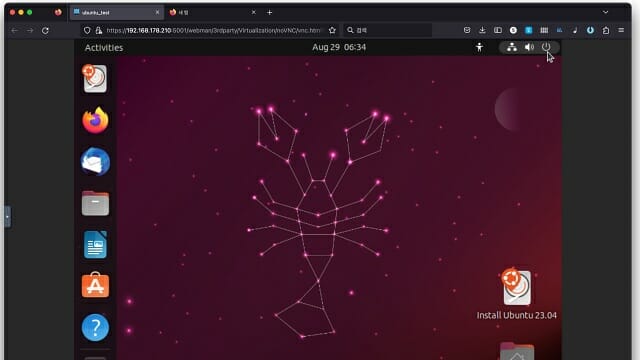 It is also possible to set up a virtual machine using an ISO image of an operating system such as Ubuntu Linux or Windows 10. However, Windows 11, which requires support for UEFI and TPM modules, cannot be installed, and response speed is reduced when multi-tasking is performed simultaneously. It's better used to run applications like Docker rather than a PC replacement.
■ Ensure minimum availability with two bays… CPU/memory is a pity
NAS is a useful device that allows you to freely store and share large files ranging in size from a few MB to tens of GB without cloud services. However, it is difficult to recommend 1-bay products in terms of data stability because it is impossible to deal with hard drive failure or damage.
The advantage of the DS224+ is to provide minimal availability by sharing and storing data on two hard drives, as well as the ability to easily install / configure / operate without knowledge of Linux commands, since various applications are packaged.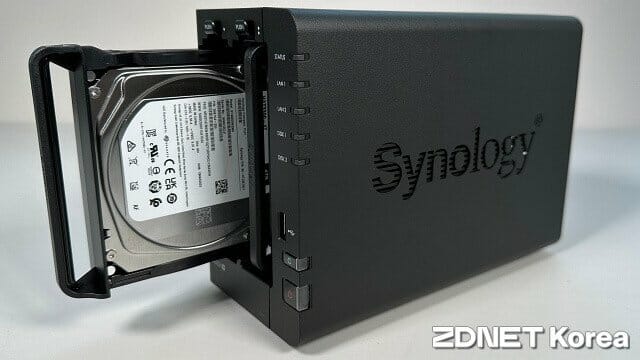 However, the hardware specification also has a disappointing side. Although the number of cores has been increased in the Celeron J4125, which is a quad-core product, this processor is a 14 nano class production processor, and there is a clear processing performance limitation such as virtualization.
Of course, it's nice to use a proven product, but it's a little behind the product that came out three years after the DS220+. In addition, since the price of DDR4 memory has dropped significantly, we hope to increase the base memory (DDR4 2GB) and upgrade the processor in the next product.
※ DS224+ Test Component
related article
Hard drive: Synology HAT3300 4TB × 2
Memory: Teamgroup Elite DDR4-3200 8 GB (Eins System internal distribution)