That the apple fell near the tree was already clear when Adam Sandler read a speech at the Gotham Awards 2022, written by his two teenage daughters, Sunny and Sadie, in which his children teased their father with cruel humor. While we can't be sure they actually wrote those great jokes, they'll finally be able to laugh out loud at Ben Stiller's comedies in their father's absence, and it'll be nice to finally see the wrong form of award on the shelf. popcorn baskets; but in Don't You Dare Come to My Bat Mitzvah, they were both able to prove their comedic skills in real life.
Screen adaptation of Fiona Rosenbloom's 2005 youth novel. The main character of the film is the youngest girl Sandler, 14-year-old Sunny. She plays Stacey Friedman, who is about to experience one of the most important and anticipated events of her life: in Jewish religious tradition, she will soon become an adult, and all her thoughts are occupied with organizing a huge party related to this. That is, almost all of her thoughts, so there is room for a handsome boy on duty (Dylan Hoffman), who, however, sets his sights on Stacey's best friend, Lydia (Samantha Lorraine), and after the latter reciprocates. interest, Stacey vows revenge.
"Don't You Dare Come to Bat Mitzvah" is a typical teen comedy in terms of humor and themes about the difficulties of a loser, the first serious disappointment in love and the power of friendship, which is in many ways unique in its emphasized Jewish identity and the fact that the entire Sandler clan is involved in the series. Despite the transfer of attention, Adam Sandler also did not stand aside: in the role of Stacy's father, he is exactly the clown who makes daddy's jokes and goes to the movies in a costume, which we imagine the "Sandman" as a parent. His eldest, 17-year-old daughter Sadie plays Stacey's sister, his wife Jackie Sandler also stars in the film, but for some reason she plays the mother of Lydia, and not the Friedman girls. Sandler's wife in the film, for the second time since Rough Diamonds, is played by Idina Menzel, brilliantly serving as the voice of common sense among the ferocious Sandlers.
The Friedman family's love struggle is what gives the film its emotional charge and probably feels so authentic because it resembles the real Sandler family dynamic.
The scene in which Stacey lays out her Bat Mitzvah plans in a PowerPoint presentation, including the yacht ticket and Olivia Rodrigo's guest appearance, could easily have taken place at the Sandlers' house, with the difference that, unlike the parents in the film, the Sandlers are a couple. could really make it come true by performing world stars at children's parties.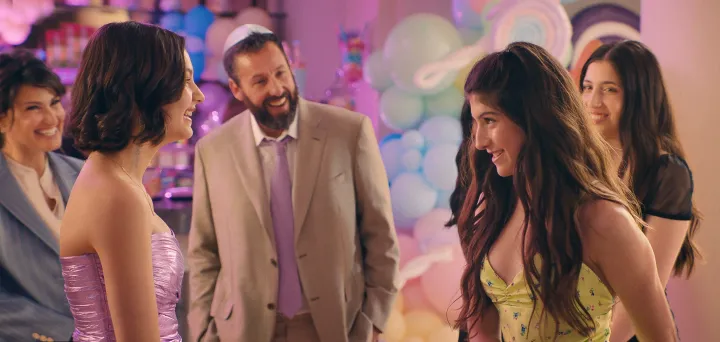 Recently, nepotism has become a hot topic in Hollywood, especially the labeling of the "nepo child" on the privileged children of famous parents, and it would be hard to argue that the Sandler daughters didn't get their parts because it was their father's production – but thankfully , they are so good that it should not bother. In contrast to Adam Sandler's neurotic and exaggerated style, his daughters prefer the wooden face: Sadie is very interesting as the older brother, who is completely fed up with school life and delivers his words with a submissive face, while Sunny makes her trademark shemale look associated with brain death caused by sudden emotional upheaval and hormonal fluctuations.
Based on the "Don't you dare come, daredevil" mitzvah, it's not yet clear whether the two girls have more than enough tools for a Netflix comedy, but at least they have a rented spot in their father's films.
Anyone who has ever been a 12 or 13-year-old girl knows from experience – and the rest of us have a wealth of literary and film material to understand – that this period is perhaps the closest thing to hell on earth. Hormone-driven teenagers are both the most sensitive and most violent of creatures, and from this deadly combination, many painful and embarrassing situations are born, and in the worst case, lifelong injuries.
It may not be a coincidence that the faith of many girls in God is strengthened at this time, because when will deus ex machina be needed more than when we have to fight (as it seems) a life-and-death battle with our own bodies. and classmates every day. In the opening scene of one of Netflix's most successful teen series, I've Never…, the Indian-American protagonist prays to Hindu gods for less hair on her arms; Are You Here, God?, released in US theaters this year. "It's Me", protagonist Margaret demands breasts and menstruation from God; Stacy Friedman's book Don't You Dare Come to Bat Mitzvah also sees her religion as a reinforcement of one's social status or an opportunity to win over the chosen boy.
Jewish identity is not only an integral part of the film due to the struggles of adolescence, but also the modernization of religious teachings and rituals, as well as generational differences. In this area, one could delve deeper into the questions raised, such as how the bar and bat mitzvahs went from a spiritual holiday to a capitalist quagmire. "We fought the Nazis so you could drink your mojito bar?" says Adam Sandler jokingly, but the film's final lesson is that although that doesn't make a person mature, almost all of the problems of Jewish teenage girls can be solved with a flashy bat mitzvah.
Don't You Dare Come to My Bat Mitzvah is an outstanding piece of work, both in terms of Adam Sandler's late career and the average quality of Netflix teen movies, the only thing that detracts from its worth is that it's been surprisingly strong lately representation of real teenage girls, be it the examples mentioned above or the PEN15 and eighth grade examples showing the most delicate stages of changing age. While director Sammy Cohen's film doesn't tell us anything new about the heights and depths of adolescence, it can easily be mentioned on the same page as these works. He conveys humor well, is quite touching, the characters and acting are also great. The Sandlers put it there.
Don't You Dare Come to My Bat Mitzvah is available on Netflix.