At the round-the-clock session, the shares of the joint-stock company No Va Real Estate Investment Group (Novaland – code NVL) unexpectedly "sold out" as a result of a particularly interesting deal. These shares filled orders quickly and ended the session with a trading volume of almost 96 million shares, equivalent to 4.92% of total shares outstanding.
The number of nearly 96 million shares is the third highest corresponding session volume NVL has ever recorded in its listing history, following 2 sessions on November 22 (128.5 million shares) and November 28 (104.25 million shares). At the time, these stocks had bottom-catching cash flow to bail out after a free fall with many successive sessions of "missing" liquidity.
Even in today's session (July 24), money "massively" pushed NVL to increase its full range to VND16,200 per share, the highest in more than 7 months since mid-December last year. Compared to the historical bottom at the beginning of March, the NVL market price is up 58%. The corresponding market capitalization increased by 11,600 billion VND in less than 5 months, reaching over 31,500 billion VND.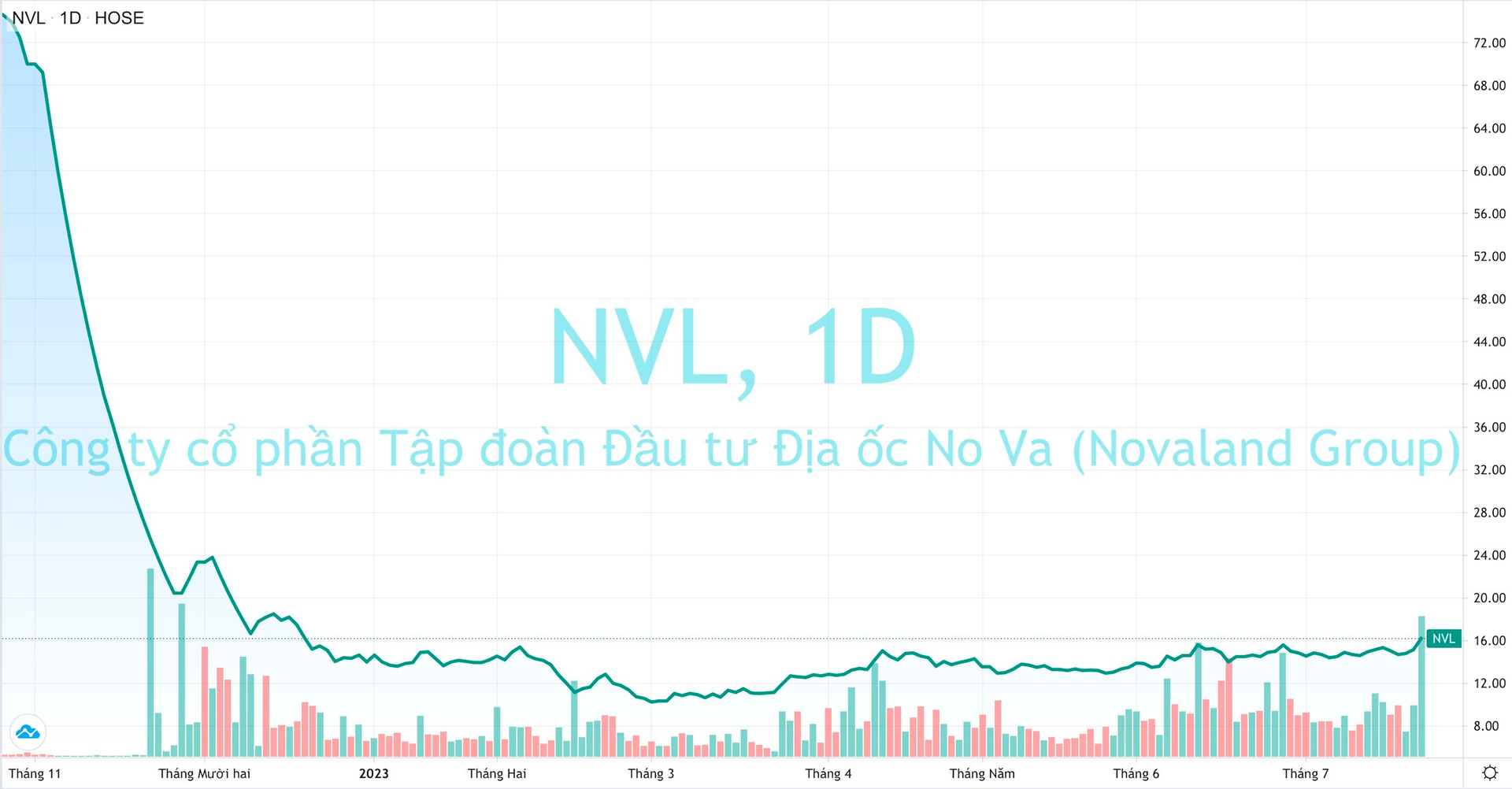 During the period when the shares have risen strongly, a group of shareholders associated with the chairman of the board, Bui Thanh Nong, actively sold a large number up to tens of millions of units in order to support the company in debt restructuring. In addition, securities companies also "accidentally" sell NVL mortgage-backed shares held by the company's major shareholders.
Most recently, over two days on July 14 and 20, NovaGroup sold over 2.1 million shares in NVL, thereby reducing its stake in Novaland to 451.6 million shares, equivalent to 23.159% of equity. Similarly, in two sessions on July 14 and 19, Diamond Properties also sold 495,000 NVL shares and reduced its ownership to 9,8452 percent.
Prior to the 24/7 meeting, the ownership stake of a group of shareholders associated with Mr. Bui Thanh Nhon's family in Novaland had fallen to less than 46% of the share capital.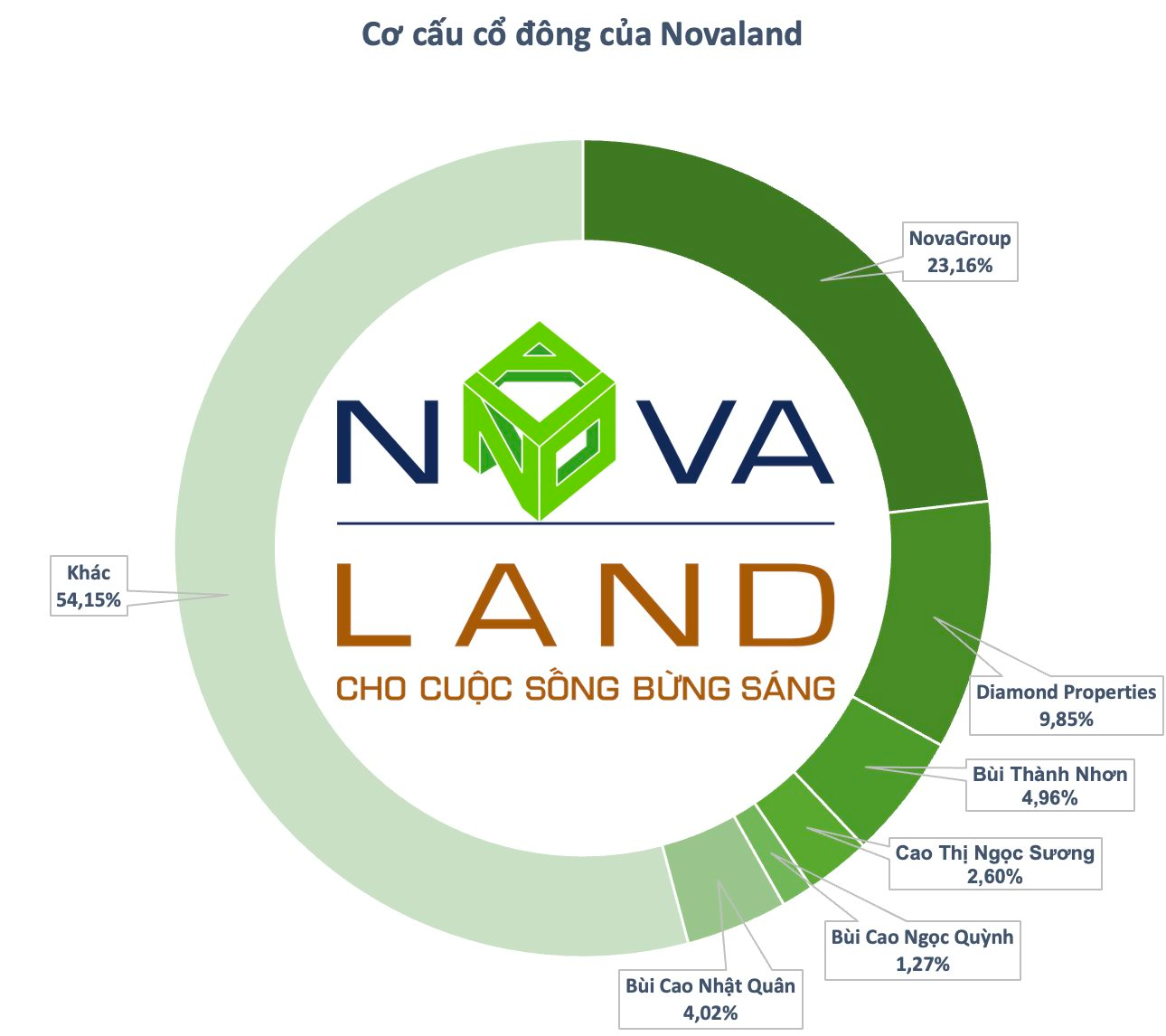 As far as the legal issues of the projects are concerned, Novaland has received some pretty positive news recently. In particular, the Lam Dong Provincial People's Committee has just sent a planning idea document for an urban tourism, resort and entertainment complex in Lam Vien Plateau in Bao Lam District and Bao Loc City to the Department of Construction, Novaland and related departments. Accordingly, the Lam Dong Provincial People's Committee agreed to instruct the Department of Construction to obtain Novaland's planning ideas and pass them on to communities.
As for another development, Novaland recently announced information regarding the update of the situation related to a $300 million convertible bond package with an interest rate of 5.25% maturing in 2026.
Novaland said the interest payments on the bonds maturing July 16, 2023 were not made on that date to allow the company to keep enough cash for going concern and to facilitate a comprehensive solution for the benefit of all of the company's stakeholders. At the same time, failure to pay interest on a bond as it matures may result in the bondholder requiring accelerated redemption of the bond or other corporate debt.
Before that, at the recent General Meeting of Shareholders, Mr. Ng Tek Yeow – CEO of Novaland stated that since the end of 2022, Novaland has been working with YKVN, Deloitte, E&Y Parthenon, KPMG… to carry out a comprehensive restructuring with specific plans, deferment, sale of assets to reduce debt, convert debt into shares, into assets, cash control…