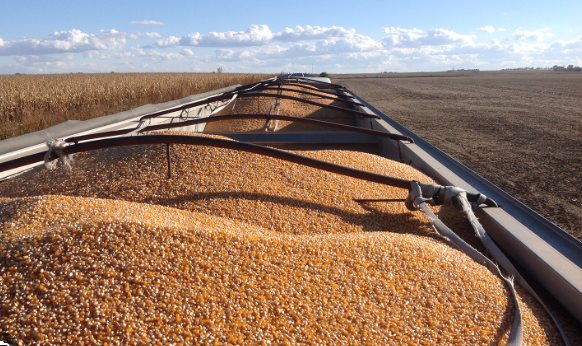 According to preliminary statistics from the General Administration of Customs, in July 2023, Vietnam imported 597,439 tons of corn with a turnover of over US$176 million, up 18.2% in volume and 13.9% in value compared to June 2023. In total, in the first 7 months of the year, Vietnam spent over US$1.4 billion importing over 4.2 million tons of corn from markets, down 16.8% in volume and 23.4% in value compared to other markets compared to the same period in Vietnam. 2022. The average import price for the first 7 months of the year reached $350/t, down 4.3% year-on-year.
Notably, corn is an agricultural product that Vietnam imports heavily from India in the first 7 months of the year, just after Laos and Brazil. In particular, in the first 7 months of the year, corn imports from this market reached 1.12 million tons with a turnover of 349.99 million US dollars, which is 77.24% in volume and 68% in value compared to the same period in 2022. India also ranks 3rd. the largest supplier of Vietnam, occupying 26% in terms of volume and 24.92% in terms of turnover in the structure of Vietnamese corn imports.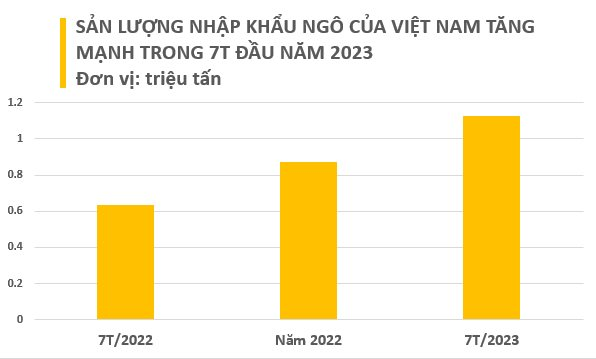 As for export prices, the average price of imports from this market in the first 7 months of the year reached 310 USD/t, which is 20 USD/t lower than the same period last year, despite weather factors threatening production. , and at the same time 40 USD/ton below the average import price throughout the country.
In 2022, corn imports from the Indian market reached 872,343 tons with a turnover of USD 287.15 million. Thus, it can be seen that both the volume of imports and turnover for the first 7 months of the year exceeded the imports of all of 2022 combined.
India is currently the sixth largest producer of corn in the world. In the 2021-2022 agricultural year, 33.73 million tons of corn were produced in the country. The United States Department of Agriculture (USDA) estimates that the country's corn production will reach 36 million tons in the 2022-2023 crop year.
Agricultural products in India are having a difficult year, especially rice, sugar cane, onions and potatoes. Prices for these products have skyrocketed recently, prompting the country to impose a ban on rice exports and a 40 percent export duty on onions and possibly eliminate the 40 percent tariff on rice and imported noodles. At present, tomatoes and cereals are sold on the open market, and stocks of some crops are limited.
Vietnam is among the top 30 corn producing countries in the world, but is also among the top 5 corn importers in the world. Corn and soybeans are imported for livestock and aquaculture purposes. The main markets for corn supplies to Vietnam are Brazil, Argentina, India, Laos, Thailand and Cambodia.