It has not only been bitcoin (BTC) that has broken its all-time high (ATH) these days. A major group of cryptocurrencies have recently been breaking their highs – or are close to breaking them. This, even though the market is not currently in what is known as altcoin season.
On this subject, Coin Metrics analysts highlight, in their latest report, the fact that cryptocurrencies such as Ethereum (ether or ETH), along with Avalanche (AVAX), Solana (SOL) and Axie Infinity's AXS token have exceeded their ATH in a short time, barely during the month of September until so far in November.
With this, the firm refers to the highs reached by ETH last week, first when it surpassed USD 4,782 on November 8. Prior to that, it had surpassed USD 4,400 on October 28, surpassing the ATH registered on October 21, when ETH traded at more than USD 4,300.
Likewise, they also cite, among the other altcoins that have set new highs, AVAX, which scored a record on November 8 when its value rose to USD 96. The cryptocurrency He had already scored two ATHs last September, as reported by CriptoNoticias.
Something similar happened with SOL, Solana's native token, whose price peaked at more than $ 214 last September. The figure was surpassed on November 6 when the price was above USD 256. This placed SOL in fifth place in the ranking by market capitalization.
Meanwhile AXS, the game's governance token Axie Infinity, surpassed its high on November 6 when its price hit more than $ 164.
All these values were registered in the Coin Metrics CMBI10 index (Coin Metrics Bletchley Indexes), which tracks the movements of the top 10 cryptocurrencies weighted by free float market capitalization. This index was on the rise last week because of all these price increases, analysts say.
List of cryptocurrencies that break their ATH is on the rise
In their writing, the Coin Metrics team explains that the number of altcoins that are breaking their highs is constantly growing, taking into account that the list of those that are approaching their ATHs is increasing.
This is evidenced by the graph below, which shows how close the top crypto assets were to their all-time highest price as of Monday, November 8.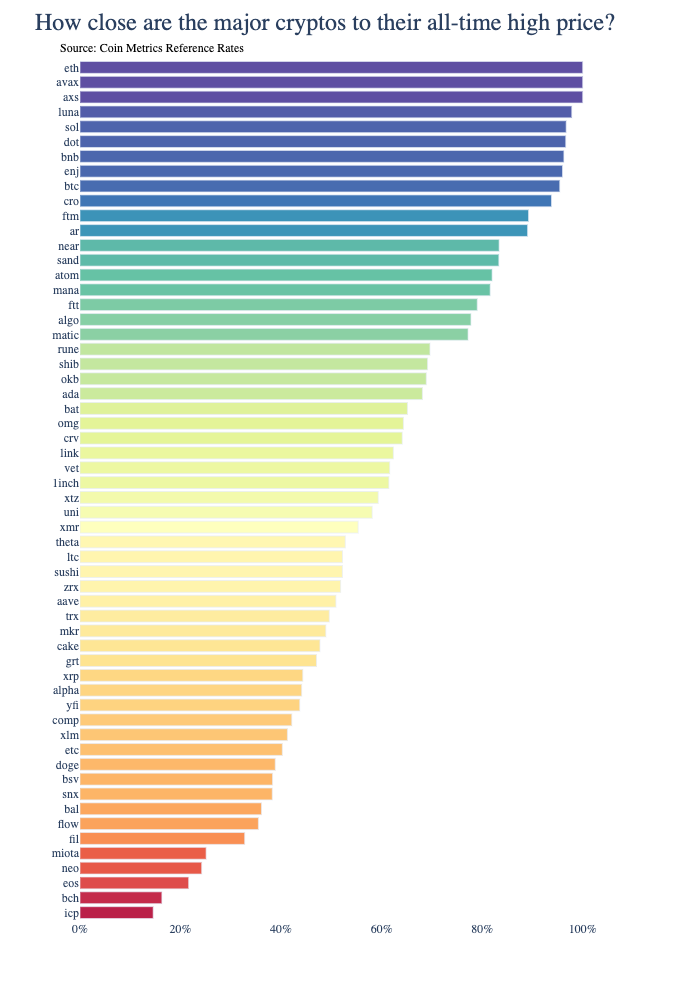 According to the previous graph, among the altcoins that are about to exceed their ATH are also Polkadot (DOT), and the Terra project (LUNA). Although, in fact, both have already set new highs shortly after the Coin Metrics release: DOT trading above $ 47, and LUNA peaking at $ 54 on Nov. 8.
Cryptocurrencies approaching their highs include the Binance token (BNB). They also name the tokens related to the metaverse, which have been influenced by the recent renaming of Facebook to Meta. The fact has aroused interest in everything related to metaverses, including cryptocurrencies, as reported by this medium.
On this type of assets linked to the metaverse, Coin Metrics highlights the movements of cryptocurrencies such as Decentraland (MANA) and Sandbox (SAND), also close to historical highs. "Comparatively, the main decentralized finance tokens (DeFi) such as Uniswap (UNI), Aave (AAVE) and Compound (COMP) have lagged behind," they note.
They break their ATHs outside of the altcoin season
It is striking that all these records are being presented out of season for altcoins (altseason), an index developed by the Blockchain Center that compares the performance of the top 50 cryptocurrencies on the market relative to that of bitcoin.
Currently, this index indicates that in the last 90 days the performance of BTC has been superior to that of altcoins, since only 51% of cryptocurrencies exceed the performance of bitcoin (in altseasons that percentage is higher than 75%).
To understand what happens with altcoins, it is worth considering that bitcoin has lost much of its dominance this year. In data from CoinMarketCap, the dominance of the pioneer cryptocurrency went from 69% in January 2021, to 42.8% for this November 7.
All this after the growth in the ether market and many of the altcoins mentioned above, which now exceed their ATHs.