Several hundred people gathered in front of the prison on Venige Street in Budapest at 6 p.m. Tuesday to protest what they call nothing less than a "gypsy crime."
The event was announced by Mi Hazank Mozgal after former national boxing team coach Sandor Sabo was stabbed to death on the terrace of an elegant hotel in Bekescsab in mid-August. The perpetrator was arrested, he claims to have killed in self-defense.
Laszlo Torockay, the president of the party, announced the demonstration because it is held on August 29, because on this day in 1999 a man was killed in Zamola after he and two of his comrades went to the houses of gypsies in Zamola due to the previous dispute.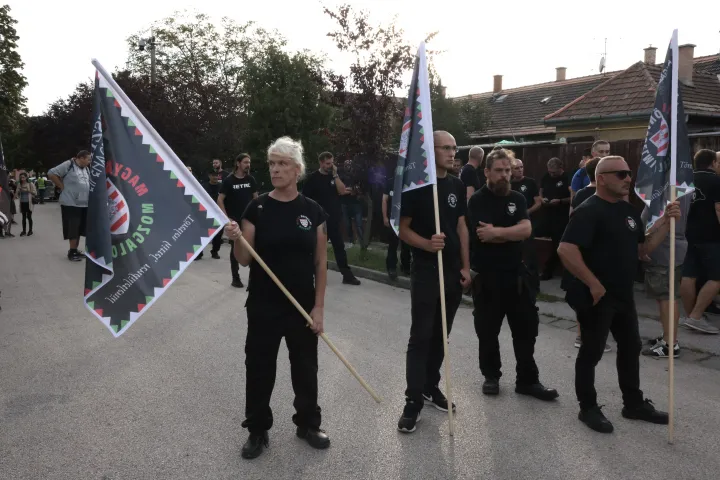 According to Mi Khazank, this demonstration had several goals: on the one hand, to tighten the criminal code in order to
guards who do not have weapons with them should be attributed to persons performing public duty in the performance of their duties;
they will punish more severely for riots committed by groups, armed or armed – they could also support the death penalty, but at least sentence the perpetrators to actual labor camps;
and lynching would also be included in the legislation, because it is not now.
On the other hand, they also want August 29 to be the "Day of Remembrance for the Victims of Romani Crime".
The police wrote to Telex about the demonstration, that they had been told about it by a private individual."Demonstration for the suppression of national crime. Day of Remembrance for the Victims of Attacks on Hungarians in Hungary in Recent Years"with the name, and" LV 2018 release for assembly rights. In view of the absence of prohibitive reasons listed in the law, the BRFC took note of the meeting and ensures its peaceful conduct."
Half an hour before the official start of the demonstration, there was already a high level of police readiness in the area, with about ten people per protester. Later, more and more people in black T-shirts appeared on the scene, many of them wearing the T-shirts of the Hungarian Self-Defense Movement associated with Mi Hazank. Members of the District Sixty-Four Youth Movement and the Army of Outlaws appeared in the crowd with flags.
At 18:00, about 150–200 protesters gathered in front of the prison. Among other things, they held banners reading "Gypsy crimes are true," "A life for a life," and "A black dolphin instead of a luxury prison." "Black Dolphin" is the oldest and one of the most cruel prisons in Russia.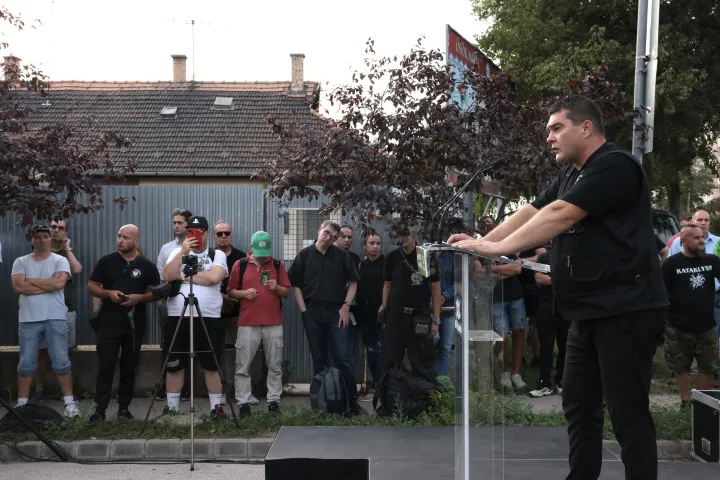 The organizers set up a small podium in front of the prison, at the beginning of Fagyal Street, where the speakers performed. According to Mi Khazank, this place was chosen for the demonstration because, according to them, relatives of prisoners often make noise in front of the prison, and because of this, people living in the area do not even dare to open their windows.
The organizers of the demonstration drew the attention of the participants to "not using words that could lead to criminal liability", since, on the one hand, the police are on high alert, and on the other hand, according to them, "the rights of the activists of the Roma side are also present at the scene, so they asked the demonstrators not to "rise in provocation" and not to cover their faces.
Torochkay wants to be in government in ten years
Laszlo Torockay, president of the Mi Hazank party, said he believes there is a big coalition between the government and opposition parties and they are not talking about "gypsy crimes". According to Torochkaya, it is stupid when they are accused of racism, since his party speaks not only about the crimes committed by the Roma, but also about the crimes committed, for example, by guest workers.
He also said he was looking for Romani leaders to sit down with to "clean up the mess." He added that Orban does not dare to be photographed with him, but he is happy to be photographed with Grofo Kees and Gyozike, which, in his opinion, is due to the fact that Orban is only interested in staying in the government.
Then Torochkay declared: his goal cannot be anything other than to bring Mi Khazank to power within ten years. "Then there will be only a final decision," he said.
According to Torochkay, they have been growing steadily in recent years, according to polls, they already make up 10 percent, and as they get stronger, they will become "normal gypsy leaders, with whom I will also be ready to sit at the same table." he added.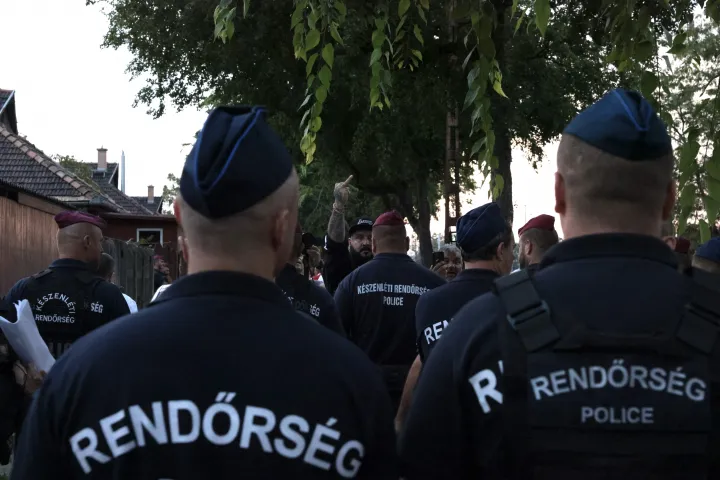 Then Torochkay turned to migration with hussar cut and started talking about the deportation of illegal migrants to Africa. He said that he himself was looking for African leaders in this case, so "no one should be surprised if he appears there."
The opponent of the protest shouted during Torochkay's speech, and also showed the middle finger to the president of Mi Khazank. Shortly thereafter, 10-15 police officers took him from the scene.
Elod Novak: Conditions in Hungarian prisons are undeservedly good
Elod Novak, vice president of Mi Hazánk, began his speech with a funny remark. According to him, the conditions in Hungarian prisons are really unworthy: they are unworthy.
He also talked about how he believes the government is hiding the birth rate of Roma women in Hungary. He then mentioned their old idea that criminals could even be chemically castrated and then stated that Hungary "cannot be a gypsy country".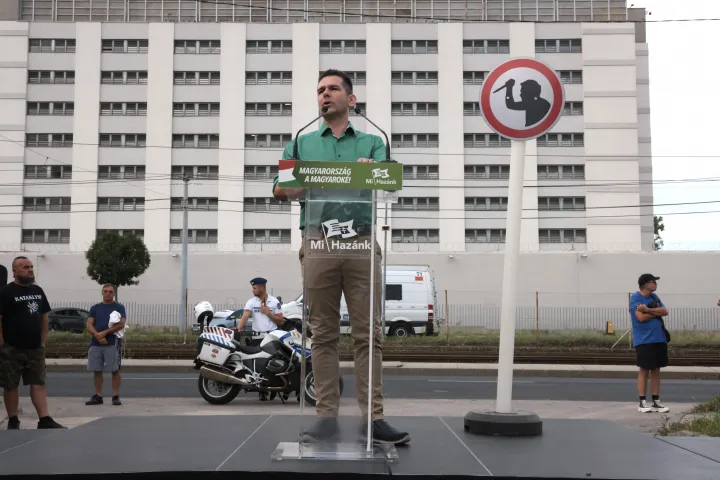 Nowak said the term "gypsy crime" should not be banned, adding that he did not want to call it a "living crime". "With so much power, you could call a peace treaty a peace treaty, foreigners buying up our country a gift from God, people hoarding public money a talented businessman, abortion a medical intervention, diminished utility an increased utility, homosexuality a gay. ," He said.
Pinter will be fired, public life will be put in order
András Grundtner, vice president of Mi Hazánk in Budapest, spoke about what everyone they want to tell is here: "Police and prisoners, including a few law enforcement officers." He told Sandor Pinter that he had already been minister of the interior for 692 weeks, and that in that time he could see that the restoration of order in Hungary had not been successful. Grundtner urged Pinter, the fifth most powerful minister, to get parliament to vote on Mi Hazank's proposals to amend the penal code.
Laszlo Laszlo, president of the Hungarian Self-Defense Movement, stated that "for the inhabitants of Nograd and other rural areas, gypsy is not a selfie in Gyezik, as it is for Viktor Orban, but crimes." "Not all gypsies are criminals, but there is gypsy crime," he added. He also said that he thought popular anger would "purify some of the settlements like purgatory."
Zsolt Tiritian, leader of the Betiarszereg party, said: "Finally, Hungary has a trustworthy party, and together with it it is possible to restore order in public life."
He also said they don't want to judge themselves, but want to educate communities to defend themselves and "fight back if necessary". "We will not be victims or prey, because there are several hundred thousand people in Hungary who are able to defend themselves through self-organization at any moment," Tiyrityan said.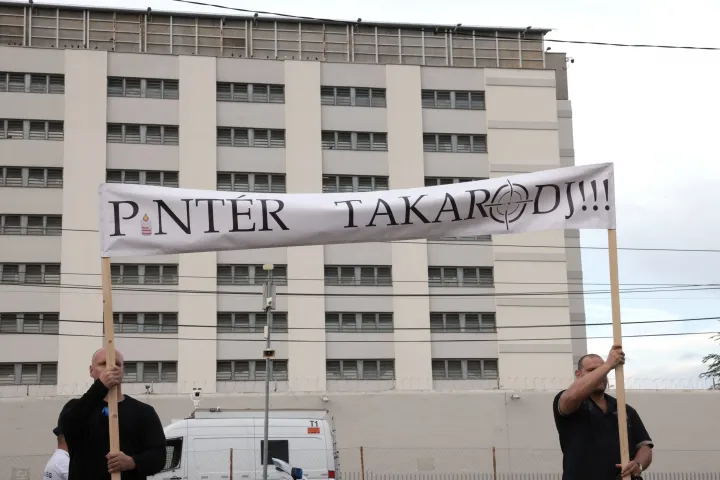 Prior to Mi Khazank's demonstration, the Roma Parliament held a counter-demonstration outside the Ministry of the Interior, saying it was "outrageous" and "alarming" that the police took note of Mi Khazank's demonstration "despite the party's obvious anti-constitutional aims." According to them, Torochki "threatens society with 'Gypsy crimes' that offend society, and conduct inciting propaganda." Therefore, a protocol was drawn up on suspicion of threatening the population and incitement against society.
If at that time "Jobbik" was gaining popularity with such marches, then this topic was eventually forgotten by our patriots who left the party.
In recent years, they have held demonstrations and/or marches against "Gypsy crime" several times: they have been in Miskolc, Jasapati, Nyiregyhaza, but they have also held a similar event in Deak Square. During the parliamentary elections, other topics – vaccination, "Covid dictatorship" – were more prominent, but lately the party seems to be trying to return the Roma issue to its priority topics.