Key facts:
MATIC price went from $0.96 to $1.14, its highest in six months.

The rise brought its market capitalization to $10 billion.
The price of MATIC, the governance token of Polygon, rose in a few hours by 18.7%, going from $0.96 to $1.14, according to CoinMarketCap. In this way, it became the third cryptocurrency with the most gains in one day. This growth occurred just after an announcement made by the social network Instagram.
Instagram, which has more than 1,400 million users in the world, announced that its application will soon you will be able to create, buy and sell digital collections of Polygon. And also warning that will integrate with the OpenSea NFT (non-fungible token) platform, the Solana network and the Phantom cryptocurrency wallet.
Without giving more details of the initiative, after the announcementMATIC price rose to its six-month high and then stepped back slightly. At the time of writing, it is trading at $1.12, a level not seen since early May, as seen on the chart.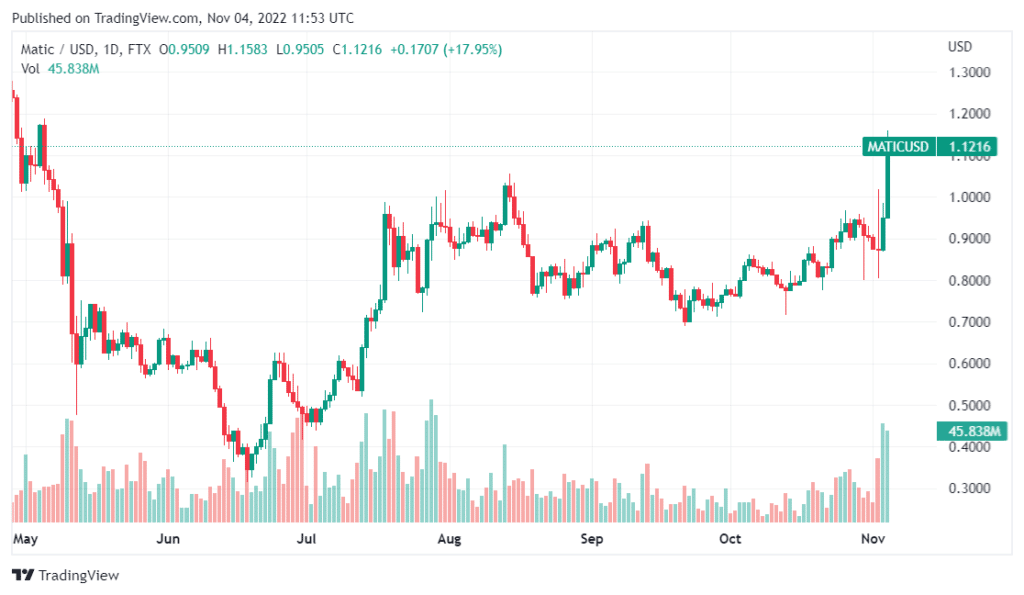 The browser indicates that, in the last 24 hours, MATIC trading volume increased 60%. And it records that, with this rise, its market capitalization grew to USD 10 billion, positioning itself as the 11th most invested cryptocurrency in the market.
In this way, with the alliance of Instagram and Polygon, MATIC joined the list of altcoins reported in CriptoNoticias with the most gains of the week. This comes as bitcoin (BTC) continues to trade around $20,000 for 11 days, according to CoinMarketCap.