Gerardo Lissardy
BBC News World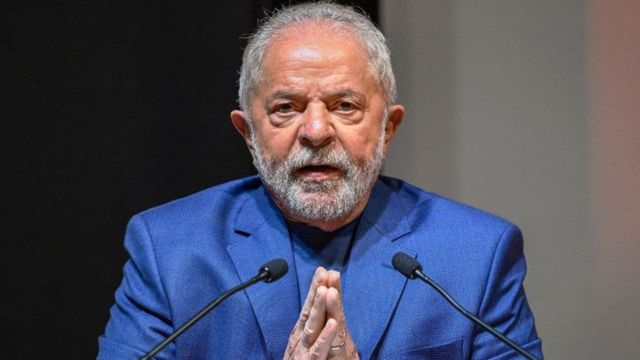 Two decades after becoming the first president of worker origin in Brazil, Luiz Inácio Lula da Silva resumes office this Sunday with a series of urgent problems to solve even greater than at that time, according to experts.
It is enough to observe the context of the change of command in Brasilia to notice some differences with what happened on January 1, 2003.
The outgoing president today, the far-right Jair Bolsonarochose to travel to the United States and avoid handing over the presidential sash to his leftist successor in person, in the midst of strong political polarization, tension and concern over eventual acts of violence.
This scenario contrasts like night and day with the one that existed 20 years ago, when the then president, Fernando Henrique Cardosopassed the command to his opponent Lula between smiles, hugs and a climate of democratic tranquility.
At 77 years of age, Lula will now face difficulties in the government of the largest country in Latin America that the Brazilian political scientist Maurício Santoro considers comparable to "time bombs", due to the risk of a virtual explosion if he were not able to deactivate them.
There will be at least four for the new president of Brazil:
1. Radical Bolsonarism
Since Lula was elected at the end of October, Bolsonaro's supporters have opposed his return to power through various methods, including roadblocks and camps in front of barracks to demand an intervention by the Armed Forces.
Many of them maintain without evidence that there was fraud in the elections. Bolsonaro himself has avoided explicitly acknowledging Lula's triumph and secluded himself in the presidential residence after his defeat, even though he authorized his government to make the transition.
Alarm over the radical Bolsonaristas grew after one of them was arrested last weekend, allegedly for trying to set off an explosive device in Brasilia to create chaos before the change of government.
This led to tightening security for the inauguration of Lula, who analysts say will face more hostile opposition from the right than when he first ruled from 2003 to 2010.
"How to live with these very radicalized groups, even violent ones, that do not play according to the traditional rules of democracy?" asks Santoro, a professor of Political Science at the State University of Rio de Janeiro, in dialogue with BBC Mundo. .
Bolsonaro's Liberal Party will also have the largest bench of deputies (99 of the 513 seats) in the new Brazilian Congress, considered the most conservative since the country regained democracy more than three decades ago: the right as a whole will fill half of the camera.
Lula and his Workers' Party (PT) will seek majorities with the rest of the left and center in a fragmented Congress.
In addition, Lula must reverse the political influence that existed within the Brazilian security forces under the government of Bolsonaro, a former Army captain, Santoro points out.
"In recent years in Brazil, both the military and the police have been involved in party politics with a very worrying ideological radicalization and it will not be easy to change this," he says. "The risk is that this politicization also becomes a threat to democracy."
2. Hunger
Another enormous challenge for Lula will be to reduce the hunger experienced by 33 million Brazilians, according to a study by the Penssan network released in June.
That figure represents 15.5% of the country's population, a much higher proportion than the 9.5% of people who went hungry in Brazil during Lula's first government, according to another similar survey in 2004.
"Our most urgent commitment is to end hunger again," said Lula himself, a former union leader who grew up in poverty, in his first speech after defeating Bolsonaro.
In fact, many of those who voted for Lula hope that he will repeat the great achievement of his first government, when more than 30 million Brazilians rose to the middle class with state social programs.
In contrast, Brazil registered during the Bolsonaro government the largest number of people living in poverty in the last decade: 62.5 million people in 2021, equivalent to 29% of the population, according to official data released in December.
The new president will be judged largely by his results in this field.
If he noticeably alleviates hunger and poverty again, his popularity is likely to grow as in his first term.
But things have changed and increasing the income of Brazilians may now be more difficult for Lula, warn specialists.
"When he took office in 2003, the world was growing a lot influenced by China, the prices of raw materials experienced a big boom and Brazil benefited from that," says Margarida Gutierrez, professor of Economics at the Federal University of Rio de Janeiro, to BBC World.
"The context today is totally different: there is enormous global risk aversion, the world has not yet recovered from the pandemic and we have a war (in Ukraine)," he adds.
3. The expense
To improve the social situation in Brazil, Lula promised in his campaign measures such as maintaining a program of money transfers to the poor called Bolsa Família, which was key in his first government, and an increase in the minimum wage.
Congress authorized in December additional government spending of the equivalent of about $28 billion during 2023 to finance those plans, as well as an extra $4.4 billion for public investments.
The approval of this constitutional amendment was a political triumph for the incoming government, whose Finance Minister is fernando haddadformer mayor of São Paulo and former PT presidential candidate in 2018, when Lula was convicted of corruption in a process that was later annulled.
But by exceeding the spending ceiling that was established, it also cast doubt on the fiscal restrictions that the new administration will have.
Some economists believe that this, added to a high interest rate (13.75%) to contain inflation, is another of the problems that the new president must deactivate.
Gutierrez anticipates that the increased spending will increase inflation by stimulating demand, the primary deficit (before interest payments) and public debt, which today is equivalent to around 77% of GDP, above the average for emerging countries ( 65%).
"I would say that Lula is putting together a fiscal bomb," says the economist.
4. Deforestation
The fourth time trial that Lula will face is to stop the felling of trees in the Amazon, the largest tropical forest in the world.
The new Brazilian president has promised to change his country's environmental policy to move it towards zero deforestation of its biomes by 2030.
This might give Lula credit on the international stage, but it won't be simple either.
The Amazon deforestation rate during the Bolsonaro government increased 59% compared to the previous four years, according to data from the National Institute for Space Research, the Brazilian public agency that measures this activity by satellite.
Although the loss of trees in the Amazon fell by 11% between August 2021 and July 2022, in that period it reached 11,568 square kilometers and was the fourth year in a row that it exceeded the threshold of 10,000 square kilometers.
Experts attribute these records to the disappearance of government controls against illegal logging.
"Public policies left in this area are paralyzed, environmental agencies have fewer resources and are delegitimized," warns Suely Araújo, former president of the Brazilian Institute of the Environment (Ibama) and senior specialist at the Climate Observatory, which brings together environmental organizations.
"We already have parts of the Amazon region mainly taken over by crime, both in illegal deforestation and in illegal mining or the invasion of indigenous lands," Araújo told BBC Mundo.
In his opinion, the incoming government – which will have the environmentalist politician Marina Silva as Minister of the Environment – must take "very rigorous" measures from day one to reverse this situation, something that will take time.
"You can't correct all these problems in one year," he says. "It is a process that will last throughout Lula's government."
Now you can receive notifications from BBC Mundo. Download the new version of our app and activate them so you don't miss out on our best content.