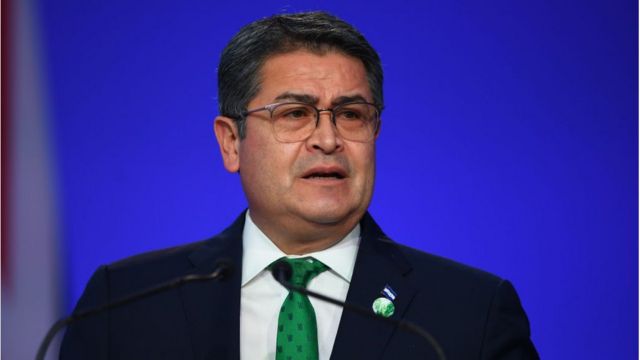 The former president of Honduras, Juan Orlando Hernández, who has been singled out in the United States for alleged links to drug trafficking, was sworn in as a member of the Central American Parliament (Parlacen) after finishing his government, thus maintaining his immunity and avoiding the possibility of being extradited. .
According to local media reports, Hernández joined Parlacen on Thursday afternoon, hours after Xiomara Castro assumed the Honduran presidency and amid calls from US congressmen for him to be formally charged in that country.
Parlacen grants its members immunity from prosecution in Central America, although that protection can be removed or suspended if requested by a member's home country.
A New York court sentenced a brother of Hernández to life in prison for drug trafficking in a trial in which the now former president was singled out on numerous occasions.
The former president has denied the charges and no judicial process has yet been opened against him.
Honduran media had been reporting for months on alleged negotiations between Hernández and the government of Daniel Ortega to request asylum in Nicaragua or to facilitate his entry into Parlacen and maintain his immunity.
The oath of entry to the regional body was taken by Guillermo Daniel Ortega Reyes, the president of Parlacen who is also a vocal ally of the Nicaraguan president.
Hernandez's position at Parlacen must last at least four years.
Shortly before she was sworn in by the Central American body and while doubts about her whereabouts were growing, the US congresswoman Norm Torres He asked the Department of Justice of his country that the president be charged immediately and request his extradition.
"President Hernández has been a central figure in undermining the rule of law in his own country and in protecting and aiding drug traffickers," Torres said in a statement.
"He has been repeatedly identified as a co-conspirator in other drug trafficking cases," it added.
a controversial figure
Hernández ruled Honduras for eight years, although the country's constitution does not allow for presidential re-election.
However, a ruling by the Supreme Court, with an official majority, authorized him to run for a second term in 2017.
That choice was not without controversy. After the electoral system collapsed, Hernández began to gain an advantage in the vote and was declared the winner, sparking massive protests that left several dead.
Although the US government recognized its victory, US prosecutors later revealed that they had opened an investigation into President Hernández, whom they accused of being a co-conspirator in the trial of his brother and another Honduran found guilty of drug trafficking. Geovanny Fuentes Ramirez.
The brother was arrested at the Miami airport and, days before the start of the trial in 2019, Hernández signed a controversial immigration pact with then-President Donald Trump to allow the US to send asylum seekers to Honduras, despite having a one of the highest homicide rates in the world.
One of the witnesses in the case was a former accountant of a Honduran rice factory who said he had seen how the current president received briefcases with drug money, with which he sought to associate with a cocaine laboratory and spoke quietly about "the protection and transfer of drugs".
When testimonies emerged in the trials that compromised him, the president rejected them as coming from criminals who wanted to take revenge for their actions against drug trafficking and reduce their own sentences in the US.
"Any narrative about the battle against drug trafficking in Honduras that omits the unprecedented reduction of 95% (official US data) that we achieved, is generally just a vehicle for dramatic headlines to promote the false testimony of the narcos that we defeated," he tweeted. Hernandez at the time.
Since taking office in 2014, the former Honduran president, known by his initials JOH, has sought to portray himself as an ally of Washington on security and migration issues.
For years, the US politically backed the Honduran president despite accusations of government corruption and human rights abuses by security forces.
During the Trump administration, Washington sent millions of dollars in aid to Honduras.
After his controversial re-election, Hernández decided not to renew in 2020 the mandate of the Support Mission Against Corruption and Impunity in Honduras, an organization created with the support of the US and the OAS that investigated dozens of Honduran government officials .
However, relations began to cool down with the arrival at the White House of Democrat Joe Biden, who has promoted an agenda to combat corruption in Central America.
Now you can receive notifications from BBC World. Download our app and activate them so you don't miss our best content.