In all three recent friendlies against Leeds, Lyon and Arsenal, Sancho was Manchester United's best starter. This is a position against Sancho's strong side, because he prefers to operate on the right side of the corridor, as in Dortmund, and under Ten Hag he is often on the left flank.
In fact, part of the reason for this arrangement is that there is no real attacker in Ten Hag's hands. Anthony Martial is in poor health and Marcus Rashford is not in the best shape. In this context, plus the fact that these are only friendlies, it's no surprise that Sancho's kick comes as no surprise.
But judging by his character, Sancho's transformation into a striker is not paranoia. This guy born in 2000 has all the qualities to become "Number 9", from technique, speed, to skill and especially 1-on-1 skill.
In the victory over Arsenal, Sancho scored a goal that delighted the Red Devils fans. Taking advantage of an opponent defender's mistake, Sancho opened the gate with great speed, entered the Arsenal penalty area, and then delivered a free kick that did not give Aaron Ramsdale a chance to save. Sancho's frequent restrictions on decision-making have been clearly improved. Ten Hag was very pleased when the student knew what to do before 2, 3 hits of the ball.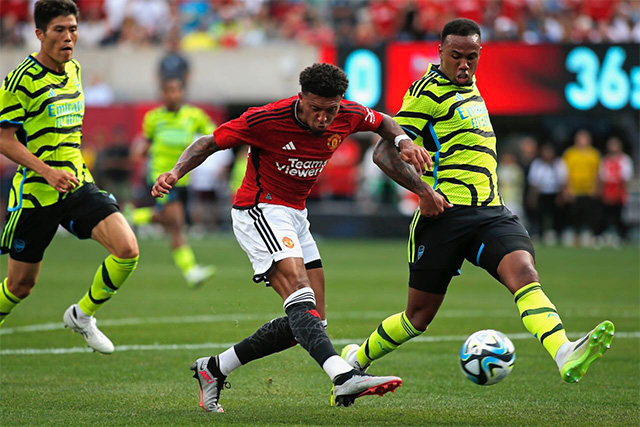 But again and again it's just friendly matches. It is also just a basis for reference and cannot be fully relied upon. Manchester United are trying to buy a new striker with a specific goal, Rasmus Høilund. However, even if there is no more 9, it's very vague for Ten Hag to let Sancho start the new season, especially when Rashford and Martial are physically fit.
However, the fact that Sancho is comfortable playing in his new position also gives Ten Hag another great option. Sancho will no longer be limited to a certain area, but will become a versatile attacking player, just what Ten Hag wanted.
Recently, Gabriel Agbonlahor, a former Aston Villa striker, advised Manchester United to be patient with Sancho: "It is true that Sancho has not lived up to the expectations of Manchester United management and fans. He also understands the problem, so he deletes his posts on Instagram and social networks. Determined to return, Sancho understands that he needs to be worthy of the huge amount of money that Manchester United has spent. Sancho needs to get back to basics, make easy passes and bring in opposing players."
"I think Sancho is better than Jack Grealish, Marcus Rashford and other young English wingers. There is still an opportunity for him to squeeze into the first team of Manchester United, because Sancho is also better than Antoni. He just needs to focus and get back to his best form."