Key facts:
A global survey reveals that 60% of CEOs expect a recession by 2023.

JPMorgan has a more pessimistic outlook, with an 85% chance of a recession.
According to a Citigroup report, the probability that the world will experience a recession is 50%. Especially as central banks tighten monetary control policies and demand for goods weakens, along with services.
Similarly, the CEO of Deutsche Bank, Christian Sewing, stated this Wednesday at a financial congress in Frankfurt, that the global economy is headed for a recessionwhile central banks redouble their efforts to control inflation.
While Deutsche Bank had anticipated raising interest rates as the main tactic to reduce inflation, the rate of increases observed by central banks has surprised himsaid Sewing.
"I would say at least we have a 50% chance of a recession globally," Sewing said in an interview. In the US and Europe, on the other hand, "The probability of a recession occurring in the second half of 2023, while at the same time raising interest rates, is obviously higher than the forecasts we had before we war would break out in Ukraine," said the CEO of Deutsche Bank.
Deutsche Bank is not alone in seeing a difficult outlook
Sewing's comments are in line with claims by a team of Citigroup economists, who made a similar prediction citing supply shocks and a rising trend for interest rates.
"The experience of history indicates that disinflation often carries significant costs to growth and we see the aggregate probability of recession now approaching 50%," the Citigroup economists wrote. "Central banks can still engineer the soft landings, built into their forecasts (and ours), but this will require supply shocks to subside and demand to remain resilient."
Advertising

A global survey of CEOs and other executive managers, published last Friday the 17th, revealed that 60% of these senior managers expect a recession before the end of 2023. An even more pessimistic diagnosis was made by JPMorgan economists, who consider that the probability of a recession is 85%, much higher than that estimated by Deutsche Bank and Citigroup.
According to the historical falls of the S&P 500 index, the portfolio manager at the GPM firm, Hugo Ferrer, affirmed that the fall of more than 20% of said index, on June 13, was an indicator that we are already in the middle of a recession, as reported by CriptoNoticias. So far this year, both bitcoin and cryptocurrency stocks and markets have shown negative returns.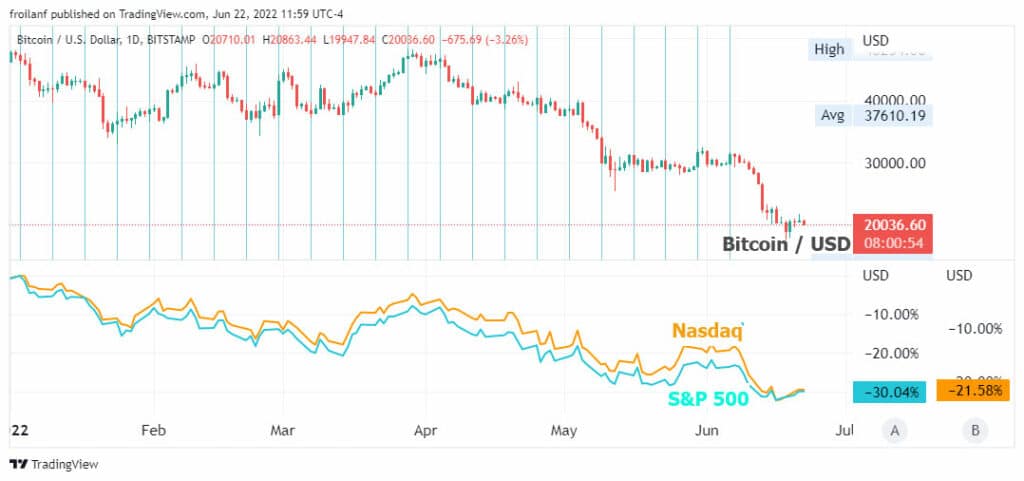 At the time of writing this article bitcoin has a price of USD 20,300, which represents a decline of 57.18% compared to the beginning of the year. In the same period, the S&P 500 index shows a drop of 21.58%, while the Nasdaq has dropped 30.04%.