The future of payment methods is in bitcoin (BTC) and cryptocurrencies. This was implied by the CEOs and representatives several companies such as Bitpay, Verizone and PacSun.
Among the guests present at the talk held this November 12 by the PYMTS portal, were characters such as Stephen Pair, CEO of the BitPay payment platform, Michael Relich, CEO PacSun, an online clothing store that allows payments in cryptocurrencies , and Verifone's Head of Advanced Payment Methods, Jeremy Belostock.
The conversation revolved around the need for buyers to spend their cryptocurrencies. According to data from PYMNTS, 18% of the entire adult population of the United States would be willing to pay using crypto assets.
"Consumers are increasingly pushing merchants to add the option to use cryptocurrencies at the point of sale," Belostock says.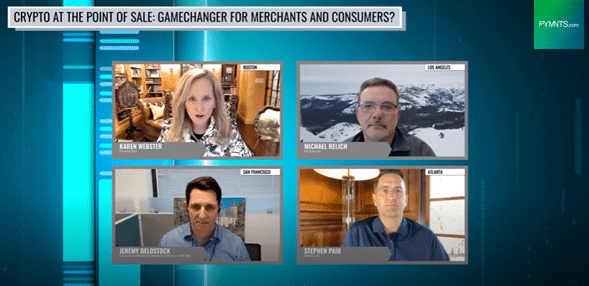 In the discussion, the panelists indicated that, Before incorporating cryptocurrencies, a system must be created that makes paying with them safe and easy, for both the buyer and the seller. In this regard Pair mentioned: "Not only do you have to make the experience great for the buyer, but you also have to make it great for the sales associate who might have to process a potential refund."
Generation Z is the most thriving when it comes to adoption
As the portal highlights, Generation Z (young people born between 1996 and 2012), would be the one with the greatest interest in using cryptocurrencies. According to data from PYMNTS, 54% of cryptocurrency holders (long-term investors) belong to this generation.
PacSun is an example of how the interest of young people for new forms of payment, makes brands evolve. Being a California-based retail clothing brand, it recently announced that it would start accepting bitcoin and other cryptocurrencies as a payment method.
To the CEO of PacSun, cryptocurrencies "were on their roadmap" for some time, and it was thanks to BitPay that the integration was achieved. "Adopting cryptocurrencies came naturally to us," commented Michael Relich.
Migration to digital leads to the use of bitcoin
As in the case of PacSun, the drive of generation Z added to the growth of digital businesses, are driving companies to open up to cryptocurrencies. Data from the United Nations Organization reveal that Retail e-commerce in the United States alone had an increase of 32%, between 2019 and 2020.
With the increase in sales through digital platforms, digital payment methods are gaining momentum. The 12% of the US population admits to being the holder of at least one cryptocurrency, according to data from PYMNTS. This could set the stage for a next economic boom, with regard to payment methods.