Coal and the thermal power plant have been, for four decades, the hallmarks of Andorra, a municipality nestled in the heart of Teruel. An immense tower and a half-dismantled structure remind us that mining was the raison d'être of this town of 7,000 inhabitants, whose recent existence has revolved around this industry. But times change. And in a world that is advancing towards an economy and a life away from fossil and polluting sources, coal has forever ceded the baton to clean energies such as photovoltaics, wind power or green hydrogen.
Aware of this new reality, Endesa, through its renewable subsidiary Enel Green Power Spain, has launched an ambitious socio-economic plan that seeks to transform the area and guarantee its future. To do this, it will invest 1,500 million euros that contemplate the creation of 500 permanent jobs in five years around 14 hybrid renewable plants, another two for storage with batteries, a green hydrogen project, a synchronous compensator and an electrolyser factory.
Multi-project catapult
This first fair transition contest in Spain is supported by the Ministry for the Ecological Transition and the Demographic Challenge, and not only contemplates the development of renewables. An essential aspect is the one that has to do with promoting projects of social and environmental benefit, something that Endesa has taken very seriously.
Its intention is to make the most of the resources present in the territory to generate wealth, jobs and provide added value. Through numerous agreements with different entities and local agents, the company hopes to generate around another 6,300 jobs. One of these projects, related to the primary sector, goes hand in hand with Apadrina un Olivo, an NGO born in 2014 in Oliete, just 23 kilometers from Andorra.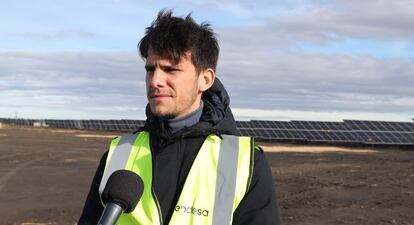 Endesa has designed the 'From the solar garden to the table' initiative, which seeks the production and sale of oil through the recovery of thousands of abandoned olive trees in mining basins. A tasting shop will be opened, the mill will be expanded and five houses will be conditioned in the area to facilitate the settlement of different families
This association recovers the abandoned olive trees of the town, badly hit by depopulation. Through an annual contribution that comes from its partners, it has not only been able to rescue 10,000 trees. The money also helps to generate local employment with families at risk of exclusion and establish inhabitants, while promoting rural tourism -which contributes to the economic advancement of the place- and protecting the flora and fauna that inhabits and depends on the olive grove. .
Now, thanks to the support they will receive from Endesa, the promoters of this initiative, so committed to the region's sustainability, dream of going further. "The goal is to be able to recover 50,000 olive trees in the next few years," admits José Alfredo Martín, one of the co-founders of Apadrina un olivo. For this, Endesa has designed the initiative From the solar garden to the table, which seeks the production and sale of oil through the recovery of these thousands of abandoned trees in the mining basins. The project includes the elaboration of canned vegetables from rehabilitated orchards with the oil produced in the traditional style in the mill.
The traditional solar farms of Apadrina un Olivo will be located in the municipalities of Híjar, Calanda, Oliete, Andorra, Alacón and Samper de Calanda. A tasting shop will also be opened, the mill will be expanded and five houses will be conditioned in the area to facilitate the settlement of different families.
These actions will generate almost a hundred jobs, with different degrees of temporary employment, so that not only employment will be created in rural areas, but a sector that was in decline will be reactivated. The intention is to replicate this model in Portugal, where Endesa will implement a future plan for the area around the Pego thermal power plant.
"If in nine years we have been able to generate all this impact, we dream that with this important arrival of resources we can leave an even stronger mark on the territory and that our idea serves as an example of economic activation in rural areas," adds Martín .
Support for workers with disabilities
In addition to the recovery of these olive groves, Endesa will also protect the 150 olive trees that are in the vicinity of the Andorra plant. To do this, it will collaborate with Atadi, a non-profit association that works with people with disabilities in the province of Teruel.
The Gloria Fuertes school, a reference center in special education at the regional, regional and national level, works very closely with Altadi. Many former students, when they get older, join the Atadi Special Employment Center to provide various services (cleaning, gardening, etc.) to companies and town halls in the area and even to the school itself. Both centers have worked on the preparation of screws and recycling of work pallets for the Sedeis photovoltaic solar plant, and they will do so at future plants planned by Endesa at the Mudéjar junction.
In addition, both institutions will be direct beneficiaries of the project Andorran Pictotown, which will be developed by Endesa in collaboration with Atadi, the school and the Andorra City Council. This project consists of installing a series of pictograms on buildings, monuments and places of interest in the municipality, specifically aimed at people with disabilities. This project will facilitate various inclusive activities (gymkhana, treasure hunt, orientation, inclusive tourism…) and synergies with other disability associations in Spain.
They will be in charge of developing the project. Olive grove and inclusive nursery, which will be carried out in the place where the old coal plant was located. With a circular economy approach, what this initiative intends is to take advantage of the olive trees that already exist on Endesa's plots to produce oil, as well as to prepare and process preserves with that food. The plan includes the cultivation of quince trees, as well as the germination in nurseries of the plants and shrubs that Endesa will place as a forest screen in its renewable facilities. It is expected that 25 jobs will be generated, some permanent and others temporary, until 2028.
It is a challenge, an illusion and an enhancement of the abilities that disabled people have, who can contribute a lot both socially and at work.

José Antonio Mora, director of the Atadi association
"It is a challenge, an illusion and an enhancement of the abilities that these people have, who can contribute a lot both at a social and work level," says the manager of Atadi José Antonio Mora. The participants in this project, almost all of them with intellectual disabilities, will receive prior training in the occupational centers that this group has in the province. There they will learn to interact with others and take care of their health, to use community resources and they will learn basic learning tools (new technologies, literacy, memory…).
Training is precisely another of the priorities that Endesa has contemplated in the future plan that it has designed for Andorra and its surroundings. The company has promoted a program of more than 300,000 hours of classes –related to the activity generated by its renewable plants– for more than 5,000 people, with a focus on the most vulnerable groups in rural environments (youth, women and the unemployed ).
Women who settle population
The training plan is made up of a first block on renewable energy, which will have different courses (solar panel assemblers, operation and maintenance of renewable facilities, installation of self-consumption solar, among others). The second block will revolve around training in primary sector activities, and will be carried out in collaboration with leading entities in the area such as the Association of Families and Women in Rural Environments (Afammer). "We are going to teach courses on the transformation of native products, training in aromatic plants, digital skills, organic farming… everything that may be feasible to promote job creation in the region," explains the founder of Afammer, Carmen Quintanilla.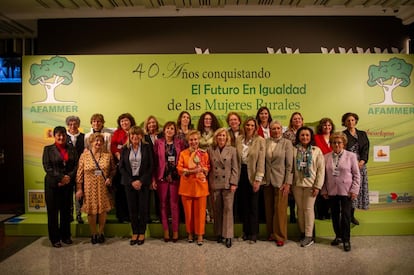 This group was born 40 years ago to defend the rights of rural women and give them visibility. "We realized that teaching in the villages was essential, and we became pioneers in this à la carte training specialized in rural tourism, agro-tourism, business creation…", recalls Quintanilla. In her opinion, this previous step is a fundamental pillar to get a job, "which is social justice and will give you freedom to decide about your life and your family."
The fact that women who live in the countryside receive training that opens doors to possible jobs is a factor that helps settle the population. "If we don't, there will be more and more aging and masculinization in those areas," she says. Her desire is clear: that the people who remain in the region remain in it and do not go (forever) to the city.
THE COUNTRY of the morning
Wake up with the analysis of the day by Berna González Harbor
RECEIVE IT