If a razor blade no longer satisfies you, professional hair removal at the beauty parlor saves too much money, and the pain of an epilator or classic wax strips is hard to bear, find out that there is an effective, simple and natural method that can save you from the routine of unwanted hair on any body area – sugar epilation.
How to make sugar wax for depilation at home
To make sugar wax at home, you will need:
2 cups sugar
juice of half a lemon
half a glass of water
pot
Cooking method:
Combine the sugar, water, and lemon juice in a saucepan, then place the saucepan over medium to low heat. Bring the mixture to a boil, stirring constantly. Do not leave the mixture on the fire for too long, as it may burn and become too hard as it cools.
Sugar should completely dissolve and become liquid. The color should be coppery yellow, not dark brown, and the consistency should resemble syrup.
Let the wax cool for about 30 minutes (it will take on the consistency of honey), then pour it into a glass jar.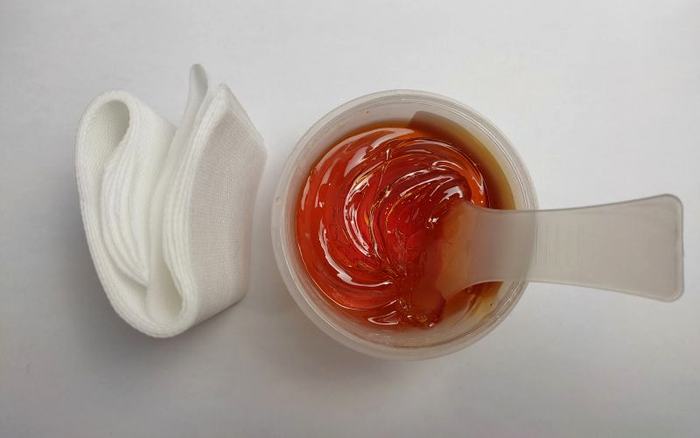 Take sugar wax (warm, but not hot, be careful!) on a wooden spatula and apply it to the desired area in the direction of hair growth. If you are a beginner, wax a smaller area first.
Cover the waxed area with a piece of cloth, press lightly and hold for a minute, then quickly pull in the opposite direction of hair growth.
On areas of the body prone to moisture (axillary, inguinal), it is recommended to degrease the skin with talc before epilation.
The remaining wax can be heated in a water bath for the next stage of depilation.
Benefits of Removing Sugar
Sugar Removal it is not as harmful to the skin as other hair removal methods.for example, wax, because sugar does not stick to the skin, but only to the hair.
The paste is a 100% natural product, contains sugar, water and lemon juice, recommended for sensitive skin, is the only product approved for people suffering from dermatitis, psoriasis and varicose veins.
This type of epilation can do in your personal lifeat home, and is less painful than other methods of removing unwanted hair.
Moreover, you can remove hair even from less visible areassaving you from the look of a beautician.
Sugar epilation is extremely effective and guarantees you smooth skin and perfect legs in 5 weeks. Moreover, The ingredients are non-toxic and fragrance-free.
After sugar epilation, the skin becomes much smoother, does not remain sticky. After several epilations, the hair root weakens, the hairs become thinner, and their number decreases.