You may create original New Year 2023 greetings to send by WhatsAppavoiding resorting to the classic congratulations in the form of images or even phrases to get out of the way and be faster, although you have to have some time to make your own.
You should spend a few minutes, but it is very likely that the result you get will be better and more original than any other congratulation that you have received by WhatsApp. There are several options to create them, for example, mobile applications or also some web.
In case it is not your thing, you can always resort to the easiest as we mentioned before, you have at your disposal congratulations in images that never fail, videos about the coming year or also WhatsApp phrases or stickers to wish a happy 2023.
Here is a list of some options to create a greetingSurely some of the options that we show you will help you in the task of being the most original person among your group of friends or family when it comes to sending your congratulations.
With the Canva website
You can create an elegant and beautiful New Year 2023 greeting with the website Canva. Although it is a free online tool, you must register, something you can do in a few seconds. When you are registered, follow these simple steps:
Access the Canva website.
Website: Canva
Click on the "design" tab and then in "templates". Now choose the template you like best Of all the ones there are, in this case you will have to select one with something related to the new year.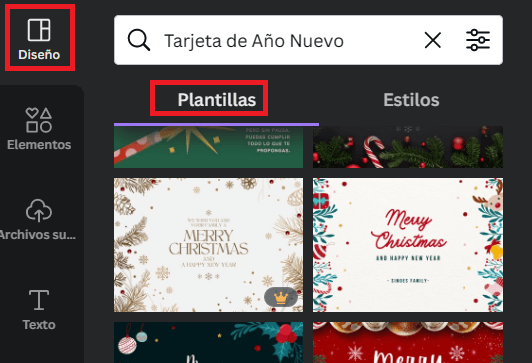 Once you have decided, it's time to customize it to your liking, and it is that you can add text, modify the one it has, add new elements or delete some of the ones it has, remove photos and put your own, etc. You have many possibilities.
When you have it, just go to file/download and you will get an image that you can then send via WhatsAppalthough you can capture the greeting and send it through the app.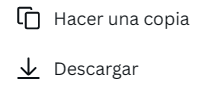 With the Canva app
You also have at your disposal the application Canvas for iOS and AndroidIt is also free, we leave you the download link below:
Download Canvas for Android

Download Canva for iOS

When you download and install it, follow these steps:
Open the app and log in with your account, then click on "templates".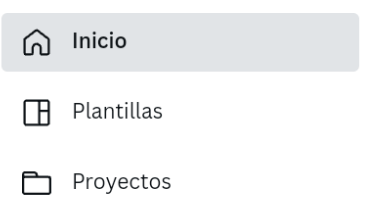 Now Click on "New Year".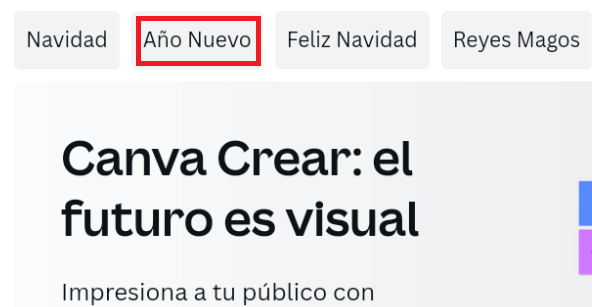 Then, choose one of the free templatesyou will know that they are free because the paid ones have the € symbol.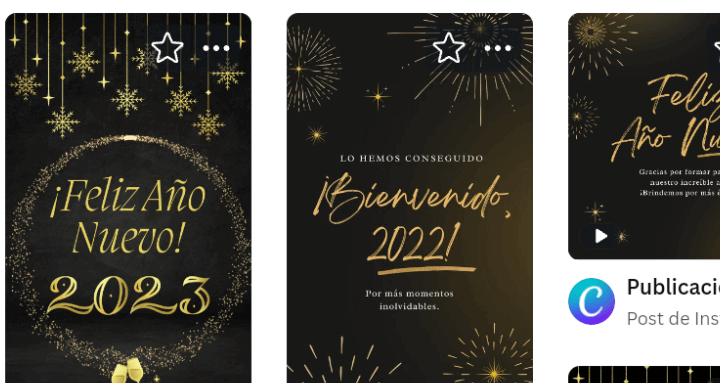 Now the open template editor, so you can customize it with text, images and whatever you want. Then, all you have to do is click on the download icon in the upper bar to download the greeting in the form of an image or video, it will be stored in the gallery.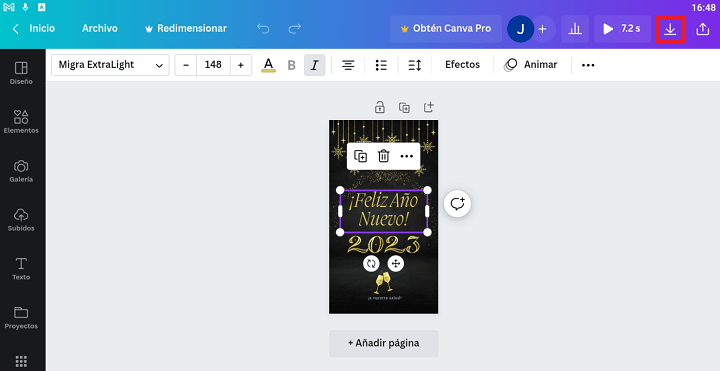 With the New Year 2023 Photo Frame application
If you don't want to complicate yourself, a good option is to create a greeting by adding a frame and elements of 2023 with the New Year 2023 Photo Frame app. It is a free app for Android that you can download from the following link:
Download New Year 2023 photo frame for Android

Then, once you have it downloaded and installed, follow these steps:
Open the app and click on "frame".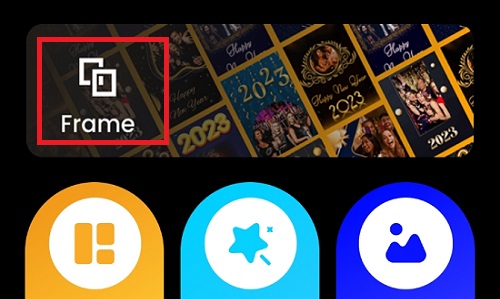 Choose the pack of frames that you like the most to download it in the app.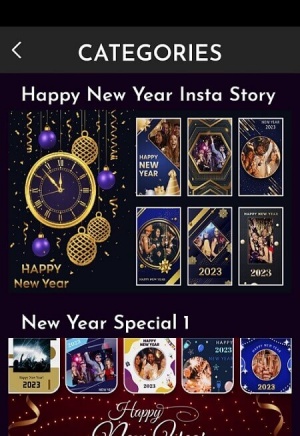 Now choose the design concrete that you want to personalize.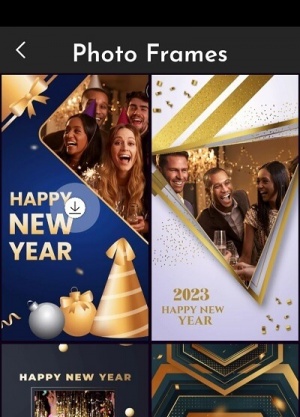 Once downloaded, it's time to add your own photo and add some text, emojis and others through the toolbar that you have just below. When you have it, click on the download button above and the image will be downloaded to your mobile, from which moment you can send your newly made greeting by WhatsApp.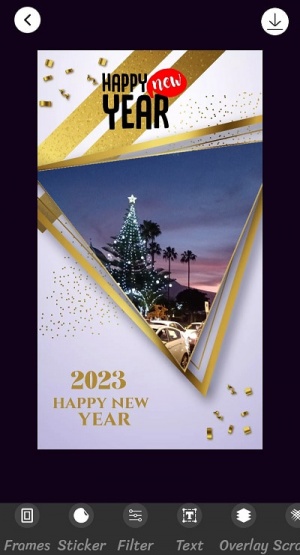 With the Happy New Year Frames app for iOS
In case you have an iPhone, you also have the Happy New Year Frames free app to create your own greeting quickly. You can download it from the following link:
Download Happy New Year Frames for iOS

Now follow these steps:
Open the app and click on "custom".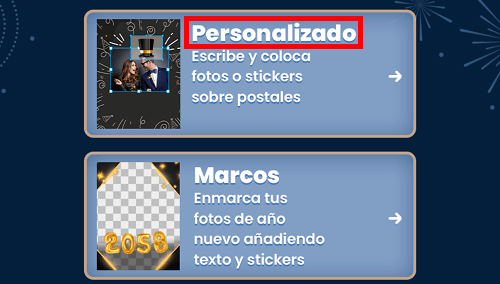 Choose one of the designsthe one you see most appropriate to congratulate the New Year 2023.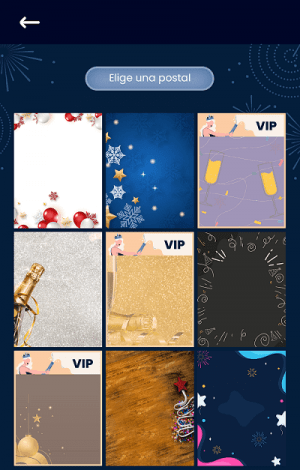 Now is the time to add the text, a photo of your mobile, a sticker, etc.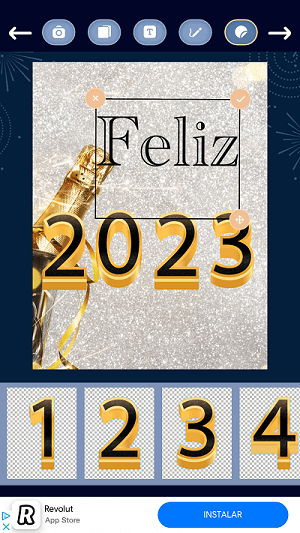 When it is ready, click on the arrow to the right that appears above and a new window opens. In this new window, click on share and then on "save Picture".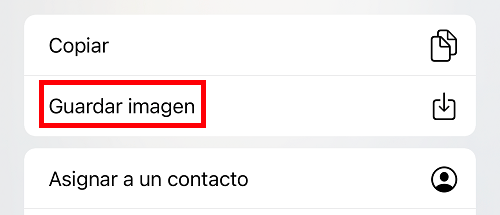 And that's it, that's it you can send that greeting that you just created by WhatsApp, by mail or wherever you want. If you do not want to use the "personalized" option that we showed in the first step, you also have postcards almost made in the same app about 2023.
There are several options for create your own congratulations to send by WhatsApp and wish a happy new year 2023the most professional and elegant ones take a little more time and Canva will help you create them, but the other two mobile applications are also very simple and offer good results.
15 apps to congratulate Christmas and the New Year