Football Manager It is the great reference of sports management in the video game world. A saga with several decades behind it, and that edition after edition continues to refine an almost perfect formula. Football Manager 2023 means taking another step within the saga, and that is that, despite its continuity, it is right in each of the additions that this new edition brings, giving the game greater depth, without forgetting to be more accessible for new players.
Football Manager 2023 is familiar to all those who have dedicated their time to the franchise. The accused continuity rather than as something negative, should be seen as a virtue, and that is when SportsInteractive has a sports management formula that works almost perfectly, there is no reason to make extraordinary changes. The strategy of the British company is to add edition after edition new features that give the game greater depth, and that almost without realizing it, these will end up being of enormous importance in all our games. Improvements in quality of life that make it easier for us to play the game, at the same time that they make it much more accessible for the less experienced.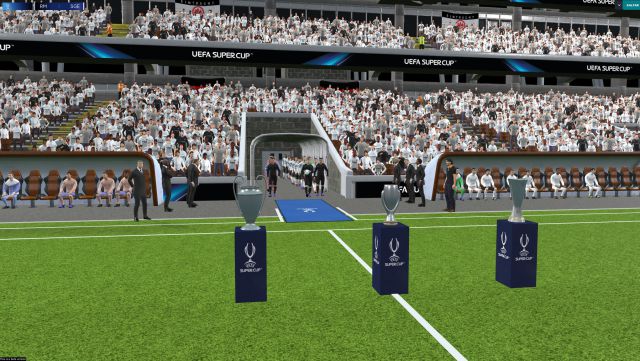 The deepest and most accessible FM
Depth and accessibility, two terms that in reference to a video game do not usually go hand in hand, but in the case of Football Manageredition after edition is what SportsInteractive try to achieve. The template planning and the fan profile They are two of the great novelties, the first being one of the most useful additions that have come to the game in recent installments. At the time we began to test it and delve into it, it was hard to think that something like this would not exist until FM 23, and it is that in a very visual and interactive way we will be able to manage all our staff in the present and future. From the profile of each player for the importance and current moment of him, to veterans, youth… In addition, we will also be able to see the template planning by position, being able to organize in a much more direct way the current and future moment of it, being able to browse and see how possible signings would fit into our project. At the same time, tactical possibilities are added under which to have a greater impact and control during matches as well as in the preparation of our scheme, with new options for when we do not have possession and thus be able to defend with more guarantees.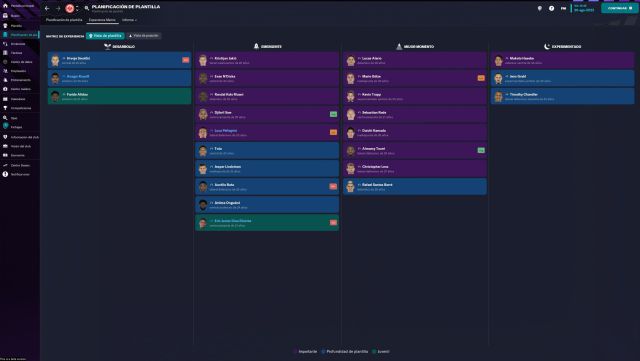 Another highlight of Soccer Manager 2023 is the profile of the fan, a novelty that allows us to see how the growth of our fans develops. An addition that brings a deeper layer to the game, and that will show us the most loyal fans of the club and their reaction to what is happening (something that already appeared in previous editions, but very briefly), along with fans more casual and the growth that we will have in the different social networks.
Upper case management
No aspect goes unnoticed in Soccer Manager 2023, and is that as in the world of football, agents are increasingly important in the game. Now we can talk to them before trying to hire a footballer, even having the possibility that through the agent a negotiation that was not going well could be arranged.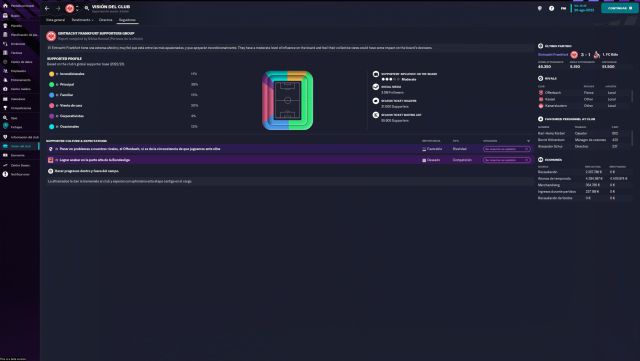 Nothing escapes in Football Manager, whether you decide to start coaching an elite European club or start a globe-trotting career starting in a championship like the Parva League from Bulgaria, improving results and jumping from club to club, national team to national team, until accessing that exclusive elite in a career that can take us decades. Games in which you never know where you will end up, being able to train and succeed on all continents, the possibilities in Football Manager they are almost infinite and that is one of the great things about the game. FM 23 it does not exclude any player, whatever you are looking for, whether it is enjoying the game and the evolution of the project based on the main team and its matches, forgetting the growth of other areas; or also for the economic development of the club, the cleaning up of a giant that is close to bankruptcy or the commitment to the quarry. All those possibilities have been with us for a long time, and in this edition they are still there, but with additions that extend and improve an experience that football fans will love.
level licenses
One of the most notable novelties has been the obtaining by SportsInteractive of the official UEFA license, although it is true that the most experienced players have no problem when it comes to providing the game with all kinds of licenses and additions thanks to the enormous work of the community of Football Managerhaving UEFA licenses officially is enjoyed and brings a special magic to our games.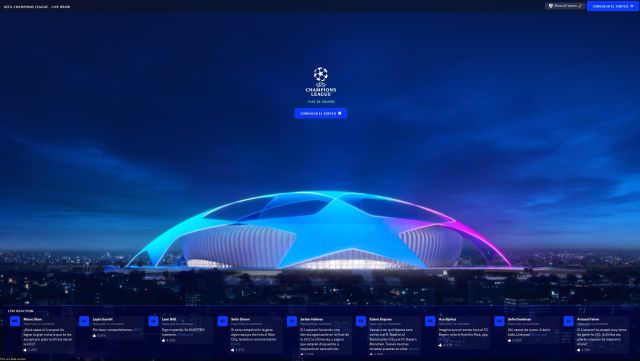 The UEFA Champions League, Europa League and Conference League not only appear visually, but the matches are perfectly set, with chants, graphics detailing the line-ups and the usual anthem of these competitions. A more intense Football Manager experience than ever, from the draw of these competitions, which simulates the real experience, and the sensation that comes from qualifying for a major European competition and experiencing all that atmosphere in one of those games that we started with currently distant clubs of international soccer.
A graphic engine that does not evolve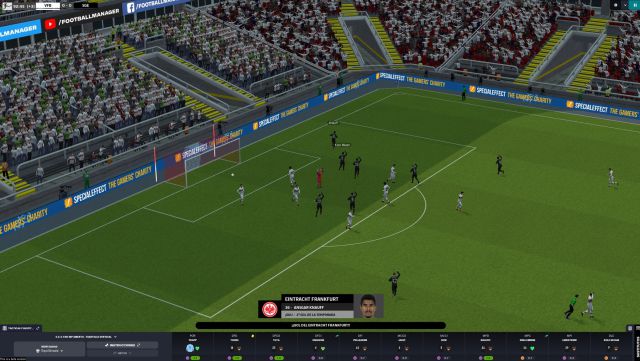 One of the points in which it most intends to invest and work in the future SportsInteractive it is in its graphics engine and its AI. An option to enjoy the games that many players enjoy, but others do not give so much importance and stick more to the previous management work and the results that can be achieved, rather than the way to obtain them, but this graphics engine ends up being one of the most attractive points of the game for many players. Seeing how our team works on the field and achieves the established objectives, but the engine has been stalling for a long time, and it does not seem that this will be solved soon. Very brief improvements, with new animations, adding actions to the players and better physics to the goal net, but it still falls short and even the AI fails at times eventually presenting somewhat bizarre situations. The graphics engine is by no means one of the most important parts of a title that has sports management as its flag, but it is a pity that for many years we have not seen a noticeable evolution in it
In Football Manager there are no limits to how we want to run our career, taking any role and creating history that would make Ted Lasso pale. The interaction with the board, our staff, players… Everything is under our control, in the end FM is also a story, and that's what football and sport are about, narratives of all kinds, a game in which the hours fly by and without realizing it we will be adoring a player or a club until that moment ignored by us, but that will become part of our lives as a great memory.
CONCLUSION
Football Manager 2023 confirms again what is an almost perfect formula for fans of the genre. Sports management in capital letters, the most realistic soccer video game feels familiar and close to its huge player base, but with additions that improve and deepen the gaming experience. New features that make FM 23 more attractive with official UEFA licences, squad planning and the fan profile that make us delve even deeper into our work while facilitating its management, thus helping new players . Very positive sensations, with the drawbacks of a graphics engine that continues to not improve enough and begins to look increasingly outdated, and that for some players FM 23 may look too continuous and similar to previous editions, but when the formula is almost perfect , the novelties may be just and necessary.
THE BEST
A universe of possibilities
The depth of always, but more accessible than ever
UEFA licenses
WORST
The graphics engine still does not take a step forward and continues to present absurd situations from time to time
8.8
Very good
Game of remarkable finish that we will enjoy and remember. A good buy, highly recommended for lovers of the genre. It is well cared for on all levels.