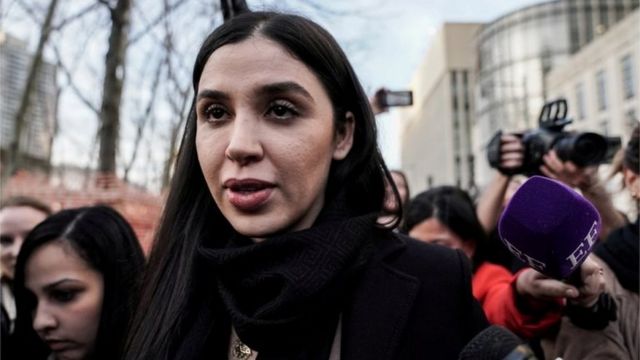 A United States court handed down a 36-month prison sentence against Emma Coronel Aispuro, the wife of Joaquín "El Chapo" Guzmán, the convicted leader of the Sinaloa cartel.
The resolution issued in a Washington DC court came Tuesday after Coronel, 32, pleaded guilty last June to conspiracy to traffic drugs, launder money and participate in financial deals with the Sinaloa cartel.
In addition to passing three years in prison, Colonel must be under supervised release by four others years.
The prosecution had requested Judge Rudolph Contreras a sentence of four years in prison and the payment of US $ 1.5 million.
Addressing the judge, Coronel apologized for his mistakes and said he did not want his twin daughters, from his marriage to Guzmán, to grow up without their parents. The 64-year-old former head of the Sinaloa cartel was sentenced to life in prison in 2019.
"I show my sincere regret for all the damage that may have caused," he said before the sentence was known. "I am suffering as a result of the harm I caused to my family," he added.
Judge Contreras replied: "I hope you raise your twins in a different environment to which they have experienced to date. Good luck".
The magistrate said he took into consideration that Coronel has cooperated since she was arrested last February, as well as the fact that she pleaded guilty.
The former model has dual US-Mexican citizenship.
Upon her arrest, she was charged with conspiring to smuggle cocaine, methamphetamine, heroin, and marijuana into the United States through the Sinaloa cartel.
"El Chapo" Guzmán was for years the head of the Sinaloa Cartel, one of the most violent and well-known criminal groups in Mexico. According to the US authorities, it was the America's leading supplier of illegal drugs.
As part of her plea deal, she also admitted to conspiring to help her husband escape from a Mexican prison in 2015.
Who is Emma Coronel?
Emma Coronel Aispuro met Guzmán when she was 17 years old. They were married shortly after.
She was a model who had won beauty pageants and had studied journalism. According to interviews previously published by the US media, she said that they met at a dance when she was 17 and he was 49.
They have two twin daughters, María Joaquina and Emali. During her husband's trial, Coronel sat in the courtroom almost every day.
Her story is that of a woman who reached a position of power in her husband's criminal enterprise.
Cecilia Farfán-Mendez, an academic at the University of California, San Diego, told the BBC that, with her unusual role, Colonel "showed that women can occupy positions of power."
Shortly before her capture, she planned to launch a clothing line under the name "El Chapo Guzmán" in an attempt to capitalize on her husband's fame.
Of his life behind bars, his lawyer, Mariel Colón Miro, said that he read romance novels to kill time.
During the trial of "El Chapo" she was seen with red lipstick, diamonds and tight jeans, embodying the popular image of a "buchona", the love partners of a drug trafficker.
Guadalupe Correa-Cabrera, from George Mason University, has conducted research in Sinaloa, Mexico, where the Chapo cartel operates.
Correa Cabrera defines the term buchona like this: "They wear very expensive clothes, Louis Vuitton handbags. Everything is an exaggeration, and she is a perfect representation of that image. It is about the appearance, the plastic surgery."
Throughout the trial, Coronel showed her support for her husband. "I don't know my husband as the person they are trying to portray, but rather I admire him as the human being that I met and married," she said.
Remember that you can receive notifications from BBC News Mundo. Download the latest version of our app and activate them so you don't miss out on our best content.