True to his strategy of buying bitcoin (BTC) in price declines, the president of El Salvador, Nayib Bukele, announced this Friday, November 26, a new purchase of 100 BTC. As usual, the president used his account on the social network Twitter to publicize the information.
«El Salvador has just bought the dip. 100 extra coins purchased at a discount », tweeted Bukele in English language. At the time of writing, the tweet had reached more than 28,000 "likes."
The Salvadoran president has repeatedly stated that your government takes advantage of bitcoin price declines to add new currencies to the reserves of El Salvador. This Friday, both the bitcoin market and that of traditional assets were hit by the panic that spread among investors, after learning of the possibility of new restrictions in Europe to face a variant of Covd-19.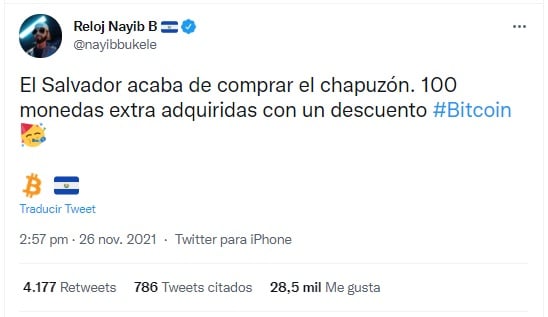 Bitcoin fell from $ 59,000 to $ 54,300, price at which it is maintained for this moment. This implies that the purchase reported by Bukele would represent around USD 540 million.
Bitcoin reserves in El Salvador would reach 1,230 BTC
With this purchase, the country's reserves could be reaching 1,230 BTC according to the monitoring of tweets made by CriptoNoticias. However, the figure is not verifiable, as the presidential announcements do not include transaction data on the Bitcoin blockchain.
The president reported the purchase of the first 400 BTC for El Salvador on September 6, a day before the Bitcoin Law came into effect in that country. Since then, it has been disclosing various official acquisitions of BTC for the national fund. The majority, correspond to corrections in the price of the cryptocurrency.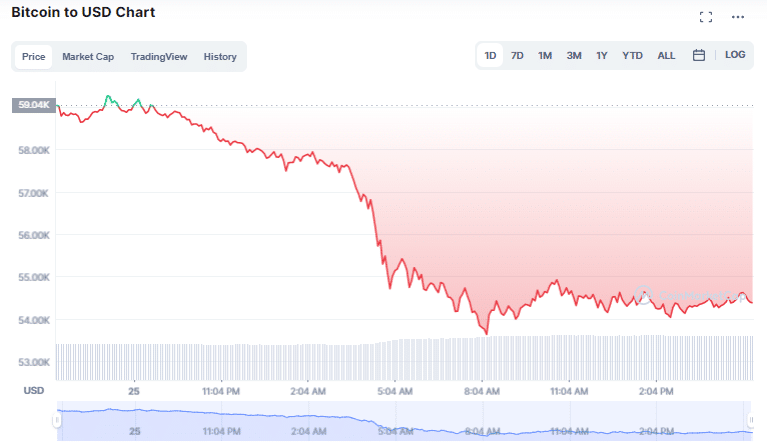 On the other hand, El Salvador has been criticized by different multilateral organizations such as the International Monetary Fund (IMF), for the "wide" scope of the Bitcoin Law. The most recent comment came from the Governor of the Central Bank of England, Andrew John Bailey, who questioned that Salvadorans are aware of the risks of bitcoin volatility.