From my earliest childhood, I have held the dubious honor of being the worst sweeping daughter. The main problem is that I do not stop long enough: I brush little in corners or skirting boards, and I do reluctant steps under the furniture. Also, I lose track of what is swept up and end up leaving pieces uncleaned. All embarrassing, especially when compared to my meticulous brother, who spent his visits to the park wiping the swings. What my family unit did not expect was the invasion of the machines.
If humans are to be replaced, the brooms are running out of time. They are not only threatened by robots capable of cleaning the house without humans lifting a finger; Also vacuum cleaners, which are less and less cumbersome and whose filters trap 99.97% of particles down to 0.3 microns (a micron is one thousandth of a millimeter). At least that's what Dyson's new Omni-glide promises. And in my experience – that of a skeptic allergic to dust who breathed 15 seconds into the air outlet of the device – she is likely to do so.
Filtration systems are in the DNA of the British manufacturer, also known for its dryers and air purifiers. But they are not the only bet of the Omni-glide, which Dyson presents as its "easiest to handle" machine. The detail is key, since the 20 minutes of autonomy of this machine forces us to complete the task with agility.
It is a free-standing cordless vacuum cleaner that, from an aesthetic point of view, is what my childish self would have imagined as the broom of the future, with slightly rounded shapes and a color palette that explodes in contrast to gray, purple and red. The assembly could not be easier: the handle with the motor is fitted to the extension tube and this in turn to the base. Two clicks later, we can hit the power button. Or, if we feel adventurous, we can press the neighboring key and activate the vacuum at maximum power.
Easy to assemble? Yes. Easy to handle? Too. Those allergic to dust who also have the misfortune of being allergic to trash can negotiate a minimum agreement with the Omni-glide: "Come on, okay. I clean the house and my lungs, but without killing myself ". Once resting on the ground, this futuristic broom weighing less than two kilos glides with ease and accurately describes even the tightest of curves. If we want to vacuum the hallway in a minute zigzag, we can do it with one hand in our pocket. Do we want to suck in circles like we're Julie Andrews in Smiles and tears? We can also.
In addition, the extra hand opens up a world of possibilities: as has been seen in this test, it is possible to remove obstacles, watch WhatsApp, clean the dust off the shelves without much attention, remove the dry leaves of the plants that we find in the way, combing our hair and, perhaps above all, eating something, without it being necessary to pause or demand a greater effort from the limb that is sucking.
Small deposit
On the spectrum of visible debris, dust, crumbs, hairs, mysterious bits of paper, and even accidentally half a clove of garlic, all work their way up to the Omni-glide's reservoir. The latter which is somewhat small, especially when compared to bag vacuum cleaners. On average and taking as a point of reference a house that is not too clean but not too dirty, it is necessary to empty it every two rooms. Although it is very easy to empty, it does require getting used to the new limitations, as overloading the container can damage the filter.
Hair deserves its own section. In previous experiences with similar devices I have seen how my long hair ended up getting tangled and almost making the rollers of the device useless. The Omni-glide's double brush, called Fluffy — like the three-headed dog in Harry Potter-, you don't seem to have a problem with them. They all end up in the tank and stay there, forming a ring that is easily removed when emptying.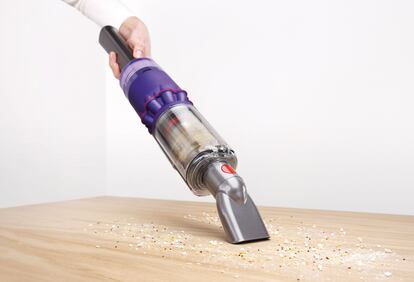 The accessories do not bring big surprises. They are the usual ones for these appliances: a narrower brush for small spaces and upholstery, a nozzle for crevices and a shorter one especially useful for cleaning shelves and countertops.
How long can we be hanging around the house with the Omni-Glide? According to the manufacturer, up to 20 minutes that initially seemed totally insufficient but that I have not managed to use up even once. However, it is likely that this autonomy may be somewhat scarce for more conscientious users (for example, my brother) or the larger houses. In terms of charging time, Dyson estimates that resetting a completely drained battery takes about three and a half hours.
As for the price, the 399 euros that this vacuum cleaner costs places it in the high range, especially of the floor-standing vacuum cleaners, although at a much lower level than other high-end proposals such as the Roomba, whose latest model exceeds 1,000 euros . Those who cannot afford or do not want a robot that does it all, but does have some savings that would invest in simplifying life, have the Omni-glide as a good option. Those who are willing to go the extra mile, even with a less powerful and more traditional vacuum, with its cords and bag, might find other options. How much would you be willing to pay to do the least amount of effort?
You can follow EL PAÍS TECNOLOGÍA at Facebook and Twitter or sign up here to receive our weekly newsletter.