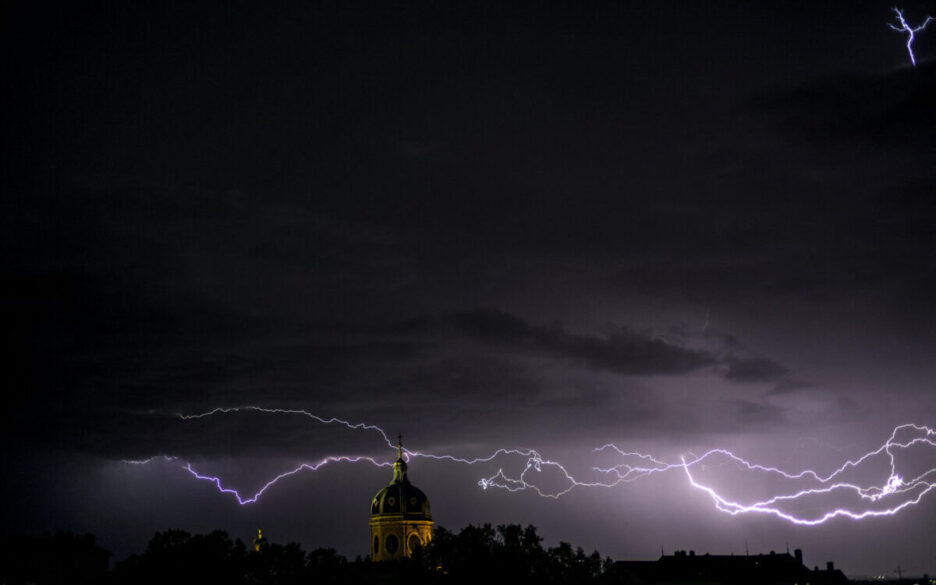 Thunderstorm over the Church of Saint-Bruno in Lyon.. (Photo by JEFF PACHOUD / AFP)
On Monday, July 24, the nine departments of Auvergne-Rhône-Alpes placed on orange alert for thunderstorms finally returned to yellow, with the risk of thunderstorms revised down.
After a restless night due to a thunderstorm in Rhône, where firefighters say nearly 200 homes were noticeably without power due to lightning in Dommartin, this Monday, July 24, should be a little calmer on the storm front. In its latest newsletter, Météo France has lowered its vigilance for thunderstorms in nine departments of the Auvergne-Rhône-Alpes region.
New edition of Rhône-Alpes tonight
Ain, Ardèche, Drôme, Isère, Loire, Haute-Loire, Rhône, Savoy and Haute-Savoie have been on orange alert so far, so will return to yellow alert on Monday. This level of alert also applies to the Puy de Dome, Cantal and Allier. According to Meteo France,there is strong electrical activity, as well as wind gusts of the order of 70-90 km / h"About the area.
According to the organization, the forecasts have not yet been confirmed, but "in the evening in the eastern part of the Rhone-Alpes, severe thunderstorms may again fall.". In particular, hail could fall locally