The Ministry of Culture, through the Complejo Teatral de Buenos Aires, and Fundación Cinemateca Argentina, together with Ventana Sur, the Latin American Film Market, through its Blood Window platform, and the Sitges International Fantastic Film Festival of Catalonia, have organized Sitges Week, which will take place from Tuesday, November 29 to Friday, December 2 in the Leopoldo Lugones Hall of the San Martín Theater (Avda. Corrientes 1530). The program is made up of five feature films from various origins that participated in the recent 55th edition of the Sitges Festival.
Tuesday 29
at 9:00 p.m.
Unicorn Wars
(Spain/France, 2022)
Address: Alberto Vazquez.
With the voices of Jon Goiri, Ramón Barea, Maribel Legarreta.
A camp of care bears is training for a possible battle against the unicorns. Two brothers, one endearing and the other heartless, are part of this peculiar army, which they send to the front on a dangerous mission. The new film by Alberto Vázquez is a happy madness, which mixes fantasy with the warlike and which leads icons of tenderness to the terrain of darkness. "The most surprising Spanish film of the year not only takes advantage of the guidelines of war cinema to subvert the image of the kind, but also turns the idea of ​​a cartoon cinema on its head. The film evidences many ideas of pop culture that have often been buried between the lines, such as a queer conception of the apparently sexless characters of certain animation. (…) Unicorn Wars He takes this darkness out of the subtext and places it in the foreground to talk about something as human as evil and its reverse". (Violet Kovacsics, Cinemania). (91′; PCD).
Wednesday 30
at 9:00 p.m.
Bonemaker
(Mexico/Peru, 2022)
Direction: Michelle Garza Cervera.
With Natalia Solián, Alfonso Dosal, Mayra Batalla.
How does a pregnancy impact a woman's body when desire is absent? Michelle Garza Cervera's first feature film explores this issue through Valeria, a young woman who left behind an adolescence of heavy rock and sexual explorations to establish a traditional family with her husband. The pregnancy unleashes in Valeria a growing discomfort with her own body, while an entity invades her home and endangers her life and that of her family. The protagonist finds help in two women who escaped the patriarchal mandates of building a typical family: her aunt Isabel and Octavia, her love from her adolescence. Huesera takes up a traditional Mexican legend from a contemporary point of view, with dosed visual horror and a central concern: how sociocultural mandates can impact a person's vital decisions (97′; DCP).
Thursday 1st
at 18 hours
The evil eye
(Mexico, 2022)
Directed by: Isaac Ezban.
With Ofelia Medina, Paola Miguel, Samantha Castillo.
Nala, a thirteen-year-old girl, travels with her family to her grandmother's country house with the intention of finding a cure for the mysterious illness of Luna, her little sister. After a few days in the house, the girls discover that the legends and superstitions of the area have their origin in real events. Drawn to the forces that manifest around her, Nala will discover that her grandmother is not exactly what she seems. (100′; PCD).
at 9:00 p.m.
the exorcist
(Mexico, 2022)
Direction: Adrian Garcia Bogliano.
With María Evoli, Ramón Medina, Pilar Santacruz.
Ofelia, a young nun recently arrived in the town of San Ramón, is forced to perform an exorcism on a pregnant woman who is in danger of dying. Just when she thinks the possession is over, she discovers that the evil presence hasn't left. The director of the award-winning Cold sweat, Here comes the devil and Late Phases gives a new twist to the cinema of possessions in one of the Latin American horror surprises of the year. (101′; PCD).
friday 2
at 9:00 p.m.
[REC] non-stop terror
(Spain, 2022)
Direction: Diego López-Fernández.
With Paco Plaza, Jaume Balagueró, Julio Fernández.
[REC] is the horror film that marked a before and after in Spanish cinema after its premiere in 2007. The commitment of Julio Fernández, producer of Filmax, redefined the genre outside and within Spain with an innovative proposal directed by Jaume Balagueró and Paco Square. Fifteen years later, the protagonists of that milestone analyze the keys to the film. This documentary full of never-before-seen images declassifies history and revives the myth. (105′; PCD).
Seat value:
General admission $650
Students/Retirees $350
---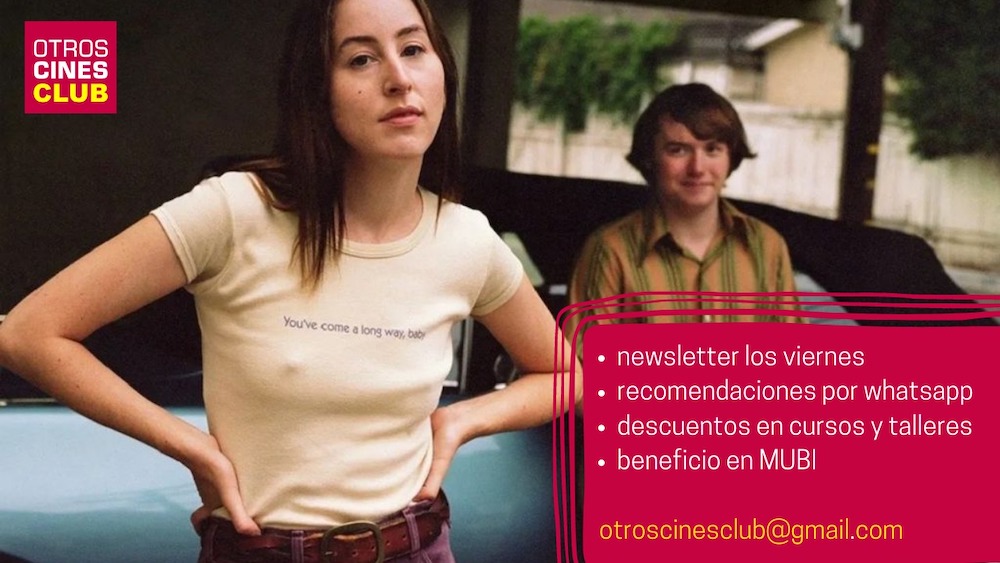 Subscriptions are the best way for readers to directly support independent journalistic ventures and help sustain a quality product that maintains access to all its content for free.
what does it offer OtherCinemas/Club to all its partners and partners?
-Every Friday first thing they receive in their e-mail box a careful and cured newsletter with analysis of audiovisual trends, festivals and news in the universe of cinemas and streaming.
-Access free of charge to the last 20 exclusive newsletters.
-Every Wednesday night they reach their cell phones recommendations in audio and text of movies and series through our whatsapp channel.
-They can access three months free of charge on the prestigious streaming platform MUBIspecialized in auteur and quality cinema.
-Raffles for tickets to any movie, on any day and time, in any of the complexes of the Multiplex chain (new benefit).
-Discounts throughout the year our courses and workshopsin addition to other benefits that we communicate every month.
What types of subscriptions to OtherCinemas/Club Are they available via Mercado Pago?
STANDARD SUBSCRIPTION: 300 pesos per month.
subscribe me
SUBSCRIPTION MAX: 500 pesos per month.
(Video and text content will be sent in advance and/or exclusively, there will be additional discounts on our courses and workshops, and priority access to our activities).
subscribe me
MORE INFORMATION:
For any questions or further information you can write to our email: OtherCinesClub@gmail.com