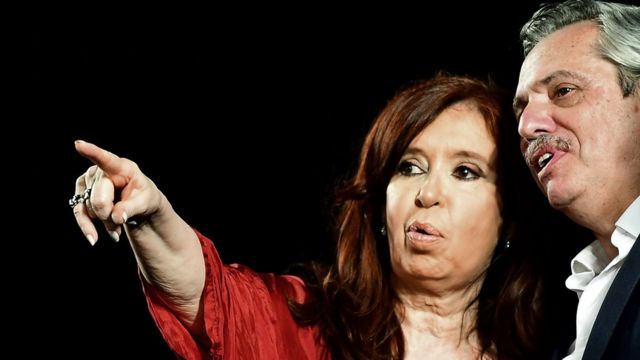 Argentine Justice this Friday dismissed Vice President Cristina Fernández de Kirchner and her children, Máximo and Florencia, in two cases against them that had been brought to oral proceedings more than three years ago and that were never held.
The Federal Oral Court 5 decided by majority to discard the trials for the cases called Hotesur and Los Sauces, which link the also former president (2007-2015) with cases of corruption and money laundering.
One of the three magistrates, Adriana Palliotti, voted to reject the request for dismissal and to move towards the oral trial.
It is the second time in just over a month that a court has dismissed criminal charges against Kirchner since he returned to government.
Last October, the vice president was dismissed from a case in which she was accused of conspiring with Iran to cover up that country's alleged involvement in a 1994 bomb attack on a Jewish community center in Buenos Aires.
This year another case was dismissed in which she was accused of defrauding the government through the market for the sale of dollars in the future.
Fernández de Kirchner has denied all the accusations against him and has assured that he was the victim of a political persecution promoted by the previous government of Mauricio Macri.
The charges
The crimes that were now under investigation were alleged businesses of the Kirchner family with business friends and contractors of the State during the time they were in power.
According to the prosecution, Kirchner and his sons carried out alleged irregular operations with two of his companies by favoring successful public works contracts during his government and laundering money.
Now, the Court considered that the assets that according to the prosecution were laundered did not constitute "black money".
"The appearance of legality of the assets was given from the first moment; that is, since the transfers of funds were made for the contracting of public works, licenses or concessions, or tax or other benefits were provided; all of them supported by strict regulations ", indicates the ruling.
The judges also considered that in 2008, when the denounced events began to take place, there was a law that did not punish "car washing", but that it came into force more than three years later.
According to the newspaper La Nación, the dismissal decision was resolved in less than a month, and "when there was still pending evidence to be included in the file."
One of the main plaintiffs against Fernández de Kirchner, the state Anticorruption Office, this year abandoned its role as accuser of the case, arguing that it did not have sufficient resources to continue the process.
The Financial Information Unit was then the one who remained as the plaintiff in the case.
You can now receive notifications from BBC News World. Download the new version of our app and activate them so you don't miss out on our best content.